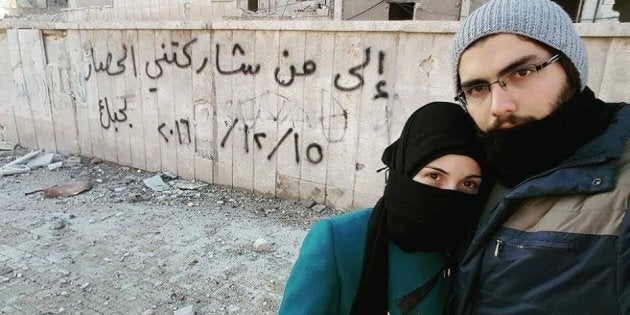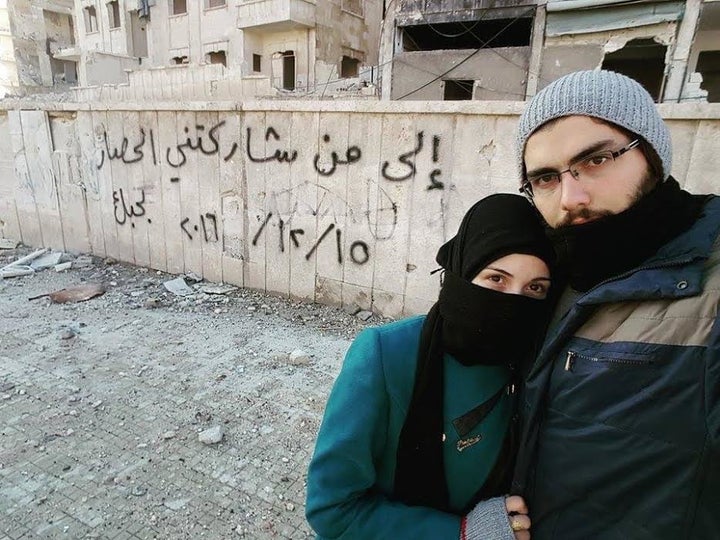 It was a rare moment of bliss amid a "living hell." Salih, 24, and Marwa, 19, were married in the besieged area of Aleppo on Nov. 25.
There was no honeymoon. Instead, the newlyweds were forced to seek refuge with friends when an airstrike destroyed their house in the Syrian city just two weeks later.
Now homeless inside a raging war zone, Salih and Marwa have little more than each other as they attempt to escape the city they've known and loved their entire lives.
Both were born and raised in Aleppo, but the place they fondly remember from their childhoods is an entirely different one to what remains today. Before it descended into a bloody battleground in recent years, Aleppo was a vibrant community and tourist destination that featured stunning, historic architecture.
It's almost unrecognizable now.
Eastern Aleppo is the worst-hit region of the Syrian crisis, torn apart by a deadly conflict between government and rebel forces. The unrelenting carnage became known as the Battle of Aleppo or "mother of all battles" when it erupted in July 2012, following a March 2011 uprising that sparked the nation's civil war.
Salih and Marwa are among thousands of civilians caught in the middle, facing uncertain futures as Syrian President Bashar Assad's regime brings a violent end to a months-long siege and seizes control from the opposition.
"Aleppo is my city," Salih told The WorldPost in Arabic. "I hope to come back one day."
He and Marwa had planned to go to Idlib in northwestern Syria and be reunited with family when the government-led evacuation of Aleppo was suddenly suspended on Friday. For now they wait in limbo, unsure of what comes next.
"The world does not care about us," said Salih, who works as a journalist. "Aleppo is still burning."
The couple is heartbroken to see their hometown in such a harrowing state as they prepare to depart, but they made sure to leave their mark before they go.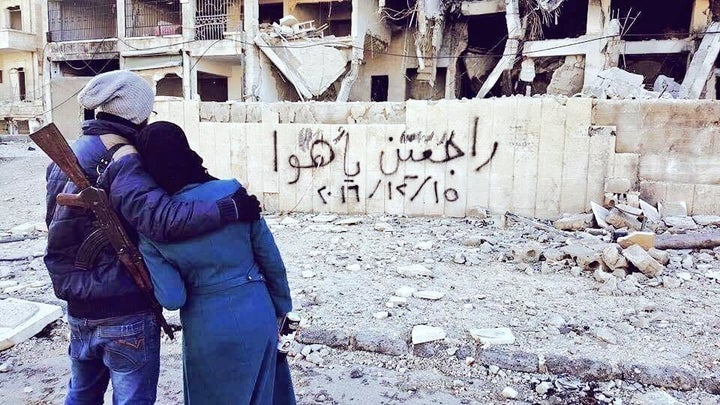 "We will return to the city and feel its air," they vowed in a spray-painted message scrawled across a dilapidated wall in Aleppo.
Further down lingers a beautiful message Salih wrote for his new bride. "To the girl who shared the siege with me: I love you," it reads.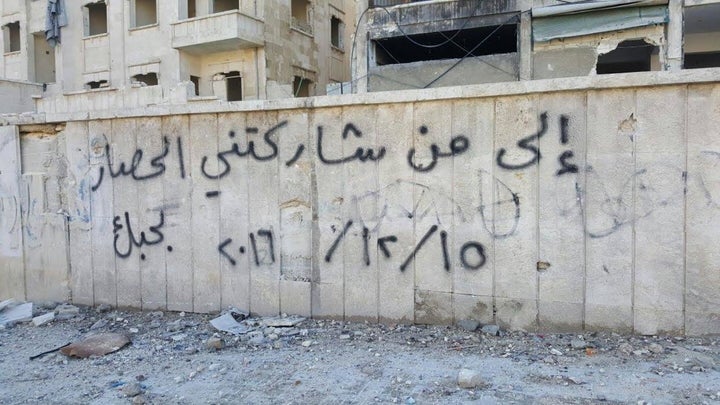 Marwa, a children's counselor, has one message for the world.
"We won't be afraid, nor will we hesitate ― whatever the price may be," she told The WorldPost in Arabic. "Syria and Aleppo are for us, no matter what. ... We will definitely come back, God willing."
To support those affected by the Syrian crisis, see The WorldPost's list of ways you can help. You can also donate to charities working in Syria via the CrowdRise widget below.