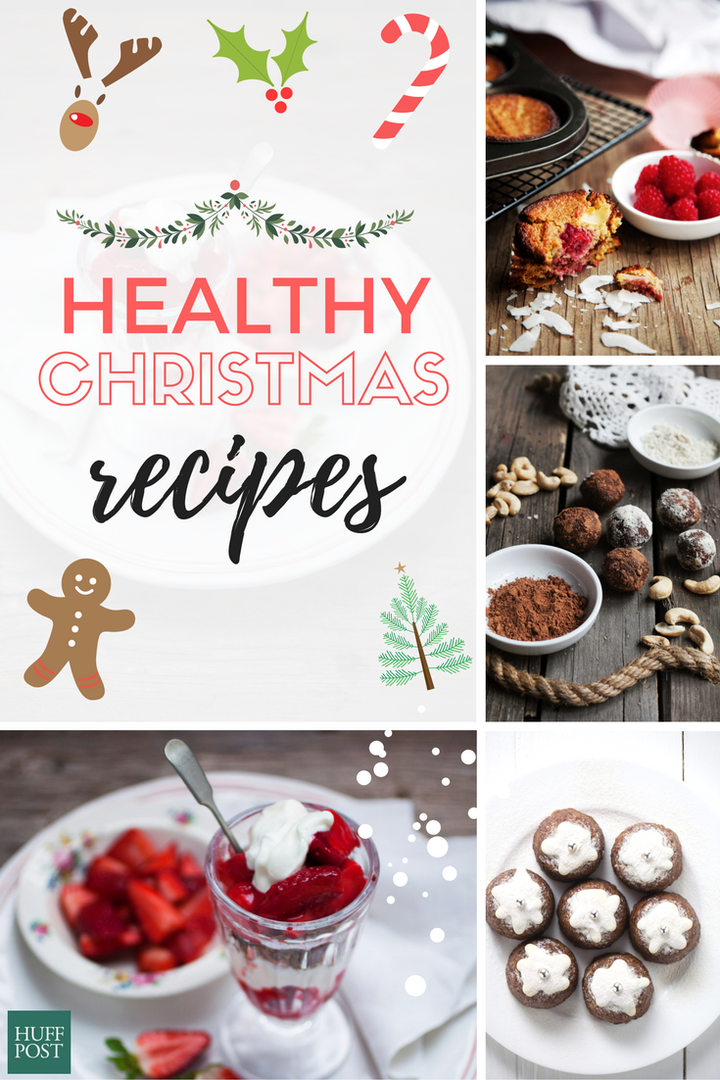 Staying healthy over Christmas and New Year's feels near impossible, what with the endless plates of incredible Christmas food, glasses of booze and missed gym classes (whoops).
But if you do want to eat healthy in between, there are delicious swaps of your favourite desserts -- from trifle and truffles, to pudding and chocolate mousse.
These recipes promise the same flavours you know and love about the holiday season, while using fresh, wholesome ingredients like fruit, nuts, spices, dried fruit and cacao powder.
1. Healthy berry trifle
INGREDIENTS
500g strawberries
Handful of raspberries
1 teaspoon honey or 2 teaspoons pomegranate molasses
500g cultured Greek style natural yoghurt (use dairy or coconut)
100g granola or your favourite nut and seed mix
METHOD
Blend half the strawberries with the raspberries and honey until you have a smooth puree.
Cut the rest of the strawberries into quarters and mix with the berry puree.
In a tall glass, alternate layers of berry mix with layers of yoghurt and granola -- you could also use a bowl.
Serve and enjoy.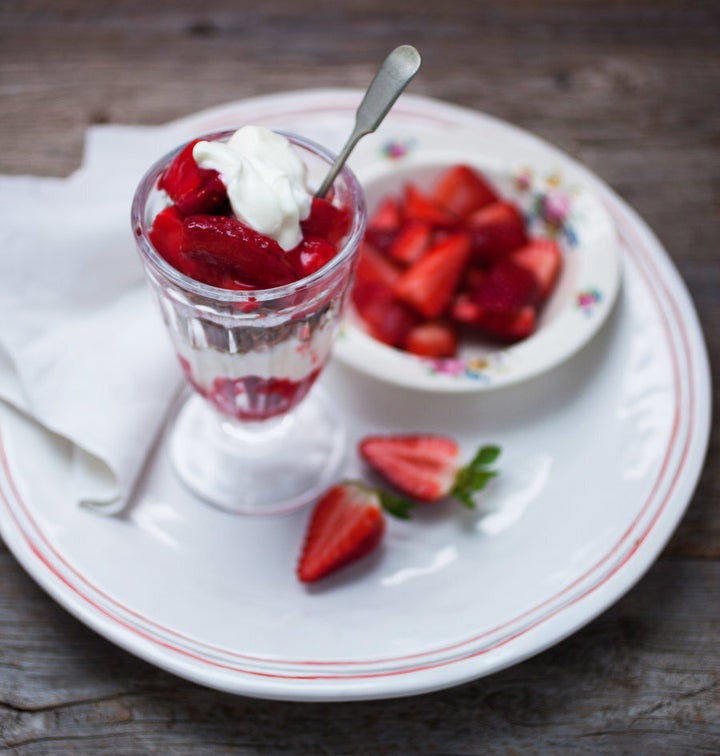 2. Raw Christmas pudding
INGREDIENTS
225g fresh pitted dates -- approx. 10-15 dates depending on their size
Zest from one orange
250g organic dried apricots, chopped
150g (1½ cups) almond meal
1 teaspoon vanilla bean paste or extract
1 teaspoon ground cinnamon
¼ teaspoon ground nutmeg
¼ teaspoon ground ginger
80g white chocolate, melted for decoration
METHOD
Combine dates, orange zest, apricots, vanilla, ground almonds, cinnamon, nutmeg and ginger in a food processor.
Process until mixture is combined and looks like fine crumbs.
Spoon mixture into a large bowl and add 1–2 tablespoons orange juice, then mix again. Your pudding mix should come together in the hands when lightly squeezed.
Divide puddings into six small puddings. The best way to do this is to line the base of your desired mould with cling wrap and press the pudding mixture into it firmly.
Invert the pudding and remove the glad wrap. Repeat until all the puddings are formed.
Melt white chocolate in a small bowl that is set over a simmering pot of water.
Spoon a little white chocolate over the tops of the puddings if using and garnish. You can use goji berries, fresh cherries or anything you fancy. Alternatively, omit the topping if you wish.
Arrange onto a serving plate and set aside until needed. Store in the fridge for up to two weeks.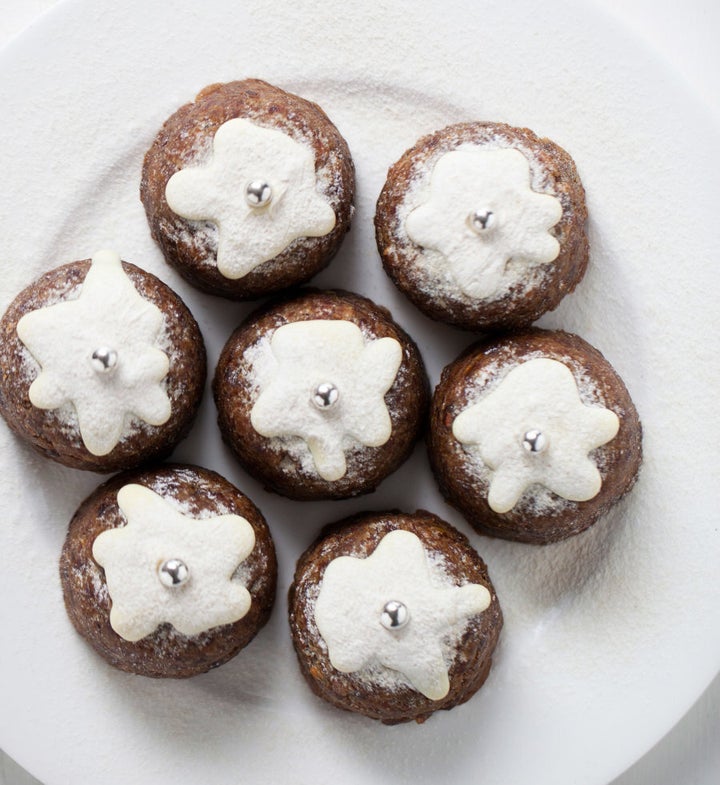 3. Healthy chocolate mousse
INGREDIENTS
½ cup organic maple syrup
2 large ripe avocados
1 teaspoon vanilla bean paste
½ cup cacao powder
Pinch of sea salt
METHOD
1. In a high performance blender, place the maple syrup in first, followed by the avocado, vanilla, cacao and salt.
2. Blend for about 30 seconds until smooth and creamy. Add a splash of water or coconut water to make a lighter mousse.
3. Spoon into a bowl and allow to cool and set in the fridge.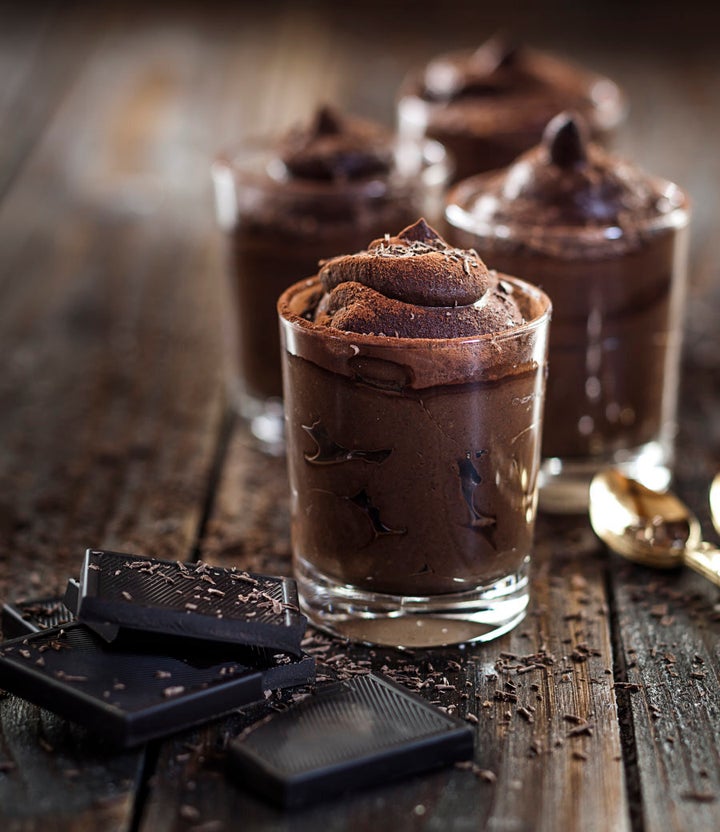 4. Coconut and raspberry delights
INGREDIENTS
2½ cups almond meal
1 teaspoon cinnamon
1 teaspoon gluten free baking powder
4 free range eggs
¼ cup cold pressed extra virgin coconut oil
¼ cup Natvia
1 cup raspberries (fresh or frozen)
¼ cup unsweetened coconut flakes
METHOD
Preheat oven to 160°C.
Combine almond meal, cinnamon and baking powder in a large bowl.
Add the eggs, oil and Natvia and mix thoroughly.
Carefully fold in the berries. Add the coconut flakes and combine.
Spoon mixture into lightly greased muffin tins.
Bake for approximately 30 minutes or until a skewer inserted comes out clean. Best served warm.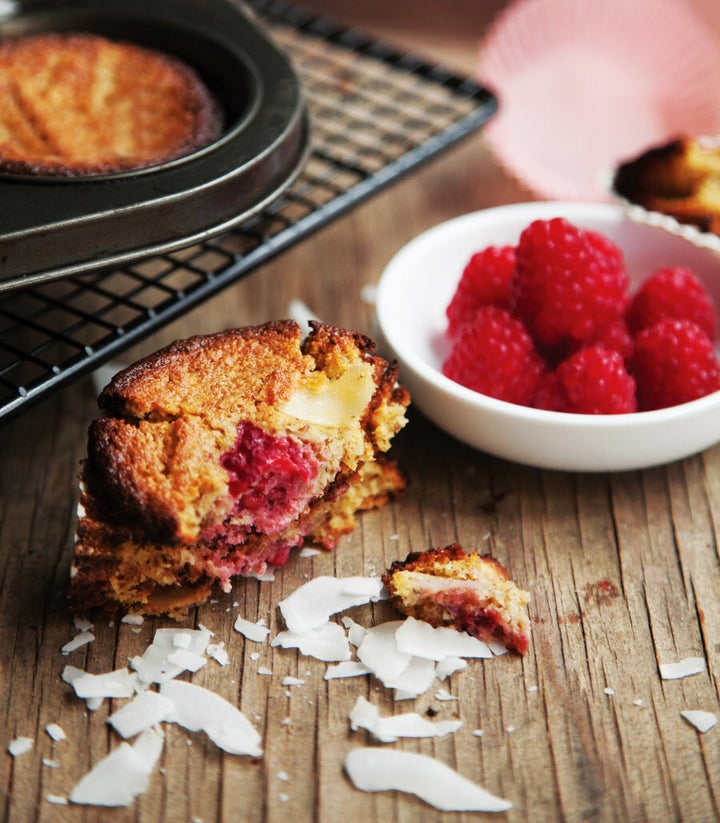 5. Raw cashew and chia protein bites
INGREDIENTS
250g cashews
1 scoop of quality protein powder
2 tablespoons cacao powder
1-1½ tablespoons Natvia, depending on desired sweetness
1 tablespoon cinnamon
¼ cup cold pressed extra virgin coconut oil
1 tablespoon chia seeds
¼ cup water
METHOD
In a cup, mix the chia seeds and water together and let it sit for 10 minutes.
Blend the nuts, protein powder, cacao, Natvia and cinnamon and add to a large bowl.
Add the melted coconut oil and stir well. Stir through the chia seed 'egg'.
Use an ice cream scoop or spoon and form balls that sit nicely in the palm of your hand. To prevent sticking, add a touch of oil to your hands prior to doing so. Make 8-10 balls.
Sprinkle with chia seeds and freeze prior to serving.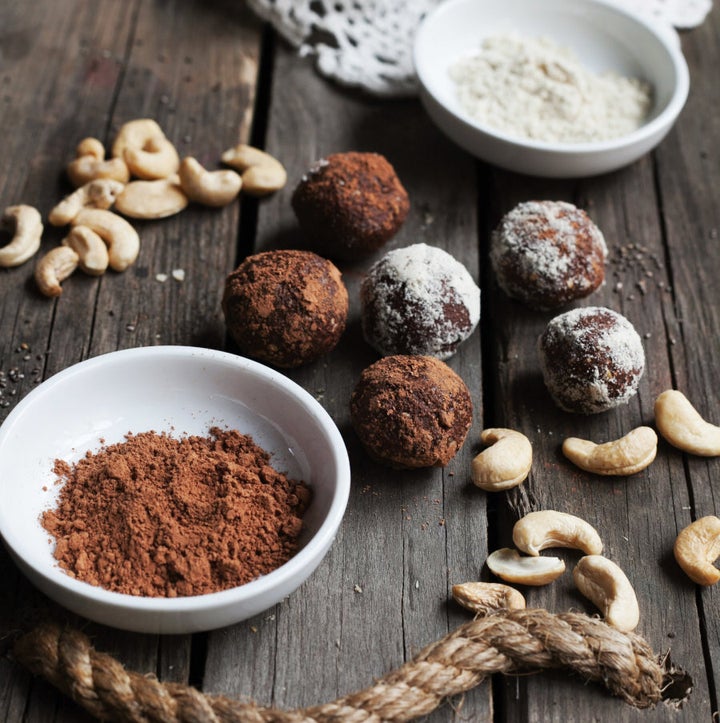 ALSO ON HUFFPOST AUSTRALIA