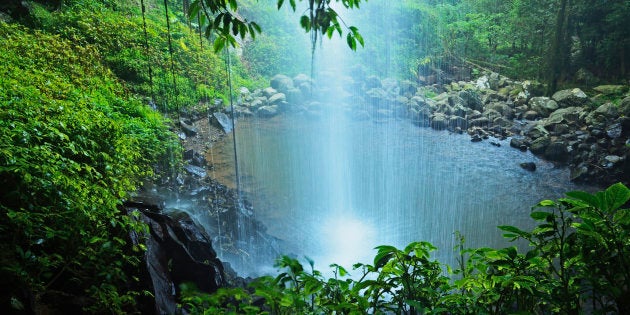 Hating the beach is on par with hating cricket, or Vegemite in this country. It's an unpopular opinion that's often kept secret and takes a lot of work (and sunburn, and sandy bits).
For the anti-beachers, trips to the coast mean enduring torturous hours of sting-tastic heat while noisy kids flick sand on you. It's not fun. It's not relaxing. And what makes it even worse is that you have to mask your disdain because, Australia!
Sound familiar? You're in luck. Ahead, we've rounded up eight activities you can do this summer that are most definitely not the beach. Yet still, 100 percent FUN.
1. Love Elvis?
Head to the iconic Parkes Elvis Festival -- a celebration of the life and music of The King himself held annually in Parkes, NSW, in the second week of January to coincide with the January 8 birthday of Elvis Presley. Of course, it wouldn't be right if there wasn't a theme. In 2017 it's "Viva Las Vegas".
2. Australia's largest music festival
From January 20 country music lovers can soak up every bit of the South at the Tamworth Music Festival, rated in the top 10 in the world featuring over 700 artists scheduled across 80 venues.
3. Head to a national park
There are more than 500 national parks in Australia. That's millions of hectares of unspoilt nature, native wildlife and pristine landscapes. Pick one closest to you and make a day of it. More information here.
4. Watch a movie at sunset
A good movie under the stars with cheese, wine and maybe even a hot date. Well look at you! Sunset Cinema has you covered, offering five locations across NSW, Victoria and ACT as well as local food vendors, because movie treats are for grown-ups too. Sydneysiders can also catch a flick with the backdrop of the harbour with St. George Open Air Cinemas.
5. Round up the kids for The Wind in the Willows
Australia's longest running theatre show, The Wind in the Willows celebrates its 30th anniversary in 2017. It's a beloved family tradition that takes place in Melbourne's Royal Botanic Gardens from December 23 to January 28 2017.
6. Hit up the markets in Melbourne
Melbourne's Queen Victoria Market has extended its opening hours for the entire holiday season, meaning you can peruse and eat to your heart's content. On Wednesdays they have a night market offering hawker-style food and vintage wears. Other markets to check out include Fitzroy's Rose Street Market to soothe your creative soul and Camberwell's Sunday Market for vintage, retro, antique and hot jam donuts.
7. Play croquet
Having already completed its Sydney leg, the Royal Croquet Club will continue its tour in Melbourne this week setting up shop on the banks of Birrarung Marr followed by Adelaide, Perth and soon to be announced, Brisbane. From live music, local food and croquet, it's the garden party that has something for everyone.
8. Go camping in the heart of Sydney
Cockatoo Island is the largest island in Sydney Harbour and forms part of the UNESCO world-heritage-listed Australian Convict Sites. If you're a history buff, this fascinating spot is worth a visit. Simply jump on a ferry or water taxi from Circular Quay and you'll be there in minutes. You can even stay the night at the waterfront camping site.
ALSO ON HUFFPOST AUSTRALIA