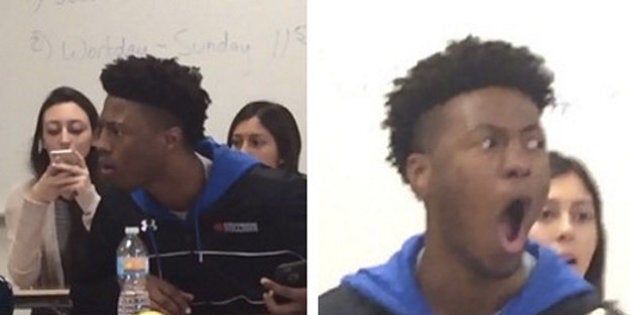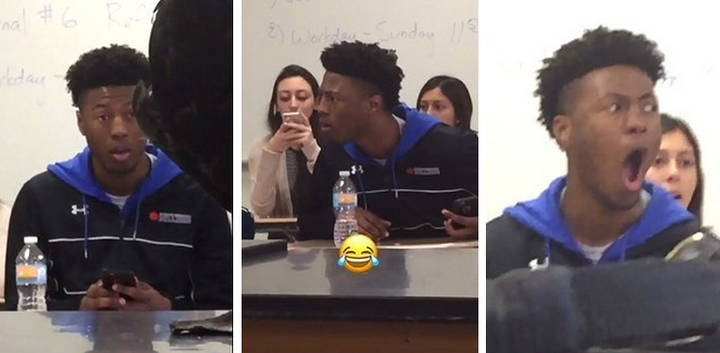 One teen could not handle the majesty that is the animal kingdom.
And the internet loves him for it.
Jill Lojas, 18, was trying to take a picture of a bird during an animal presentation in her zoology class when her eagle eye caught one of her classmate's expressions. Jalen Brooks, 17, looked amazed by the animal, and Lojas couldn't help but record the whole thing. She then posted the hilarity to Twitter on Dec. 9:
"He's a very animated guy," Lojas, who attends Riverside Brookfield High School in Riverside, Illinois, told The Huffington Post. "He's just hilarious."
Yet, Lojas could have never anticipated how Brooks would react when a huge python was pulled out of a box and presented to the class.
"I lost it," Brooks told HuffPost. And from the looks of this GIF, made from Lojas' original video, he certainly did:
Brooks' recorded reaction went viral on Twitter, receiving over 248,000 likes and 140,000 retweets.
Lojas found the whole thing so entertaining that she demanded that Twitter turn Brooks' charming reaction into a meme.
And people, equally enthralled with Brooks' enthusiasm, went with it.
A student at their school even made T-shirts of Brooks' face, which you can see Brooks and Lojas rocking below:
And although most of the attention Brooks has received has been online, he thinks the popularity of Lojas' posts sheds light on the importance of being present in the moment.
"It's spreading a positive message about paying attention in the classroom," Brooks told Today. "A lot of teachers are contacting me saying how much they enjoyed it. And the community is getting attention, too. It just makes me happy."