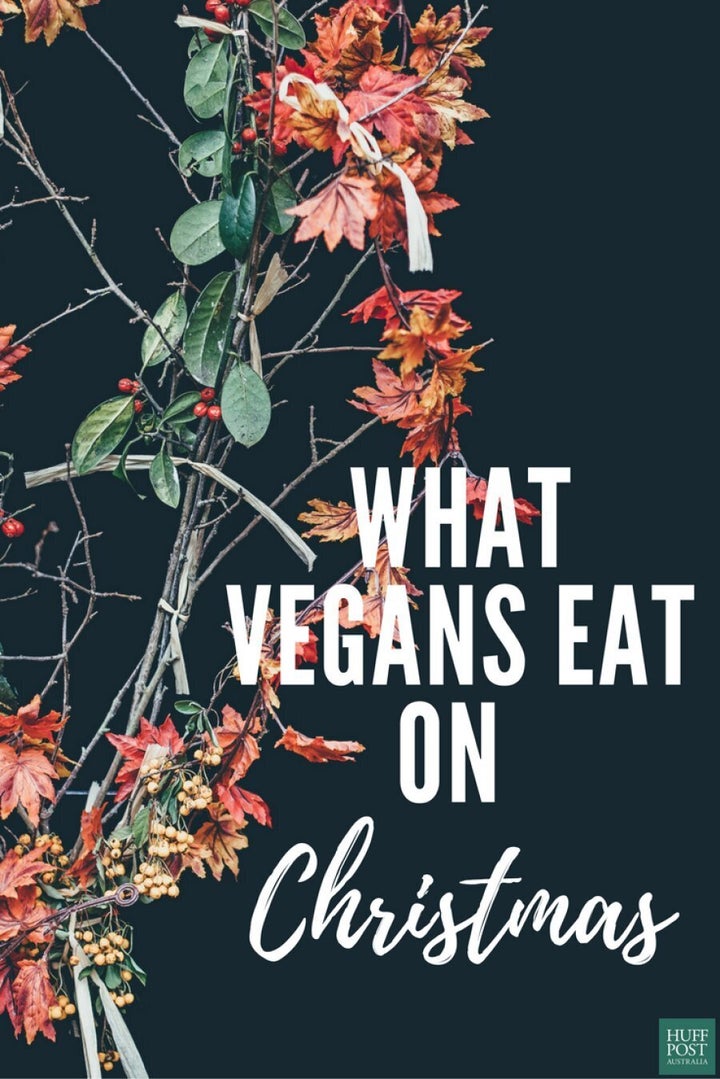 When you think of Christmas, the food that comes to mind is glazed smoked ham, roast beef and lamb, egg white filled-pavlova, creamy trifle, pudding with custard, seafood and gingerbread cookies.
But there is 11.2 percent of the Australian population that won't be eating this -- well, not in the way you'd think.
Contrary to popular belief, vegetarians and vegans don't eat salad all day, and Christmas will be no different.
Thanks to faux meat, replacement eggs and clever hacks, vegos and vegan will have a glorious Christmas spread worthy of any meat eater. It's pretty easy (not to mention delicious).
1. Chelsey Johns
"My name is Chelsey Johns and I'm the founder and editor of Like A Vegan. I'm based in Newcastle, the best city in the world (or 9th according to Lonely Planet's Best Cities of 2011 list.) My three fave things are hip hop, technology and animals, but Christmas is definitely high up there," Johns told HuffPost Australia.
"I've celebrated a vegan Christmas with my family since even before I went vegan nine years ago. Mum has been forbidden to alter the menu so it has always remained the same -- mock duck in gravy, pastry covered nut roast, mock prawn cocktail, tofu roast and a bunch of vegetables and salads.
"While Mum is in charge of the family Christmas meal, I'm in charge of desserts and I love to bust out a showstopper like my Pomegranate Trifle or a Berry Pavlova."
2. Jade Hancock and Angie Shoesmith
"We own a vegan café called The Giving Tree Cafe in Kingaroy, a rural town about three hours outside of Brisbane," Hancock said.
"Before we opened up, most people here thought vegans just ate salad. We certainly do not go without on Christmas. In fact, it's quite the opposite."
While Shoesmith generally makes all the savoury dishes, Hancock takes care of the sweets.
"This year's menu includes mushroom wellington, seitan stuffed roast, grilled chilli butter corn, grilled lemon asparagus, veggie tart, roast pumpkin stack, kale and pine nut ravioli, sweet potato and brazil nut pie, zucchini bread, choc peppermint Christmas tree cupcakes, fruit mince pies, pavlova and a trio of almond cheeses. So much food."
3. Rosi Ngwenga
"We always celebrate Christmas Eve at my parent's house in Hobart. Ever since my brother and I went vegan, we still enjoy all the same dishes we always had before, but just without animal products, and the rest of the family doesn't notice the difference," Ngwenga said.
"We make vegan fruit mince pies served up with soy ice cream, pavlova using aquafaba instead of egg whites, shortbread, roast veggies, salads, pasta and, of course, a Tofurky roast with gravy.
4. Ward Young and Georgie Purcell
"Christmas is a time of celebration, that's why we leave animals off our plate and contribute to a kinder world," Purcell said.
"On the menu is vegan garlic and chilli prawns inspired by Smith and Daughters' fame, scallop potatoes with vegan bacon, a Tofurky and a mock chicken salad. And we don't stop there -- for dessert we'll be indulging in a traditional Christmas pudding with custard and a dairy free cheesecake.
"On Christmas Eve we are having another family celebration with vegan pizzas and cruelty free finger food, including a vegan cheese platter."
5. Naomi Boscoe
"I run a soup kitchen based on the Gold Coast called Soul Soup Australia, serving nutritious hot vegan meals to locals using produce discarded from supermarkets and donated through Second Bite," Boscoe told HuffPost Australia.
"Our Christmas menu includes curries, pasta bakes, pies, roasted vegetables and cake which are all vegan. We're also collecting donations from the community to give to our guests to make their Christmas cheery."
6. Clarke, Kate, Talika and Tomer Vincent
"At Christmas the kids get busy making vegan gingerbread to cut into Christmas tree shapes or to make into a house. We then decorate it with vegan sour strap lollies, Skittles, Lifesavers or whatever else we find at the shops that doesn't contain any gelatin (boiled up animal parts).
"To keep things simple, we stock up with Sanitarium Vegie Delights roast, which is available in supermarkets everywhere, and Woolworth's Essentials plum pudding, which is accidentally vegan."
7. Dimitrios Kailaris
"This year I am going all out for Christmas. I'll be going head-to-head with my family's favourite recipes by making them cruelty-free, or what I like to call 'veganising' them," Kailaris said.
"Everything from lamb on the spit, to spanakopita (a traditional Greek puff pastry dish filled with feta cheese and spinach), you name it, I'm veganising it. They better leave room for dessert as I've got some vegan ice cream recipes that they won't be able to resist."
ALSO ON HUFFPOST AUSTRALIA