Let's face it. New Years Eve has an age-old tradition of generally sucking.
Whilst we all couldn't be any more excited to be done with 2016 and to welcome the new year, the night itself seems to end abysmally.
Which is strange, considering some of our cities are renowned for having the best firework displays IN THE WORLD.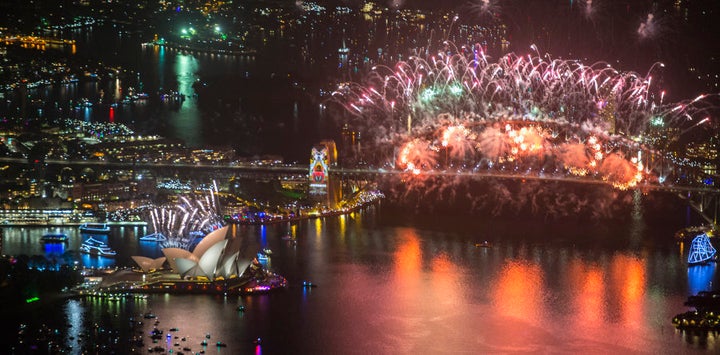 Whether it is the result of spending hours perched on a teeny patch of grass in the lead up, or drinking copious amounts of alcohol elsewhere, we're not entirely sure.
What we are sure about is that there are ways to enjoy yourself as you bring in the new year -- with a touch of sobriety and (perhaps) a few less people.
Behold our list of alternatives that are decidedly low-key.
1. Switch your firework spot for a picnic spot (or nail both)
Stray from the CBD and you could find yourself in a lazy picnic abyss. Head to a secluded beach or find yourself a top secret green spot -- and if you're lucky, you might be able to sneak a peak of those fireworks from the comfort of your own evenly-spaced picnic rug.
Sydneysiders, we recommend scouring Balmain for some sweet summer picks. Illoura Reserve is Balmain East's best kept secret, with the best views of the Harbour Bridge and Barangaroo in town.

For even more expansive views, Dudley Page Reserve is your go-to. In Dover Heights, you'll be able to cast your eyes over the city skyline as the sun sets.
2. Eat a lot
What better way to bring in the new year than eating a hell of a lot of delicious food?
We're in Tasmania, and the country's top foodies are joining the top yachties (it's Sydney to Hobart time, of course) at the annual Taste of Tasmania festival. There's back-to-back market stalls, copious tastings plus wine and beer (at your own discretion) and plenty of live music. It's a New Years Eve party perhaps turned down a notch (or two).
3. See a 2017 sunrise
2016 was so yesterday. It's all about that first dawn of the new year. And being the easternmost point on Australia's mainland, Cape Byron in Byron Bay is the place to be.

Once those first rays of 2017 surface, we suggest picking your sobre self up and joining Byron Bay's First Sun. It kicks off at 5:15am to the sound of gongs, followed by some stints of silent meditation, mindfulness and yoga. Now that's a good way to start fresh.
4. Dinner party, anyone?
Okay, so this may sound boring. But you're guaranteed to have a good ol' time with the friends and family that you care about. Plus, you can watch the fireworks from the ease and comfort of your own home.
Bring out some lights, line a long table and use up those leftovers from Chrissy.
And hey, dinner parties are classy, people.
4. Feel like a festival?
Don't worry, we haven't forgotten about our promise to bring you 'decidedly low-key' options. We're talking about Lost Paradise -- three days of music, nature and wellness in NSW's Glenworth Valley.
Lost Paradise is all about relaxing into the new year -- which doesn't mean compromising on quality music. A host of local and international talent will be there including Sticky Fingers and Flight Facilities. The ultimate chill.
BYO teepee / hammock (but be quick as tickets are limited).
5. Hang with your grandparents
Who says we need to be spending New Years Eve with friends? And when was the last time you properly sat down with your grandparents? Sure, this may have been Christmas a few days earlier, but this can be a surefire way of enjoying dinner and a brief ooh-aah over the 9pm fireworks before capping off for an early night.
ALSO ON HUFFPOST AUSTRALIA