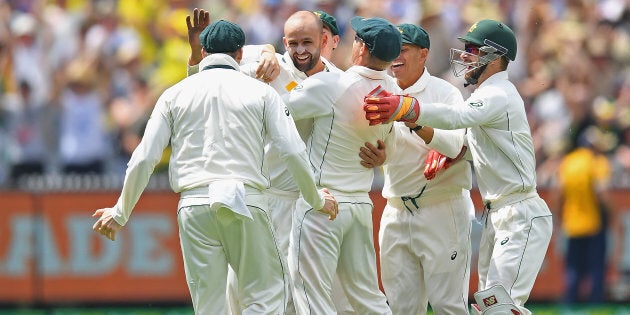 Life is weird, cricket doubly so.
If you need evidence of the above, look no further than the Boxing Day Test between Australia and Pakistan at the MCG, where strangeness just occurred. We knew it was gong to happen, but that didn't make it any less weird.
What exactly happened? A crowd of 36,000 plus was all set to yell "niiice, Garyyyy," that's what. But then they sort of didn't. The story from the beginning...
"Garyyy" is Nathan Lyon, the Australian off-spinner so nicknamed by wicket keeper Matthew Wade, who apparently is a fan of former AFL player and Footy Show host Garry Lyon. Wade has been yelling "niice Garyyy a lot after Lyon bowls, since his recall to the Test team earlier this summer in Hobart.
Last week, a cricket fan called Josh Pocock posted an event on Facebook called the Niiice Garryyy world record attempt (we're using his spelling of "Garyyy" throughout this story). Fans would shout "niiice Garryyy after Lyon's third ball on the first morning of the Boxing Day Test -- assuming Pakistan batted first, which they did. And that was that. Hilarity would ensue.
So it came to pass that when Nathan Lyon came on to bowl, the crowd did ariseth after the third ball, but it was not to yell 'Niiice Garryyy," or if it was, nobody heard. It was to celebrate the wicket of Pakistan opener Sami Aslam, which Lyon snared with a beautiful delivery which caught the batsman's glove before going through to slip.
So Garry both celebrated and spoiled his own Niiice Garryyy party by taking a wicket. But Matthew Wade ensured we all got our fill by yelling "Niiice Garryyy" after what was a pretty average innocuous, unthreatening sixth ball of the over.
Anyway everybody is happy. Which is niiice.