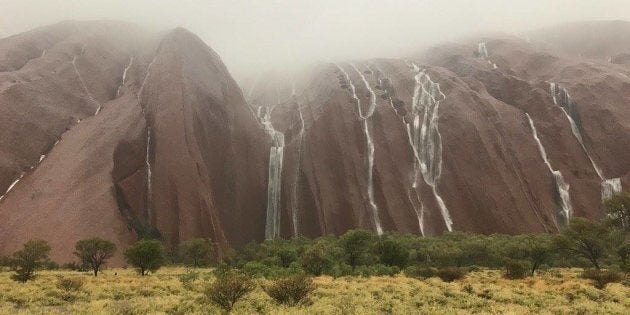 Well here's something you don't see everyday.
Uluru, Australia's most famous and sacred rock, sits in the Western Desert in central Australia. Surrounded by iconic red sands, the landscape is sparse, dry, harsh. But currently, much of it is soaked, and the imposing Uluru rockface turned into a stunning waterfall as record-breaking rain poured down this Christmas.
Visitors to Uluru national park were stunned to find the hot desert suddenly assaulted by storms. Flash flooding saw the park forced to close, with operators citing an "extreme weather event". The Bureau of Meteorology said the weather system passing over the area was a "one-in-50-year rainfall event"; the monitoring station at Walungurru, around 500km north-west of Uluru, received 232 millimetres of rain in just 24 hours. Flooding forced people in nearby towns to evacuate.
But it was the Uluru waterfall that attracted the most attention. The massive red rock became a stunning water feature as the huge downpour raced down its face and filled its crevices, delighting visitors lucky (or unlucky) enough to be nearby when the storms hit.
On Tuesday, however, the park's management announced Uluru would reopen to visitors. Guests were warned of water remaining over the road.
ALSO ON HUFFPOST AUSTRALIA