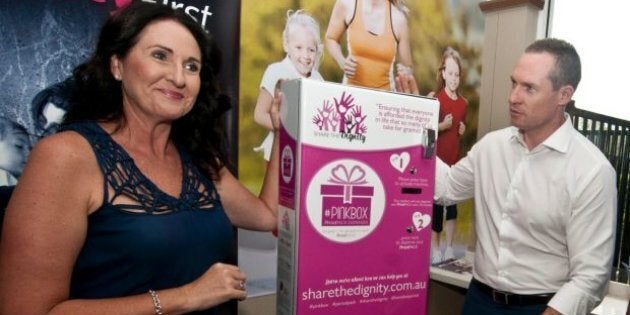 For a woman who is facing homelessness, domestic or family violence, McDonald's can be a common point of refuge.
"We know that this is one of the places that women tend to flee. McDonald's is generally clean, the food is reasonably priced and there is a place for their kids," founder of Queensland charity Share The Dignity Rochelle Courtney told The Huffington Post Australia.
At Bracken Ridge in Queensland, it was also the launch site of Share The Dignity's latest project, 'Pink Box', on Friday -- an Australian-first vending machine that delivers free, timely sanitary products to women in need.
We are purely a band aid solution. Women shouldn't be living like this.
There are 83,000 people between the ages of 12 and 54 who are homeless in Australia, and 44 percent of these people are women who face a compounded struggle of managing their period without access to adequate hygiene products.
"Having access to sanitary items is a basic human right. And yet we have heard countless stories from women in drought-stricken communities in the Northern Territory who are still using rags to manage their period," Courtney said.
Moved to help these women, Courtney started Share The Dignity in 2015, with the Pink Pox Period Pack Dispenser being twelve months in the making.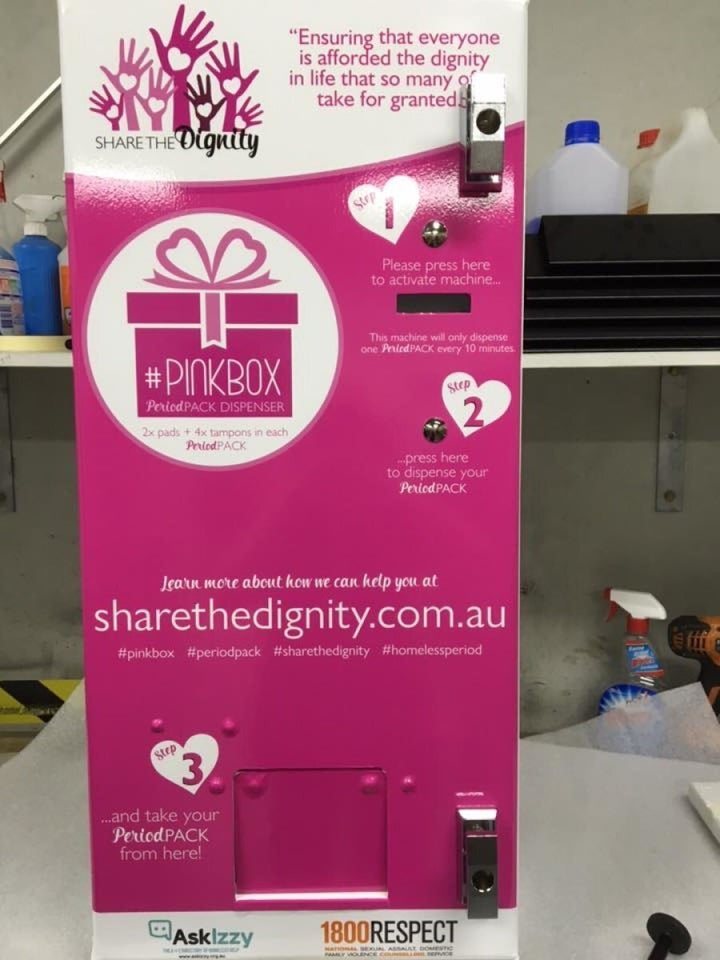 Each 'Pink Box' holds 75 'Period Packs' that contain two pads and four tampons.
"For some women, that might last them a whole day. With experience managing endometriosis, I know myself that this could be their saving grace for just an hour," Courtney said.
Whilst coin-operated machines are available, the Pink Box project has an important time mechanism to deter exploitation that renders it an Australian-first.
"We had to get this right," Courtney said. "A woman can press the button and a Period Pack will come out. It automatically has a time set for another pack to be dispensed after ten minutes."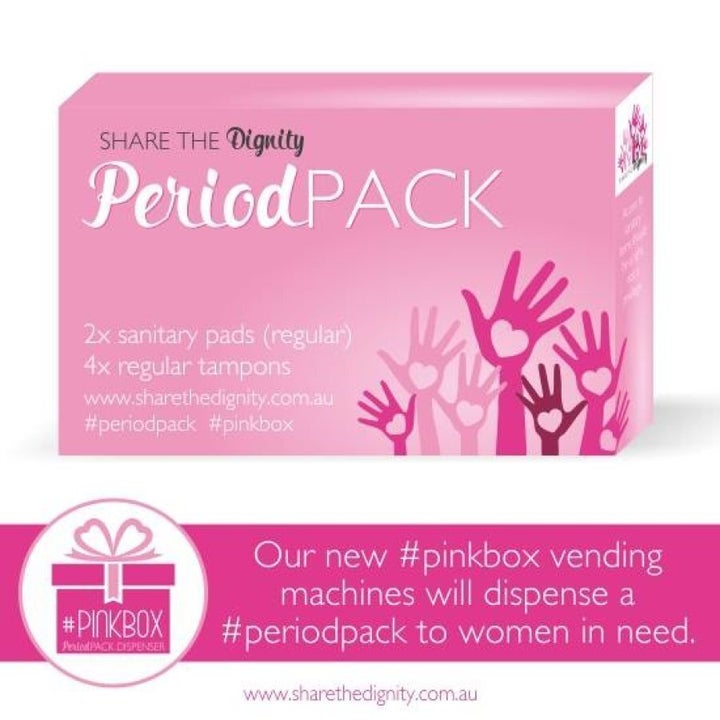 The 1800 RESPECT phone number together with the Ask Izzy app will be printed on the front and sides of each machine to provide access to the nearest women's shelter or other essential services.
It's vital that these women know where they can get help.
With a funding boost from the Queensland government's 'Dignity First Fund', ten vending machines will soon be installed in community locations across the state. By the end of 2017, Courtney hopes to have 50 machines set up across the country.
"These will span from public libraries and shopping centres -- places where we know women commonly go to seek refuge -- to poverty-stricken local schools were girls do not even want to ask about their sanitary needs," Courtney said.
"If we can provide even those girls with what they need, then this is all worth it."
'It's In The Bag'
Courtney's latest venture follows a successful Christmas appeal that saw the charity collect about $2.9 million worth of donated sanitary products.
In its second year, 'It's In the Bag' asks individuals to donate a used handbag filled with items that would be gratefully received by a homeless woman -- from pads and tampons to socks and shower gel.
One lady has written in to say that she and her 5-year-old daughter ended up in a domestic violence refuge last Christmas. She didn't even have a toothbrush. This year, she received a bag.
In 2015, the appeal collected 24,000 bags. This year, Courtney and a team of 1,500 volunteers distributed over 100,000 bags to homeless refuges and shelters across the country -- including 500 bags up to facilities in Darwin.
"We were busy right up until Christmas Eve. We were able to make sure that every shelter in Australia ended up receiving bags. It was an extraordinary effort, but at the end of the day, our why is extraordinary," Courtney said.
"One lady has written in to say that she and her 5-year-old daughter ended up in a domestic violence refuge last Christmas. She didn't even have a toothbrush. This year, she received a bag. She was so overwhelmed with emotion that somebody cared," Courtney said.
"The gratitude that these women express for something that we take for granted is incredibly overwhelming."
With each dispenser costing $9,000 to build, Courtney is reaching out to companies, community organisations and individuals to sponsor their own Pink Box.