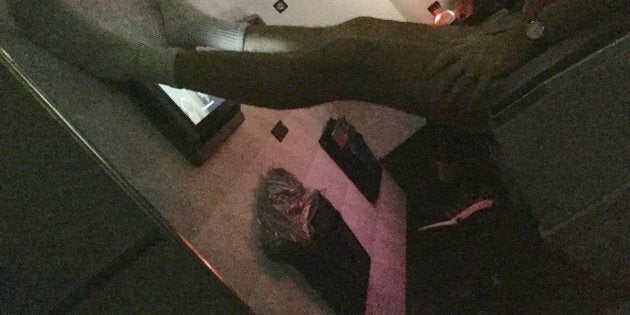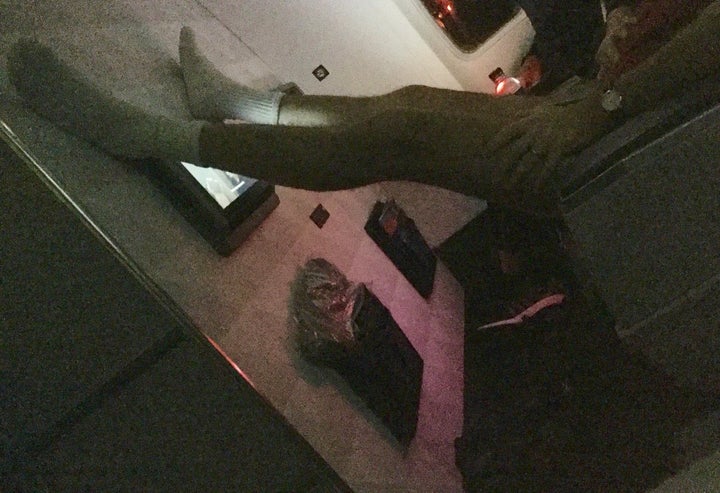 There's an unspoken decorum in airplane cabins that keeps all passengers relatively comfortable. Some individuals, however, don't think the rules of common courtesy apply to them.
Comedian Kumail Nanjiani, costar of the HBO series "Silicon Valley," was recently seated near one such deplorable, who decided that a 5 1/2-hour flight is the appropriate time to strip down to your skivvies and spread eagle.
"I was on a plane a couple of days ago," Nanjiani tweeted Wednesday. "A guy took off his jeans and lounged around in his boxers with his feet up on the wall."
The culprit, Nanjiani later clarified, was seated at the front of the plane, "so if you walked onto the plane, you would be greeted by this defiant fleshy V."
The man reportedly took his pants off within the first 20 minutes of the flight and had his feet up for four hours before a flight attendant asked him to put his bare legs back on the ground.
After a "40-second stare down" between the man and the attendant, the man complied, according to Nanjiani.
But only for a moment.
Nanjiani said that, after five minutes, the man thrust one foot back up against the wall, "like a fist raised against an unjust sky."
Pants (or lack thereof) aside, Nanjiani also claimed that this man was rude to airline staff.
The man stood in front of the gate during pre-boarding for 30 minutes and, at one point, said, "I can't wait to get in there and get my pants off," as people in wheelchairs rolled around him, Nanjiani tweeted.
The actor also said that the man slammed his fist on the armrest if he failed to get the flight attendant's attention during the flight.
During his tweet storm, Nanjiani called attention to the colored lights that can be seen near the man's boxer-clad crotch, which made some of his Twitter followers believe he was on a Virgin Airlines flight.
However, they weren't on a Virgin aircraft and those lights weren't from the plane. The light ― which, according to Nanjiani's video evidence, flashed various colors ― was from the man's USB charger.
"Ppl think it's Virgin. It's not! His USB charger made disco lights the whole time, bathing his thighs in reds, blues, greens," the actor explained.
Unfortunately for Nanjiani and his fellow passengers, this story did not have a happy ending, and justice was never served.
The bare-thighed man waited until the plane had already started its descent to stand up, "in defiance of decency & lighted seatbelt signs," and put his pants back on.
Nanjiani was understandably perplexed when he saw that the pantless perpetrator suffered no consequences after forcing people to deal with his "hairy thigh V."
The actor did find a little irony within the whole ordeal, specifically in the man's choice of movie.
When fellow comedy writer Dan Harmon wondered (tweeted) whether this pants-defying man was a villain or hero, Nanjiani was quick to explain the unwritten rules of air travel.