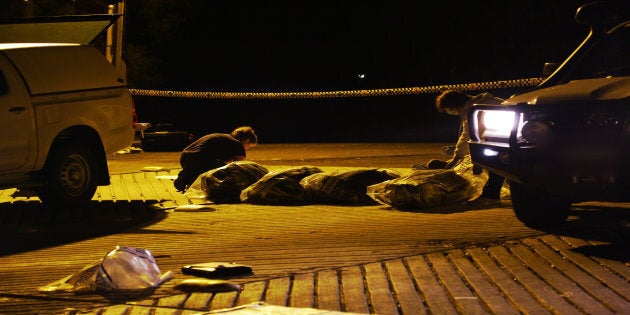 Police believe they have dismantled a well-connected criminal drug syndicate after charging 15 men for allegedly attempting to import $360 million of cocaine into Australia
Australian Federal Police and NSW Police said they charged the men, and seized approximately 500 kilograms of cocaine at Parsley Bay in NSW and a further 600 kilograms in Tahiti, in raids over Christmas.
In total, the drug bust prevented 1.1 tonnes of cocaine from hitting the streets, making it the biggest seizure of its kind in Australian history, police said.
Network Seven vision of the operation shows heavily armed police arresting men in a night raid on a ship docked at Sydney's fish markets.
Police believe the criminal syndicate used a vessel to ferry drugs between NSW ports and a larger ship out at sea that held drugs brought from Chile.
Police told reporters that 100 officers worked on the investigation, which began more than two years ago after a tip-off from a member of the public.
"The criminal syndicate we have dismantled over the last few days was a robust,resilient and determined syndicate," police added on Thursday.
"It posed an ongoing and continued threat to the Australian community and without the work of our police, would still be in action today. The syndicate was sophisticated. It went to great lengths to avoid law enforcement detection.
"It was only through the persistence, determination and the resilience of the police that it is no longer a threat to our community."
The men, said to be aged between 29 to 63 years, have been charged with serious drug offences. They have all been refused bail, according to media reports.
Fairfax Media reports that among the men arrested are former rugby league player John Tobin, Bondi businessman Darren John Mohr and commercial fisherman Joseph Pirrello.
Police said the accused men made four separate attempts to try and bring drugs into the country in the lead up to Christmas.
"Their attitude was that they were determined to exploit some of the most vulnerable people in the community through the use of drugs and enrich themselves to do so."