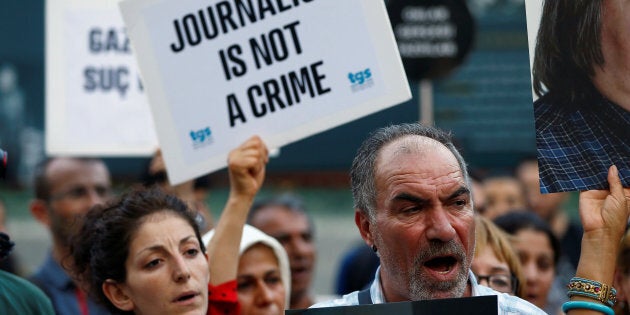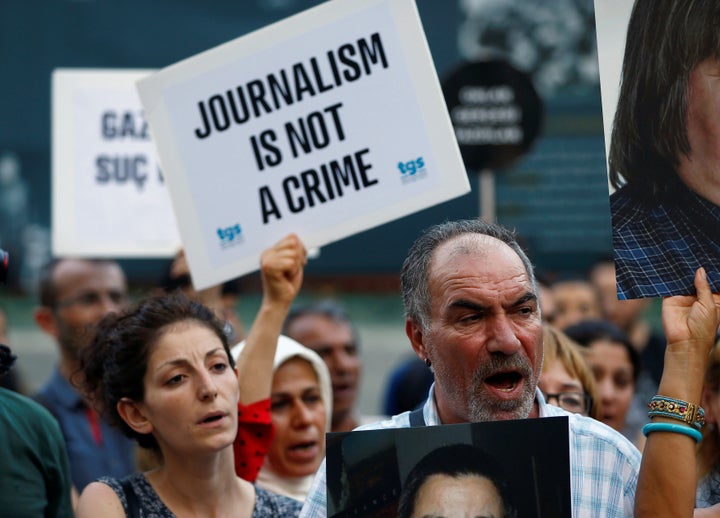 Media freedom has undergone a "deep and disturbing" decline in several parts of the world and at the global level this year, according to a new release from Reporters Without Borders.
Thus far in 2016, 57 journalists have been killed in connection with their work, 187 remain imprisoned and 44 are currently being held hostage, according to the organization's latest Decembertallies. These figures represent professional journalists only. When including media netizens and citizen reporters, the numbers of those slain, detained and held for ransom climb to at least 74, 348 and 52, respectively.
The freedom of information advocacy group, also known as Reporters Sans Frontières, ranks 180 countries' levels of press freedom to produce an overall world evaluation. Between 2013 and the start of this year, the global score plummeted by 13.6 percent. Factors evaluated by the group ― all of which worsened during this period ― include media independence, transparency and censorship, among others. The final grade for 2016 has yet to be calculated and released, but the overall picture is grim.
"What is very disturbing and concerning is that we have seen all continents are affected by this drop in press freedom," Delphine Halgand, RSF's U.S. director, told The WorldPost. "Since the start of 2016, the decline has been unbelievable."
The Americas' score tumbled by 20.5 percent in the three years leading up to 2016, which RSF attributes to a jump in targeted violence against journalists in Mexico and Central America.
The score for Europe and the Balkans, meanwhile, decreased by 6.5 percent as a result of the expanding impact of ultraconservative governments and extremist movements.
In Central Asia and eastern Europe, press freedom declined by 5 percent due to deteriorating free speech conditions in nations under authoritarian leadership.
Several countries already notorious for their lack of press freedom, like Egypt, China and North Korea, saw their scores drop even lower in RSF's annual Press Freedom Index. Other countries, including typically higher-ranking ones like Poland, took shocking nosedives this year as governments tightened control of state-owned media outlets.
Americans are often surprised to see that the United States ranks 41st on the index, Halgand said.
RSF decried the U.S. government's "war on whistleblowers" in the name of protecting national security, and cited American journalists' lack of rights to withhold their sources and other confidential information.
A large group of press freedom organizations recently penned an open letter to President-elect Donald Trump, whom the Committee to Protect Journalists has already declared a "threat to press freedom." The incoming leader of the free world has continuously berated and vilified the "disgusting" media, and denied press credentials to news organizations that covered his campaign in ways that displeased him.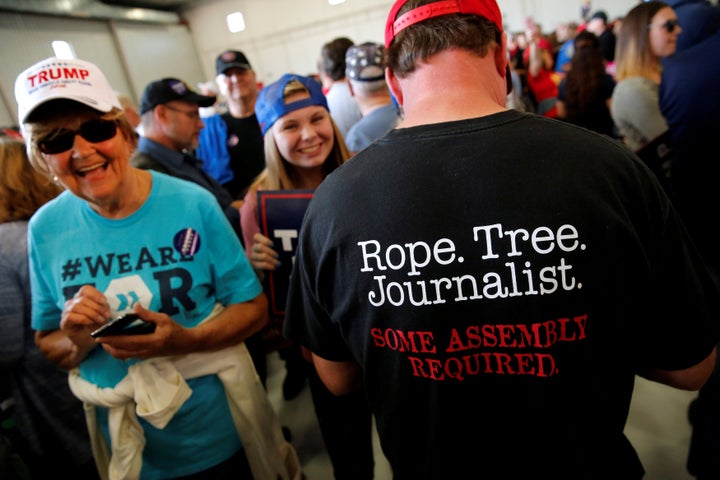 The RSF report notes that the survival of independent news coverage around the world is growing "increasingly precarious" in both privately owned and state media outlets, due to "the threat from ideologies, especially religious ideologies, that are hostile to media freedom, and from large-scale propaganda machines."
Journalists Killed
At least 53 slain journalists ― almost three-quarters of those killed this year ― were murdered for doing their jobs. Twenty-one others died on the job, but their deaths have not been confirmed as deliberately targeted.
Syria and Afghanistan, two of the deadliest countries for news industry workers, have seen the deaths of 22 professional and citizen reporters so far this year, in addition to seven media assistants. In January in Kabul, a Taliban suicide bomber killed seven journalists by attacking a vehicle owned by a news production company. Mohammad Nasir Mudasir, the editor-in-chief of a radio station in the city and a father of four, was shot dead there just two weeks ago, after receiving threats from the Taliban.
"We have seen a slight decrease in the number of journalists killed this year, but it's linked to the fact that journalists are being forced to flee many countries," Halgand said, adding that reporters in countries like South Sudan and Mexico often resort to self-censorship to avoid being murdered. "There are just fewer and fewer journalists in many regions of the world, and therefore less and less information. So despite this slight decrease in journalists killed, it's not a good indication, per se."
The majority of those killed this year were local reporters working in war zones, where foreign journalists are often reluctant to go. According to Joel Simon, executive director of the Committee to Protect Journalists, reporters working as war correspondents "continue to be killed at an extraordinarily high rate, a reflection of the brutality and unpredictability of modern conflict." CPJ has confirmed the motives behind the deaths of 1,228 journalists killed in relation to their work since 1992.
Just because you're a journalist, you're not exempt from assassination if you're a son of a bitch.Rodrigo Duterte, president of the Philippines
In many countries, there exists an alarmingly casual attitude about restricting press freedom and even violently retaliating against journalists.
In the Philippines, for example, where at least 175 journalists have been slaughtered in the past two decades, President Rodrigo Duterte suggested shortly before taking office that some reporters deserve to be executed.
"Just because you're a journalist, you're not exempt from assassination if you're a son of a bitch," he said earlier this year. "Don't fuck with me," he warned reporters at a press event days later.
On Wednesday, the United Nations condemned the murder of Philippine columnist Larry Que, who was fatally shot on Dec. 19. "I call on the authorities to do all they can to bring those responsible for this crime to trial," said UNESCO Director-general Irina Bokova. "Journalists must be able to work under safe conditions to ensure the free flow of information. It is vital for society as a whole that their safety be protected."
The U.N. unanimously adopted a resolution last May to protect journalists, but a coalition of media professionals and organizations say that more must be done. They are calling for the U.N. to appoint a special "journalists' protector" to focus exclusively on this issue.
Journalists In Prison
Journalists are being imprisoned with growing frequency, with the number of those detained in Turkey more than quadrupling since a failed military coup in July. More than 100 reporters and media workers are currently languishing in Turkish prisons, following President Recep Tayyip Erdogan's vow to seek retribution against those who tried to overthrow his government.
"An all-out witch hunt has jailed dozens of journalists and has turned Turkey into the world's biggest prison for the media profession," RSF Secretary-general Christophe Deloire warned. "In the space of a year, the Erdogan regime has crushed all media pluralism while the European Union has said virtually nothing."
More than 100 media workers are also locked up in China, where the government has cracked down on dissent by exerting control and regulation policies over news outlets and social media platforms.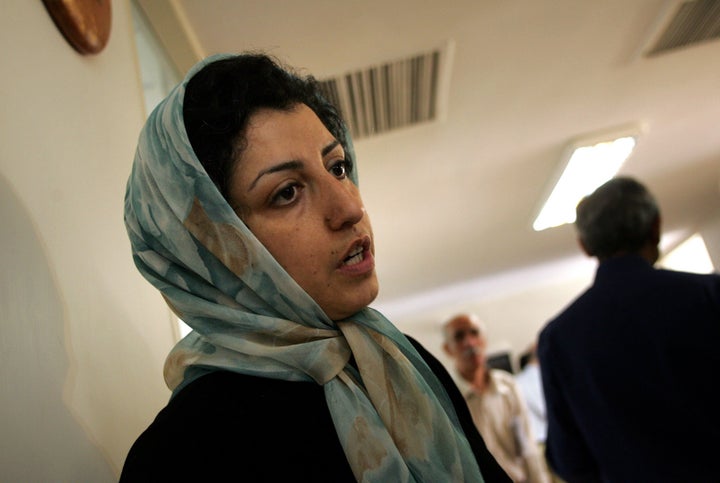 Iran handed Narges Mohammadi, an award-winning human rights defender and journalist, a 16-year jail sentence earlier this year for charges including "anti-government publicity." Amnesty International called the verdict "yet another chilling example of Iran's use of vaguely worded national security charges to crack down on peaceful freedom of expression."
Around the globe, other alleged crimes that have landed journalists behind bars this year include insulting the president, producing terrorist propaganda and endangering the state's unity.
Journalists Held Hostage
As the leading abductor of journalists, the militant group that calls itself the Islamic State is currently holding 21 reporters and media workers hostage in connection with their work. All 52 journalists held captive worldwide under such circumstances are in Middle Eastern conflict zones: Syria, Yemen and Iraq. Islamic State hostages often face particularly gruesome fates: Some are made to appear in propaganda videos for the group, and some have been tortured or even beheaded on camera.
"Even outside of war zones, journalists are being deliberately targeted and murdered," Halgand said. "But when there's a conflict on the ground, it often becomes an information war at the same time."