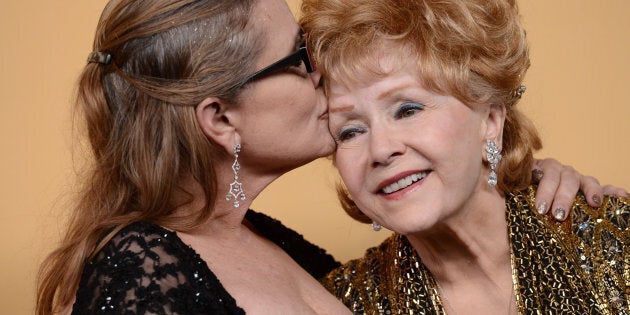 It seems that the loss of her daughter may have been too heavy a burden for Debbie Reynolds to bear.
The 84-year-old Hollywood icon died after suffering a stroke Wednesday, just one day after her daughter, Carrie Fisher, was pronounced dead following a heart attack.
But it's her final words that show just how much the "Singin' in the Rain" star loved and missed her daughter.
Todd Fisher, Reynolds' son, told TMZ that he and Reynolds were planning Carrie Fisher's funeral Wednesday morning when she began grieving and told him, "I miss her so much, I want to be with Carrie."
Fisher confirmed Reynolds' last words to E! News saying, "She went to be with Carrie. In fact, those were the last words she spoke this morning."
After news broke of Carrie Fisher's death on Tuesday, Reynolds thanked her daughter's fans on Facebook for their thoughts and prayers.
Reynolds would also often share vintage photos of her children on Facebook, giving the world a peek into their lives as Hollywood fixtures.
While Reynolds' love for her children was expressed in her last words, she could rest assured that her daughter felt the same way.
"I usually come to her," Fisher added. "I always come to her."