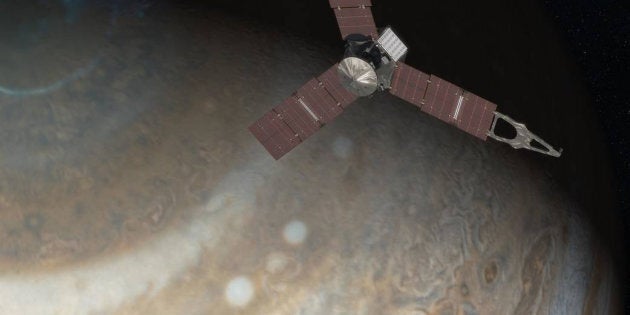 NASA has a whole lot of research planned for 2017, including continued work to transport humans to Mars and efforts to track our home planet's changing climate, despite an incoming administration that's proved to be highly antagonistic to science in general.
The U.S. space agency released a video Wednesday of next year's planned ventures, which include interplanetary missions involving the red planet, Saturn and Jupiter; new programs to develop environmentally friendly aviation; and ongoing exploration of the known and unknown universe.
The agency will also monitor the total solar eclipse in August.
However, one of NASA's potentially controversial initiatives includes continued monitoring of earth sciences and weather phenomena, inevitably linked to climate change research. The agency this year launched new satellite missions to track sea level rise and has plans to install two Earth-observing instruments on the International Space Station next year, one to monitor the ozone layer and another to track lightning.
While the agency's plans are expansive, it's unclear how they'll fare under the administration of incoming President Donald Trump, a man who has doubted the science behind climate change (which he's called a hoax perpetrated by the Chinese). Just last month, one of the president-elect's space advisers said he hoped Trump would end NASA's research into the phenomenon, calling it "politicized science" that distracts the agency from exploration.
"I believe that climate research is necessary, but it has been heavily politicized, which has undermined a lot of the work that researchers have been doing," former Rep. Bob Walker (R-Pa.) told The Guardian at the time. "Mr. Trump's decisions will be based upon solid science, not politicized science."
Take a look at the video above to see the entire span of NASA's plans for next year.