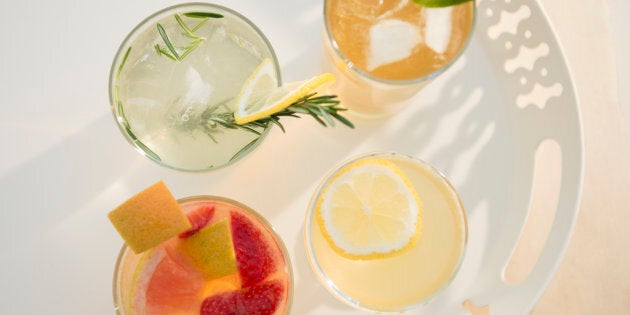 Alas, the silly season continues.
As New Years Eve draws closer, you may be looking forward to a social do at yours -- on account of your perfectly located apartment with splendid vistas, or your general aversion to stepping outside the comfort of your own home (we're with you).
Despite said aversion, there's something to be said about popping a cork and celebrating new beginnings with your nearest and dearest.
And by popping a cork, we mean treating yourself to a couple of these crafty cocktails (or mocktails). They're much more than your usual glass of champers that, on its own, can often leave you feeling a little bloated (not an ideal way to bring on 2017). Plus, there's enough to suit any a crowd.
For a tiny extra touch
Okay, we know what we said about the ol' champers. If you're not one to stray far from what you love, however, a few additions can go a long way.
What you'll need:

Champagne

Rosemary

Pomegranate seeds
Here's another. Watch that pomegranate fuse until your heart's content.
For something suave
It's called the French 75. And this will turn any social do into a stunning French soiree.
What you'll need:

Cognac (or gin)

Lemon juice

A simple syrup

Champagne

Ice

Mix up the cognac, lemon juice and syrup in a cocktail shaker, top with champers and serve with a lemon twist.
For something that spells summer
There's a ritual at nightfall aside a canal in Venice. And it has something to do with uttering the word 'Spritz'. Over here in Oz, this Italian aperitif has taken off and has come to resemble a stunning summer drink in varying forms.
And why not? It's lightly alcoholic, refreshing and aromatic.
What you'll need (for an original Spritz):

3 parts Prosecco or dry white wine (if you're out of Prosecco)

2 parts Aperol

1 or 2 splashes ice-cold soda water

1 slice orange cut in half

Ice

Put a few ice cubes (no more than three or the Spritz will be watery) in a white wine glass or goblet. Add the Aperol and the Prosecco or white wine, a couple of splashes of soda water and the halved orange slice. Stir quickly.
For something champagne-free
For something alcohol-free
Because sober does not equal boring. Even on New Year's Eve.
What you'll need:

Ginger ale

Sparkling grape juice

A handful of raspberries
You won't even know the difference.