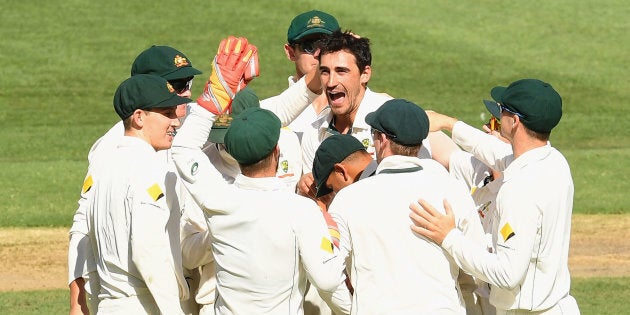 It was supposed to be a draw. It was supposed to dribble out with early downpours over Melbourne. But the Boxing Day Test never stuck to the script everyone had written and now Australia have claimed a massive series victory over Pakistan on Day Five.
After coming out on day five determined to smack quick runs, Smith and Mitchell Starc managed to pile on 159 in just under 30 overs, with Smith scoring an impressive 165 not-out before declaring at 8/624 just before lunch.
A lead of 181 over the visitors made anything other than a draw seem unlikely as both sides still had an innings to bat.
But then the Aussies stepped up to bowl and the game changed dramatically.
Josh Hazlewood was the first to strike, bowling opener Sami Aslam for just 2. Pakistan went to lunch at 1/6, although immediately afterwards Barbar Azam was headed back to the pavilion after Mitchell Starc's first ball led to a reviewed LBW that was ultimately given out.
Spinner Nathan Lyon then managed to grab two wickets in an over, leaving the visitors at 4/63 and the prospect of a draw rapidly turning into the chance of an Aussie victory.
At tea, Pakistan were 5/91 with the Aussies needing a further 5 wickets in the final session.
After Hazlewood dismissed danger-man Azhar Ali to snare his second wicket of the innings, Aussie fans everywhere could sense victory.
Midway through the final session, paceman Jackson Bird managed to bowl Mohammad Amir for 11 and then Mitchell Starc sealed the victory by bowling Sarfraz Ahmed, Wahab Riaz and Yasir Shah.
With all said and done and Australia walking away with a 2-0 Series victory over Pakistan, Lyon, Hazlewood and Starc are sure to be crowned heroes of day 5 with a bowling outfit that clutched an Aussie victory from out of nowhere.