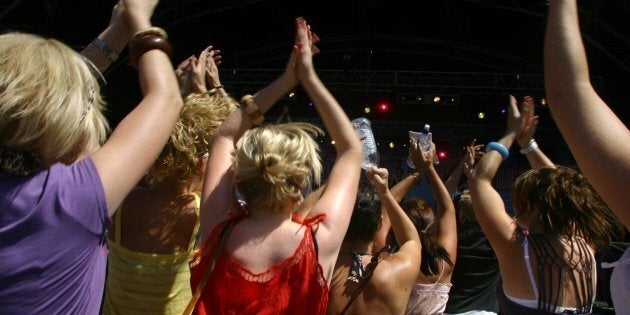 Police arrested more than 200 people at Sydney's Field Day music festival on New Year's Day, including one woman who was allegedly carrying 130 ecstasy pills.
Around 28,000 music fans attended Field Day, with police arresting 204 people for more than 215 offences. Most of those were for drug possession and supply, police said.
The arrests were the result of a big police operation at the event comprising local officers, the dog squad, licensing police and transport officers.
Police said a 24-year-old woman was allegedly found with 130 ecstasy pills and more than $2,000 cash. She was charged with two counts of supply prohibited drug and deal with property proceeds of crime.
Judging from social media, the police crackdown didn't dampen spirits at the event in the Domain.
Paramedics treated about 70 patients for a range of issues, including alcohol and drugs related problems.
Police said they were pleased with the behaviour of festival-goers, despite the many arrests made on the day.
"We work closely with event organisers to ensure the festival is safe and fun, and are pleased the overwhelming majority of revellers were well-behaved," Operation Commander Detective Inspector Andrew Marks said.
"It's disappointing there were still some people who ignored our advice and tried to bring illegal drugs past the drug-detection dogs and through the gates.
"The safety and well-being of people attending the event is our number one priority and we will continue to run operations such as these at major music festivals to help ensure events are safe."
"I think we should be trying to manage the risk, rather than eliminate the risk," Wodak told ABC television on Monday.
"The abstinence junction just doesn't cut through, people obviously continue to takedrugs and be at risk so let's the reduce that risk.
"I think we have to have a trial of pill testing. It has been used extensively in Europe for up to 20 years and seems to work well."
Police were reportedly called to the YewbuNYE rave at Mount Lindesay, around 140 kilometres southwest of Brisbane, on Sunday after bad reactions to the "unknown substance".