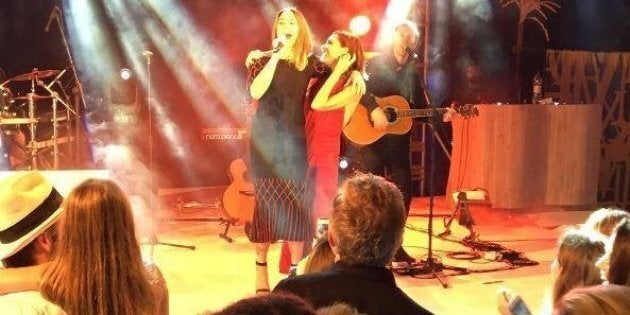 Victoria Beckham has gifted the world the best possible gift to start 2017 with, after joining Mel C on stage to perform an old Spice Girls classic.
Despite insisting she had hung up her Spice platforms for good, Posh reunited with her former bandmate during her and husband David's New Year's Eve party in the Maldives.
Strutting on stage in true Posh style, she and Mel belted out '2 Become 1', and suddenly the whole GEM debacle seemed like a distant memory...
The Beckhams had booked Mel to headline their exclusive event at the five-star Amilla Fushi resort, where they have been staying over the festive period.
Both Victoria and Mel had turned down the chance to reunite with Geri Horner, Emma Bunton and Mel B for their 20th anniversary last year, forcing the trio to form three-piece 'Spice Girls GEM'.
Now, we don't know whether Victoria had just had a few wines to celebrate her recent OBE or was just feeling a bit nostagic, but this has given us renewed hope she and Mel could rejoin the other Spices.
That said, Mel made her feelings on reuniting with the group pretty clear in an open letter she penned for LOVE magazine last year, writing: "I'd love to play huge arenas across the world, sing our brilliantly bonkers pop songs and relive our former glory - it is of course a very lucrative opportunity too," she wrote.
"But we were a five-piece band. Didn't we reach a peak with the Olympics? There's a lot to be said for bowing out on a high note."
It isn't yet known exactly what GEM's reunion will entail, - whether that includes live performances or new material - but if the video they posted announcing their comeback is anything to go by, our expectations aren't exactly high...