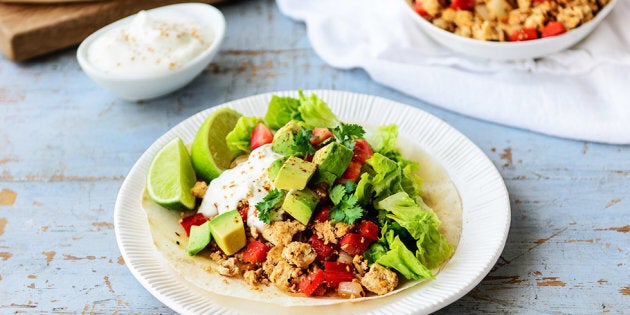 The start of a new year is a time filled with positive attitudes, resolutions and promises. And hangovers. Really bad hangovers.
But the hardest part about this time (aside from going back to work and trying to make your brain do a thinking again) is actually putting your hopes and resolutions into practice.
Sure, it's easy to be all "I'm definitely never going to eat junk food again" or "I'm going to work out six days a week", but really, it's about taking small steps that add up to big changes.
One easy step is to include more healthy meals into your week.
If you've subsisted on Christmas ham, pizza, chocolate, fish and chips, and sausage sandwiches for the past two weeks, don't worry. These nutritious, truly delicious recipes from Get Lean, Stay Lean by Joanna McMillan will make healthy eating easy.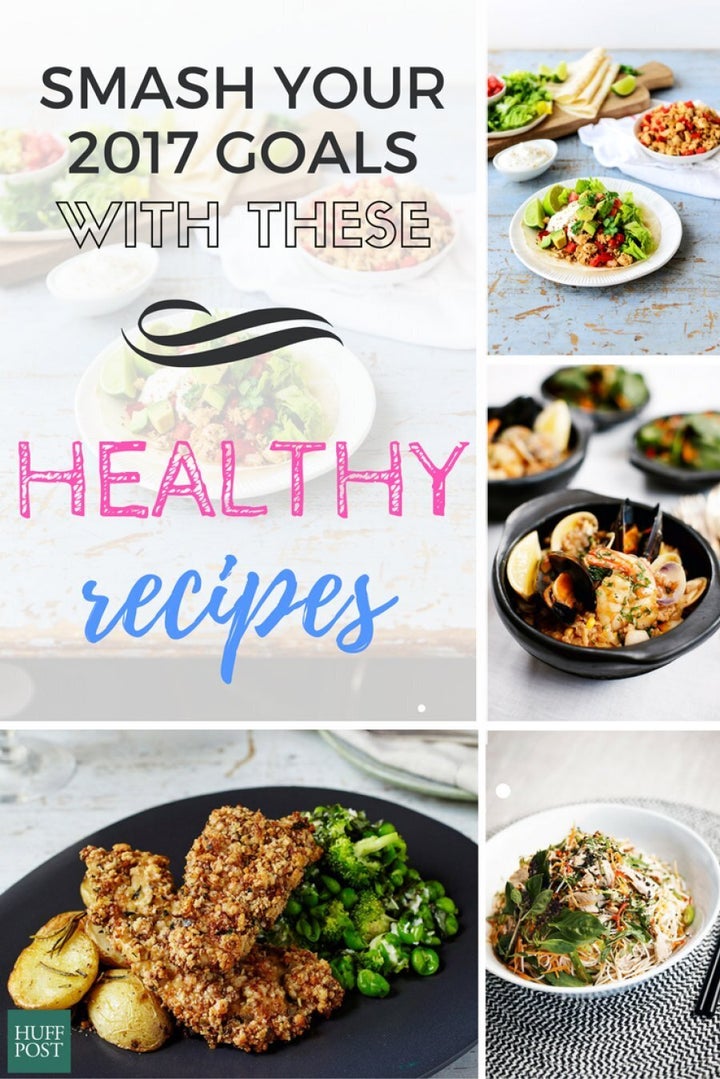 1. Macadamia chicken with green pea and broccoli mint smash
"This one is sure to become a family favourite. The crunchy nut and seed topping is divine with the chicken, but the real winner is the smash. Even the kids ask for extra veggies when I serve them this way!" McMillan said.
"Bigger eaters can simply take two pieces of chicken (with each piece counting as one Protein Block and one Fat Block). You could further boost the plant content by adding steamed leafy greens or a simple green leaf salad."
Serves four. Gluten free.
INGREDIENTS
2 rosemary sprigs, leaves picked
1 garlic clove
Grated zest of ½ lemon
2 teaspoons ground coriander
1 teaspoon ground cumin
1 tablespoon tarragon, finely chopped
200g (1 head) broccoli, chopped
140g (1 cup) frozen peas
2 handfuls mint, leaves roughly chopped
6 basil leaves, finely shredded
Freshly ground black pepper
2 tablespoons grated parmesan cheese
2 x 200g skinless chicken breast fillets
40g goat's cheese (or labne)
400g small potatoes in their skins (chat or kipfler are ideal)
1 tablespoon extra virgin olive oil (see note)
40g (¼ cup) raw macadamia nuts
30g raw almonds
2 tablespoons sunflower seeds
2 tablespoons sesame seeds
1 teaspoon chia seeds
Pinch of salt flakes
METHOD
Preheat the oven to fan-forced 180°C (350°F/Gas 4). Line a baking tray with baking paper.
Cut the potatoes in half, toss them in a bowl with the extra virgin olive oil and spread out on the prepared baking tray. Roast for 30–40 minutes until a lovely golden colour.
Using a food processor or high powered blender, use the pulse setting to gently grind the nuts, seeds, garlic, lemon zest, spices, tarragon and parmesan until the mixture resembles breadcrumbs -- don't over-blend or you'll end up with a paste.
Cut the chicken breasts horizontally to give you four chicken fillets.
Place the chicken fillets in a casserole dish or on a baking tray lined with baking paper. Spoon the crumb mixture over the chicken, pressing softly to form a crust topping, then scatter over the rosemary. Pop the dish into the oven alongside the potatoes to roast for 15 minutes or until golden on top and cooked through.
Meanwhile, to make the pea smash, bring a saucepan of water to the boil over high heat. Put the broccoli and peas into a steamer, cover with the lid and place on top of the pan. Cook for 2–3 minutes, or until soft enough to mash. (Alternatively, place the peas and broccoli in a microwave-proof bowl with a little water, cover and cook on High for three minutes.)
Strain any water from the vegetables, then mash roughly with a fork. Mix through the mint and basil, crumble over the goat's cheese and stir to just combine. Season with a pinch of salt and plenty of black pepper and serve warm with the crusted chicken and roast potatoes.
Note: Don't worry about the fat content in this dish as it is almost all coming from those fabulously healthy nuts and seeds, along with a little extra virgin olive oil. This makes the overall recipe low in saturated fats, while you get the benefits of those good unsaturated fats. The fibre content is also boosted by the topping and the veggies, giving you a healthy 10g per serve.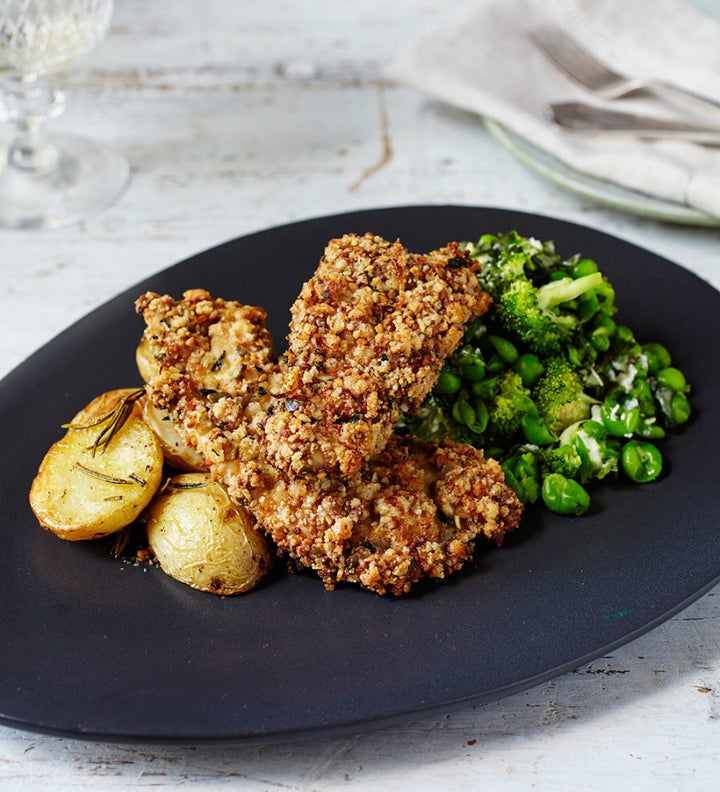 2. Tex-Mex tofu soft tacos
"My family love Mexican-style food and we regularly have tacos or fajitas with various fillings and combinations," McMillan said.
"The best way to serve them is to pop everything in the middle of the table so that everyone can make their own. Here I've used tofu in place of meat and, if you have a vegan in the group, they can simply omit the yoghurt."
Serves four. Gluten free, nut free and vegetarian.
INGREDIENTS
1 teaspoon ground cumin
2 teaspoons dried oregano
2 teaspoons sweet paprika
¼ teaspoon chilli flakes
Freshly ground black pepper
1 brown onion, diced
1 red capsicum, diced
600g firm tofu (see note)
1 tablespoon extra virgin olive oil
Pinch of salt flakes
1 small cos lettuce, shredded
1 tomato, diced
2 limes, cut into wedges
Handful coriander leaves
80g natural yoghurt
4 large or 8 mini corn tortillas
½ avocado, diced
METHOD
Preheat the oven to fan-forced 160°C (315°F/Gas 2–3). Drain the tofu, slice and press gently between two pieces of paper towel to remove the excess moisture.
Combine the cumin, oregano, paprika and chilli in a bowl. Crumble the tofu slices into the spice blend and stir to coat.
Wrap the tortillas in foil and pop them into the oven to warm.
Heat two teaspoons of the extra virgin olive oil in a frying pan over medium–high heat. Add the onion and capsicum and sauté for two minutes. Add the remaining oil and the spiced tofu. Cook for three minutes until heated through. Season to taste with a pinch of salt and black pepper.
Divide the lettuce, tofu mixture, tomato and avocado across the warm tortillas. Top each with a dollop of yoghurt, and serve with lime wedges and a scattering of coriander. Alternatively, pop everything in bowls in the middle of the table and each person can make up their own.
Note: Tofu is a terrific source of protein and the soy bean is one of few plants that contain all of the essential amino acids. This makes it ideal for vegetarian and vegan diets. Tofu also provides good amounts of iron and zinc, B group vitamins, magnesium, phosphorus and the antioxidant mineral selenium. All up it's a pretty impressive nutrition package, worthy of any diet. A tofu serve of 100g provides 500 kJ (120 Cal), 12g protein, 7g fat (mostly as polyunsaturated fat), no carbohydrates and 3.5g of fibre.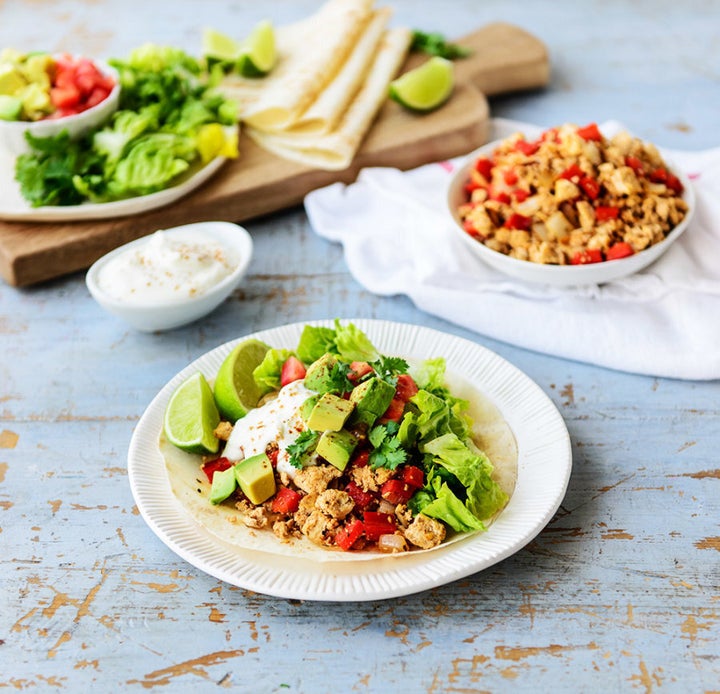 3. Seafood farro risotto
"Farro is often used in traditional Italian cooking, but is less well known here in Australia. It's a type of wheat, but is in whole grain form and has a delicious nutty, chewy taste," McMillan said.
"Here, it's teamed with a medley of seafood. I'm a huge fan of using more shellfish, as they are packed with nutrients, including iron, zinc and iodine, while the oily fish adds those essential omega-3 fats. Serve with a gorgeous, generous green salad to boost the plant food content."
Serves four. Dairy free and nut free.
INGREDIENTS
1 red onion, finely chopped
2 garlic cloves, finely chopped
140g (1 cup) frozen green peas
Handful basil, leaves picked
Freshly ground black pepper
100g skinless salmon fillet, cut into large cubes
100g raw prawns peeled, deveined and tails left intact
100g smoked mackerel, cut into bite-sized pieces
500g pipis, scrubbed
12 mussels, scrubbed and de-bearded
175g (1 cup) farro (see note)
1 corn cob, kernels sliced off with a small sharp knife
2 tablespoons extra virgin olive oil
500ml (2 cups) fish, crab or vegetable stock (preferably homemade, or good quality store-bought)
125ml (½ cup) dry white wine
Pinch of salt flakes
METHOD
Put the farro, stock and 250ml (1 cup) of water into a saucepan. Bring to the boil, reduce the heat and simmer for 30 minutes or until the farro is cooked. If there is any liquid remaining, drain.
Heat the extra virgin olive oil in a large frying pan over medium heat. Add the onion and garlic and sauté for a few minutes until the onion is soft. Add the wine and simmer for a minute to cook off the alcohol.
Add the seafood to the pan and stir gently. Put the lid on and cook for 2–3 minutes until the shellfish shells have opened.
Add the cooked farro, corn and peas. Stir gently to ensure you don't break up the fish, adding a little water or stock if it looks too dry.
Add the basil, season with salt and black pepper to taste and serve immediately.
Notes: Farro is the Italian name for emmer, which is an ancient variety of wheat. It's relatively high in protein for a grain with 14g per 100g and is a terrific source of fibre. You'll find farro in better grocers and health food stores. If you can't find it, try using brown rice, freekeh or barley instead.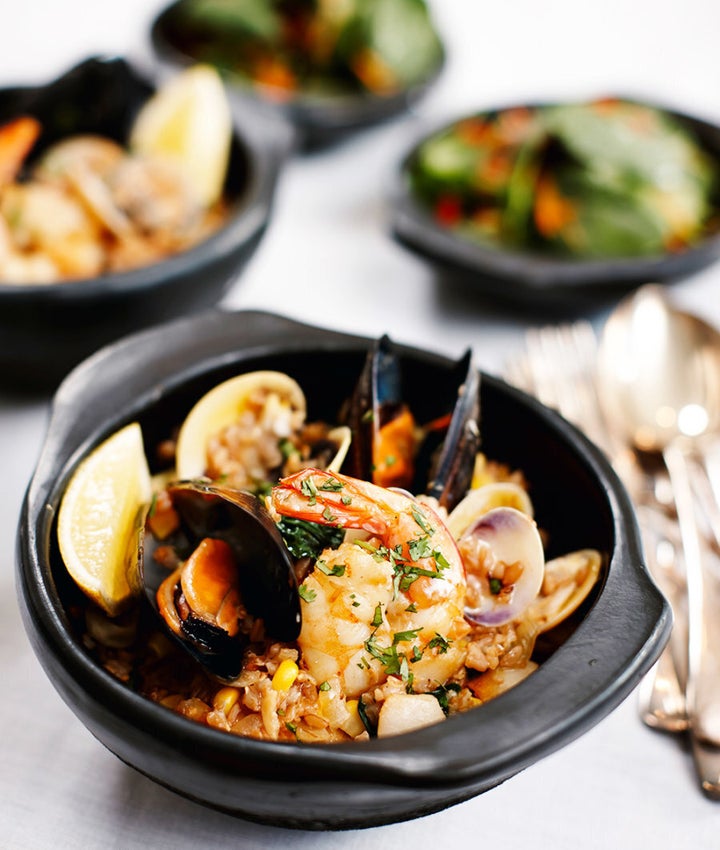 4. Vietnamese pork salad
"I love the fresh flavours of Vietnamese food. In this recipe, the Thai basil, chilli and fresh lime juice give a real zing to the salad. It's light, incredibly tasty and rich in protein to keep hunger pangs at bay," McMillan said.
"As is traditional in this dish, I've used vermicelli noodles. These are very thin noodles made from rice. Do look for those made with brown rice. They are a little harder to find but many supermarkets and health food stores now stock them."
Serves four. Dairy free and gluten free.
INGREDIENTS
2 long red chillies, sliced (optional)
4 spring onions, sliced
1 red capsicum, thinly sliced
2 carrots, julienned
4 handfuls Thai basil, leaves picked
100g snow peas, trimmed and sliced
1 Lebanese cucumber, thinly sliced
40g (⅓ cup) bean sprouts (sometimes called mung bean sprouts)
2 tablespoons dried shallots, to serve (you'll find these in good grocers or Asian food stores -- you can simply omit if you can't find them)
400g pork fillet
160g rice vermicelli noodles (preferably brown)
1 tablespoon extra virgin olive oil
50g (⅓ cup) chopped unsalted peanuts, to serve
Juice of 1 lime
60ml (¼ cup) fish sauce (check this is a gluten free brand if coeliac)
1 tablespoon soft brown sugar
METHOD
Put the noodles in a large bowl and cover with boiling water. Leave to soak for about five minutes until soft and tender. Strain off the water and rinse the noodles under cold water to stop the cooking process. Set aside.
Heat the extra virgin olive oil in a frying pan over medium heat. Add the pork and pan-fry for about eight minutes, turning a few times to brown on all sides and cook through. Remove the meat from the pan and set aside to rest for 2–4 minutes.
Meanwhile, put the prepared veggies in a bowl and combine with the noodles. Make the dressing by mixing together the lime juice, fish sauce and brown sugar in a small bowl. Drizzle over the salad and toss to combine.
Slice the pork to the thickness of your liking, add to the bowl and toss. Serve sprinkled with the chopped peanuts and dried shallots.
Note: Because the portion size is small and is combined with plenty of protein and good fats which slow digestion, even if you use regular vermicelli noodles, the result is a well-balanced, nutritious meal. If you are coeliac do double check that the noodles are made from 100 percent rice and therefore gluten free.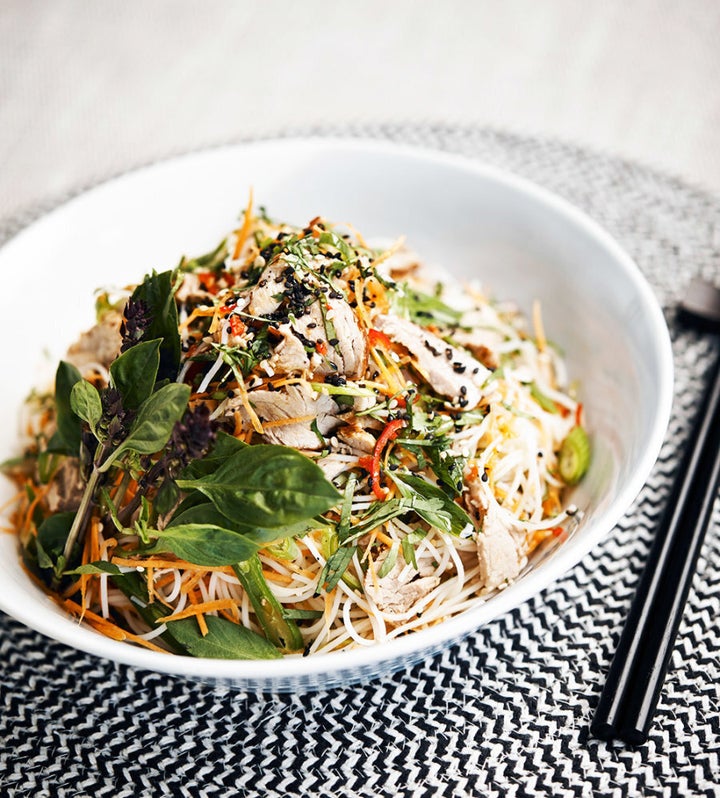 Images and recipes from Get Lean, Stay Lean by Joanna McMillan (Murdoch Books RRP $35).

ALSO ON HUFFPOST AUSTRALIA