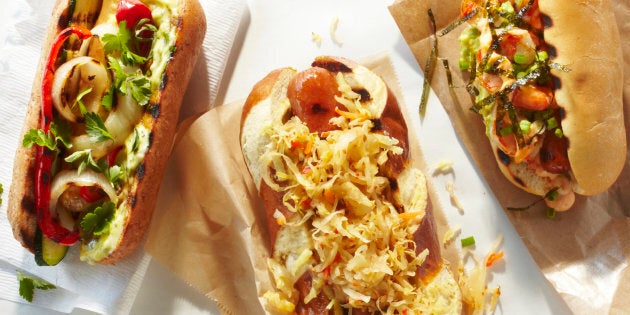 2016 was a strange year. Forget politics and government, we're talking food here.
Last year saw the rise and almost perverse popularity of 'frankenfoods' -- ordinary food pimped out to become bigger, crazier and more glutinous than ever.
Both milkshakes and doughnuts fell victim, but by far the biggest foodstuff affected were burgers. Case in point from three of our country's best:
Though while burgers may always be king, it's a new year and that means it's a different food types turn in the spotlight.
Enter, hotdogs. Gone are the days of soulless white buns with nearly naked frankfurt sausages and a pathetic squirt of tomato sauce and mustard (shout out to the IKEA $1 hotdog -- we still love you).
We're talking onion. Bacon. Cheese -- so much cheese. We're talking mac n' cheese on the hot dog. Oh, and often two sausages -- because two is always better than one.
A few places are already nailing the gourmet hot dog thing. Massive Wieners in Melbourne boast an impressive menu of American-style hot dogs which of course, are super-sized. The also offer impressive sides (if you can fit them in, and if you can, ask for a medal) like chilli cheese fries or 'disco fries' with gravy, cheese and onion.
Huxley's Sports Bar in Caringbah, Sydney, sells foot-long hot dogs with a variety of toppings. The 'Coney Island' has pulled pork (in addition to the skinless frank) with minced onion and American mustard. Or try the 'Mac n' Cheese Dog', with, you guessed it, creamy cheese pasta paired with the frankfurt, crispy bacon and shallots.
No points for guessing what The Hotdog Man in Sydney's Manly specialises in. The Argentinian Choripan Chorizo hot dog is topped with chimichurri, fresh tomato and hot chipotle mayo. Or, go for the 'Cheese Kransky' with Swedish beetroot mayo and crispy fried onions.
Red Hook in Brisbane boasts burgers, hot dogs and pretty much anything you'd find in a traditional American diner. The NYC Dog is a kransky sausage with barbecued onions, loads of american pickles and crispy fried shallots. Pair it with their famous 'champion fries'.
Bon appetit! (and maybe wear elastic pants.)
ALSO ON HUFFPOST AUSTRALIA