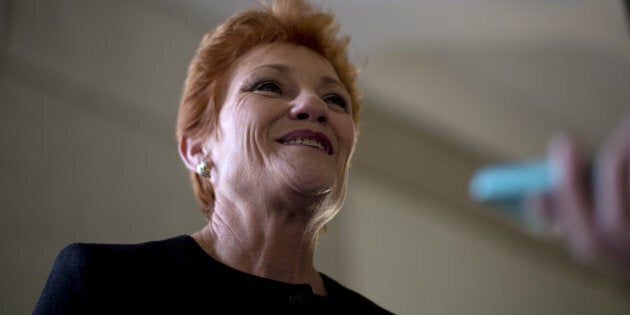 One Nation leader Pauline Hanson has become an unlikely hero for the marijuana community, throwing her weight behind a push to legalise medical cannabis and taking the fight to the Prime Minister.
Hanson said she has appealed directly to Malcolm Turnbull to give amnesty to people involved in the supply and use of medical cannabis, following the case of a South Australian woman who was raided by police after supplying cannabis oil to dozens of patients around the country.
"I've been a long advocate of Medicinal Cannabis, due to its effective relief for so many ailments, conventional drugs can't offer," Hanson wrote on Facebook.
"I can reveal yesterday, I appealed directly to the Prime Minister to intervene and give amnesty to users and suppliers of this vital life saving drug so many people and families are no longer forced to use this in secret."
Cannabis products, especially cannabis oil, are accepted by medical groups and have been proven in trials to assist in relief from pain and nausea, reducing seizures, and addressing anxiety and stress.
Laws around medicinal cannabis vary by jurisdiction in Australia. On a national level, recent changes to federal laws have allowed businesses to apply for a licence to produce cannabis for medicinal purposes only under the Narcotics Drugs Amendment Act 2016, but the product is not yet available to buy or use.
It is currently available to select patients in strictly-controlled trials, and laws are slowly evolving to allow greater access to medical cannabis products, but in the absence of access to the products on a legal prescription basis, Australians have turned to less than legal avenues to secure what they need.
South Australian woman Jenny Hallam says she has been supplying cannabis oil free of charge to more than 100 people nationwide for two years. Police raided her home last week, seizing her products and warning she may face criminal charges, she said.
Cassie Batten, a mum from Melbourne, sources cannabis oil for her six-year-old son Cooper. She has no links to Hallam and does not source oil from the South Australian woman, but says the changes called for by Hanson are long overdue.
"It is encouraging. We know it does take time, you can't change laws overnight and it has to be done in a safe controlled way," she told The Huffington Post Australia.
"We should be able to go to a pharmacy and pick it up like any other medication."
Cooper contracted serious meningitis at four weeks old, and developed a number of other conditions including severe brain damage, cerebral palsy, epilepsy and partial blindness. Cooper was placed on life support and almost died, and Cassie was told her son would likely not live past the age of 2. Before starting to use cannabis oil, he could not speak, eat or drink without a tube, sit up or roll over, and had up to 80 seizures per day.
Batten said since using cannabis oil, at first sourced from interstate suppliers but which the family now produces themselves, Cooper is down to as few as 10 seizures per day. He can speak, sit, and eats and drinks without the need for a tube.
"When he didn't have long left, we began using it with the intention to keep him comfortable rather than using other drugs. We were as shocked as his doctors with the results," Batten said.
"He still has seizures, it's not a cure but it has reduced dramatically."
Cooper takes three teaspoons of cannabis oil each day; the medication is ingested orally, "just like Panadol", Batten said. She said the medical product should be available with a prescription, but unlike some other cannabis advocates, said she does not support the product being available for recreational purposes.
"It should be legal, but it also has to be controlled. It's like any medication. It should only be available in liquid or pill form by prescription. We don't support it being legal for smoking," Batten said.
"We're just parents, not doctors or pharmacists. We don't have to make any other medicine that we need.
"There's no legal product available yet. We could be arrested tomorrow for administering this, it's still an illegal product. It's a waiting game."
ALSO ON HUFFPOST AUSTRALIA