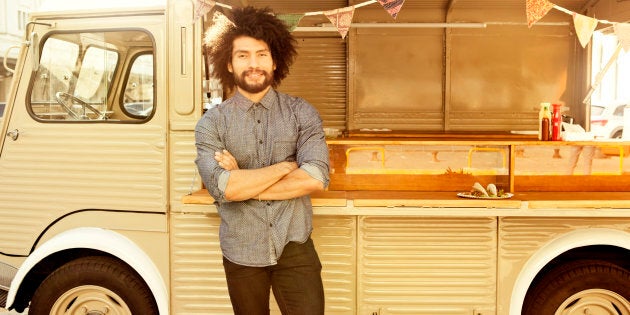 Not any more -- today's food trucks are more likely to sell pork belly burgers loaded with kimchi or slow barbecued brisket.
While Brisbane wasn't the first Australian city to embrace the trend, it's proved it's got staying power thanks to a balmy year-round street life and an enthusiastic council keen on promoting food truck culture.
The Bun Mobile
Launched in 2012, The Bun Mobile claims to be the first of the gourmet trucks to hit Brisbane, offering steamed buns stuffed with favourites like slow cooked wagyu beef with soy pickled shitake mushrooms and red dragon sauce.
Rolling Stone Pizza
Abbiocco
In Italian, the world Abiocco translates loosely to 'the sleepy feeling you get after eating' and this food truck has no false advertising. Get your fill with arancini, meatballs and tiramisu as well as sandwiches piled with slow-cooked meats.
How We Rolls
It's the homemade sauces that get people hooked on the meat-stuffed brioche buns from How We Rolls. The family business launched in 2014 and the house smoked meats quickly became a favourite.
DannyBoys
DannyBoys hot dogs, sandwiches and wraps may be legendary but leave room for their cupcakes. In winter, their homemade soups warm many a Brisbane resident (but let's face it, even in July most of the city will still be wearing tshirts).
King of the Wings
It's hard to be anything but happy when you sidle on up to super-friendly food truck King of the Wings. They specialise in, you guessed it, chicken wings, with crispy coatings and spicy glazes.
That BBQ Joint
You may want to grab a few serviettes when you order a BBQ mix plate from That BBQ Joint because their sauce will get everywhere. And you'll love it. Their slogan is 'all smoke, no mirrors'.
Red Robin Supper Truck
Istanbul Eats Kebabs
When only a kebab will do, Istanbul Eats shines like a neon beacon on Brisbane's streets. Their halal snack packs are seriously saucy and when they're selling turkish delight milkshakes, make sure to get yourself one.
The Bratmobile
Brat Haus' rolling restaurant may pop up at the occasional gig like Summernats in Canberra but you'll find them every week on the streets of Brisbane serving up sausage and pretzels.
Phatboys
We've saved one of the best for last with Phatboys Portuguese food truck. You'll often find them at All In Brewing Co and their side salads are a winner.
ALSO ON HUFFPOST AUSTRALIA