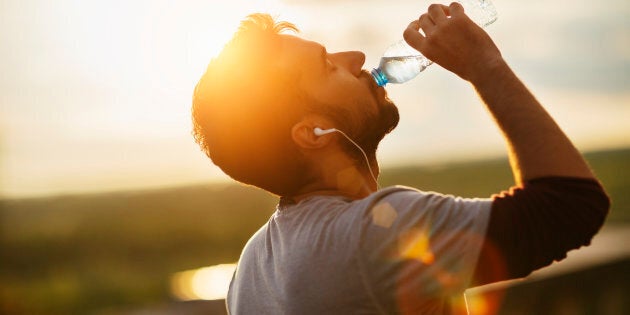 There's plenty of buzzwords flying around right now which make understanding the fitness world mighty tricky. Functional training. Anaerobic exercises. Endurance.
At the end of the day the regular person just wants to get fit, maybe loose a few kilos, and look and feel good. And the fastest way to do that? HIIT.
High Intensity Interval Training, as the name suggests, is all about short, intense bursts of movement. We won't lie, it's fast and furious -- but the good news is there's lots of rest time in between, and sessions are short.
"HIIT is pretty awesome because there are rest breaks built into the structure of the training. But when you're not resting, you do have to be totally sweating," Personal trainer and weight loss coach Tiffany Hall told The Huffington Post Australia.
"It works like this: go hard for a short burst of time, maybe 10 seconds, 20 seconds, 30 seconds, 40 seconds or even a minute. Then rest until you have recovered and your heart rate has lowered. Then repeat the intervals over and over."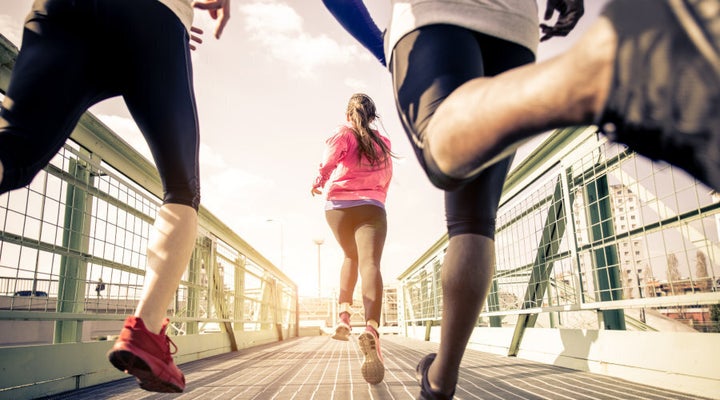 In terms of what you're actually going hard at, it's a varying set of movements designed to get the heart rate up and also utilise a range of muscles. More on the movements later.
"You can change up the interval ratios to suit you, from 20 seconds of work to 10 seconds rest, or 30 seconds work to 30 seconds rest. As your body adapts quickly to exercise, HIIT is a really effective method of training to fight against weight loss plateaus and to stimulate hormonal changes to build lean muscle," Hall said.
"There are so many fun options to chop and change a workout using time. If you find yourself cruising through an interval for over a minute, then you're probably not trying hard enough! So then you up the speed, repetitions or even weights to make it harder."
Hall has developed a training program called TIFFXO, which is a combination of HIIT and martial arts training. She created the program after seeing a lot of people, herself included, slaving away on treadmills for hours each week with minimal results.
"It's been years since I broke up with my treadmill. I never cheated during the time we were together and no matter what, we had a date every morning for one hour of running. But after years, I realised I wasn't seeing results. I was doing it because I felt I had to, not because it was working," Hall said.
In regards to taking yourself through a HIIT session at the gym or at home, it's all about starting with quick intervals and building up.
"We can do anything for 10 seconds right? How hard can 10 seconds be? Sure, you're not pounding the pavement for an hour, but there is a catch. It's about 100 percent effort or nothing. HIIT only works if you push your heart rate as high as you can during that interval. Think of it like this, max effort for max results. HIIT workouts can last anywhere from 7 minutes to 25 minutes," Hall said.
"A 10 second interval of burpees, front kicks or thrusters with heavy weights should make you breathless. Breathlessness should be your barometer. It is proven that 20 minutes of HIIT, alternating between intense intervals of flat out 'go' and periods of rest burns more calories than 20 minutes of steady state cardio."
10 seconds of fast burpees (faster than this guy) will get you sweating.
In terms of how often you should train, try three times over a seven day period.
"I suggest training HIIT three times a week, and never on consecutive days as it is a lot of load on your muscles and you need to recover. Studies have shown that 27 minutes of HIIT three times a week a week produces the same anaerobic and aerobic improvement as 60 minutes of cardio five times a week a week," Hall said.
A 15 minute HIIT circuit you can try at home:
High knees boxing oblique twists
Pushup to sexy roll to V snap
Round 1: Complete each of the following 8 exercises for 10 seconds with a 10 second rest between exercises.
Round 2: Complete each of the following 8 exercises for 20 seconds with a 10 second rest between exercises.
Round 3: Complete each of the following 8 exercises for 30 seconds with a 10 second rest between exercises.
Round 4: Complete each of the following 8 exercises for 40 seconds with a 10 second rest between exercises.
ALSO ON HUFFPOST AUSTRALIA