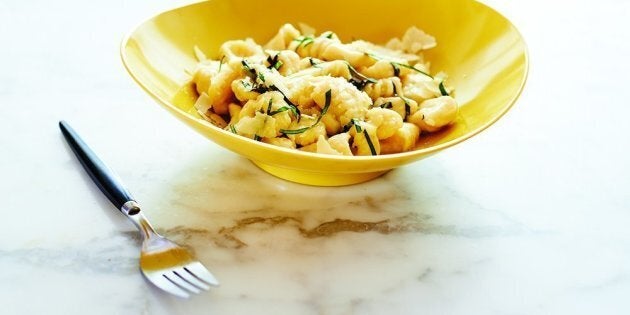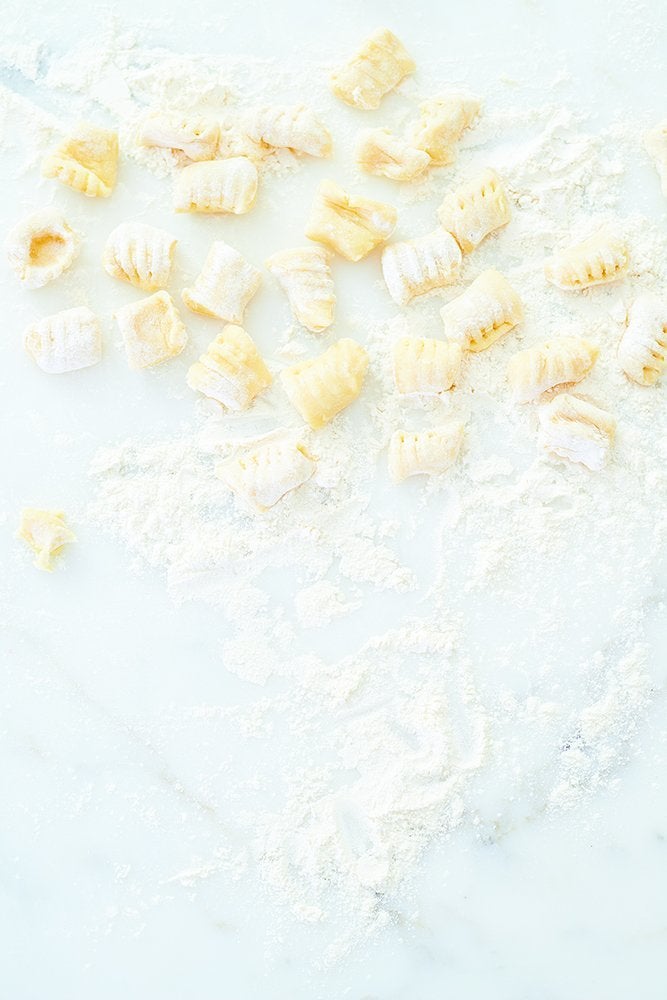 Homemade dinner is a hard thing to accomplish for anyone, but when you've got a family in tow it's even trickier. It also happens to be slightly more important when you're responsible for feeding more than just yourself.
One trick to making dinner happen is to plan and partake in a little Sunday meal prep. Another is to find recipes that everyone in the family can help make (as long as the kids are old enough). And a third, and possibly the most crucial, is to have a cookbook at your disposal that will make you actually feel excited to cook for yourself and your family.
We happen to know of such a book, and we can't recommend it enough: "How To Celebrate Everything." It's penned by the hand of Jenny Rosenstrach, author of the food blog Dinner: A Love Story and a couple of other cookbooks, and we have to say this latest is just inspiring. Inspiring in a way that makes getting a homemade dinner on your table, even though it's Wednesday, actually feel possible.
This book focuses on the recipes and rituals for every occasion, from holidays to family dinners. One dish that stuck out was the recipe for homemade gnocchi. Not only does it look and sound perfect ― just what we want to be eating midweek ― but it also serves as a great reminder that not only can we easily make special-feeling recipes at home, but our kids can partake. Here's one of Jenny's daughters, Abby, making her gnocchi recipe.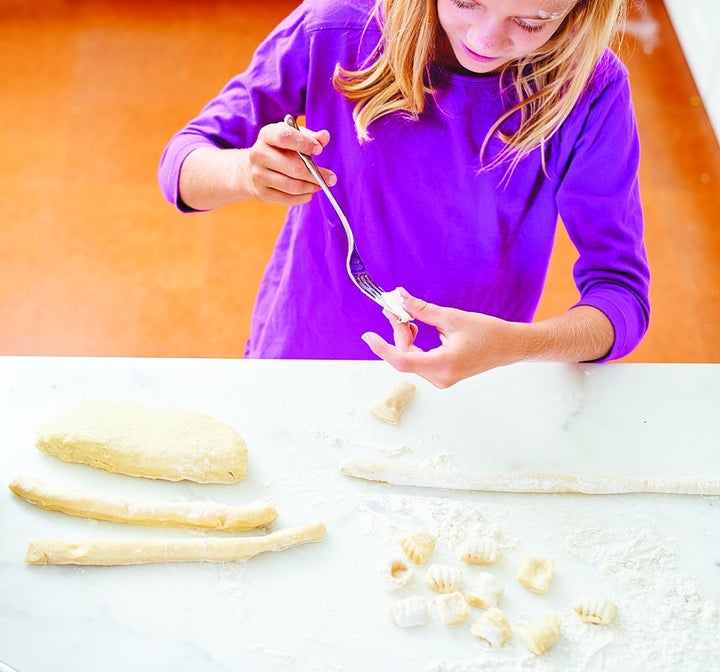 And this is what the final dish looks like.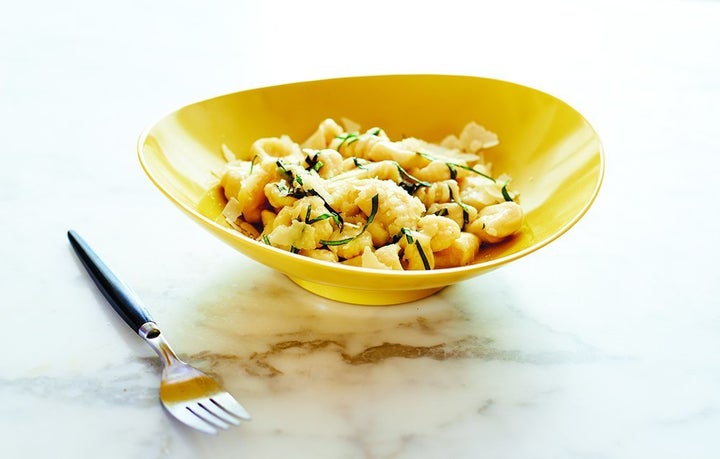 We know, it looks pretty perfect. And all that can be yours, any night of the week. Here's the recipe:
From the book HOW TO CELEBRATE EVERYTHING by Jenny Rosenstrach. Copyright © 2016 by Jenny Rosenstrach. Reprinted by arrangement with Ballantine Books, an imprint of Random House, a division of Penguin Random House LLC. All rights reserved.
Abby's Homemade Gnocchi With Basil And Cheese
When the pasta is homemade, you don't want to overpower it with a big sauce. Butter, cheese, and fresh basil will be all you need. Feel free to swap in a few sage leaves for the basil.
serves six to eight
2 1/2 pounds unpeeled russet potatoes (about 3 large)
1 1/2 cups all-purpose flour
1 egg, lightly beaten
kosher salt
2 tablespoons unsalted butter
1/2 cup freshly grated Parmigiano-Reggiano, plus more if desired
8 fresh basil leaves, thinly sliced
freshly ground pepper
Place the whole potatoes (skins on) in a saucepan with water to cover. Bring to a boil, reduce to a simmer and cook until the potatoes are tender when pierced with a knife ― about 40 minutes.
Drain the potatoes and peel while still hot with a paring knife (use a pot holder to hold them). Pass the potatoes through a potato ricer (or mash with a potato masher or large fork) into a large bowl. Let cool completely.
Make a well in the center of the potatoes and sprinkle all over with almost all the flour, reserving about 1/4 cup. Pour the egg into the center of the well and whisk it into the potatoes and flour like you're making pasta. Add 1 1/2 teaspoons salt. With your hands,work the dough and knead until it becomes smooth but not elastic, dusting with extra flour if it becomes too sticky, about four minutes. Do not overwork.
Divide into eight pieces. Roll one piece at a time into a rope 1/2 inch in diameter, cutting the rope into 1/2-inch lengths with the side of a fork. Arrange in a single layer on a very lightly flour-dusted baking sheet. (Press the tines of the fork into each piece lightly if you want the little ridged design.)
Bring a large pot of salted water to a boil. In batches, add a few handfuls of gnocchi and cook until most have floated to the top, about 2 minutes. When the gnocchi are done,gently remove them with a slotted spoon to individual bowls, dividing the butter, cheese,and basil evenly among the portions and tossing. (I usually do everything in two batches.)
Top with salt and pepper, more cheese ― if desired ― and basil among the portions and toss.