We've all had those days when we vow to 'be good', work out and drink lemon water 'every morning' until Friday rolls around and it all goes out the window.
In a matter of days you went from being a carrot-eating Saint to a rosé-guzzling regular, only to do it all over again the next week.
It's tiring. And more and more you find yourself questioning whether it's actually even possible to be a Gym Person while also being a Pub Person.
Helberg doesn't speak to his clients about diets. "People aren't stupid, they know what they should be eating," he explains. Rather, he focuses on training consistently and 'adding' things, rather than subtracting.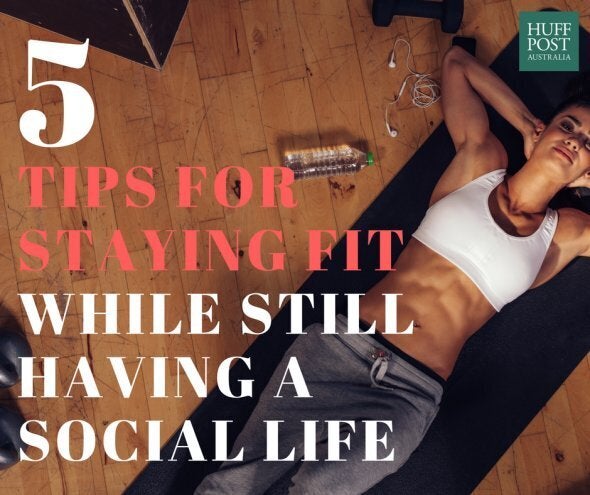 1. Remove the word 'can't'
"So many trainers have it wrong by telling their clients what they 'can't' do. As soon as you do that, it will consume them," Helberg said.
"Instead, I focus on getting them into the habit of training consistently, the more they make those decisions on their own without me -- that's the stuff that will last -- not being told what to do."
2. Remind yourself, it's less than an hour out of your day
"There are lots of short and effective training options on offer. At Fitness First, Freestyle Group Training sessions are just 30 minutes. Or if there's no time to leave the house, Google 'tabata training'. In its true form, it takes just four minutes, minus a warm up," Cunico said.
3. Train early
"Train early in the morning because is breeds discipline," Helberg said.
At the end of the day there are a million reasons not to train, and if you do have social events at night, you've already got your workout out of the way.
4. Look at exercise as 'me' time
"It's the perfect time to leave your phone in your locker, disconnect from the world and tune in to yourself," Cunico said.
5. Indulge, but stay mindful
While you might convince yourself the antioxidants in red wine make it a healthier choice, it still hides a huge amount of calories. "If your goal is to maintain your current weight, you need to have an equal amount of energy coming in as is being expended," Cunico said.
"That's not to say you should never indulge, but there's a trade-off for everything and it's worth considering your discretionary foods carefully if weight management is your goal."
ALSO ON HUFFPOST AUSTRALIA