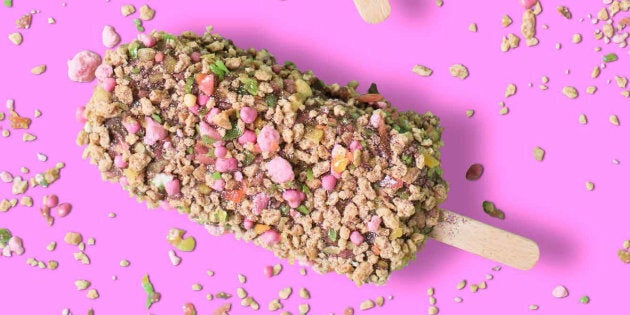 Nothing says drool like Australia's Golden Gaytime and this month, the good people at Streets Ice Cream will further treat our tastebuds with a pop-up that immortalises its iconic biscuit crumb treat.
What's this nonsense, you say?
A 'Golden Gaytime Crumb Shed', is coming people! Offering five new crumb creations, including 'Unicorn Breath' (popping candy and edible glitter, you guys) and 'Golden Chief's Salty Gaytime' (PRETZELS! SALTED CARAMEL DRIZZLE!) all handmade to order with classic Gaytime ice cream and chocolate by expert crumb technicians.
The deliciousness kicks off in Sydney on Wednesday January 18, when the 'Crumb Shed' pulls into TOPSHOP TOPMAN's Gowings store. Melbournites can expect the fun to arrive on Friday January 20 at TOPSHOP TOPMAN's Emporium store for a limited time.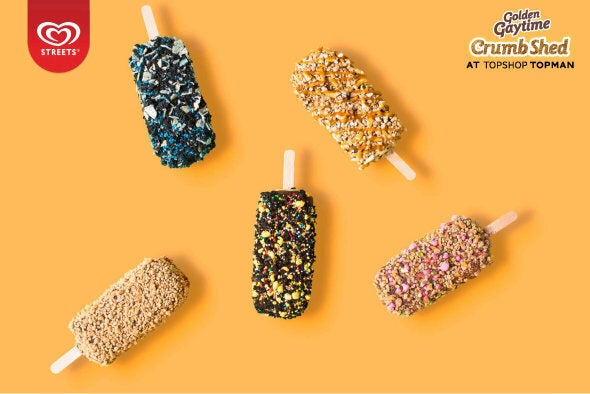 The five bespoke crumb creations on offer (because, important):

Unicorn Breath – vanilla crumb, musk sticks, strawberry hard candy, popping candy, edible glitter
Crumb Choc Millionaire – chocolate crumb, smashed potato crisps, desiccated coconut, 100s & 1000s, edible glitter
Chocopalooza – chocolate crumb, lolly bananas, 100s & 1000s
Golden Chief's Salty Gaytime – vanilla crumb, pretzel bits, salted caramel drizzle (created by Gaytime 'Crumbassador', Jesse James McElroy)
The OG-G – with even more vanilla crumb (the original and the best handcrafted to perfection)
And if you still can't get enough of the Gaytime Crumb, you'll be able to buy it in a Crumb Tin.
According to Scott Mingl, senior brand manager at Streets Ice Cream after the success of both the Gaytime Tubs and Gaynetto, the company's been inundated with letters, petitions and social media requests for more. And so, they dreamt up this gift.
Shopping sure just got a lot tastier.
ALSO ON HUFFPOST AUSTRALIA