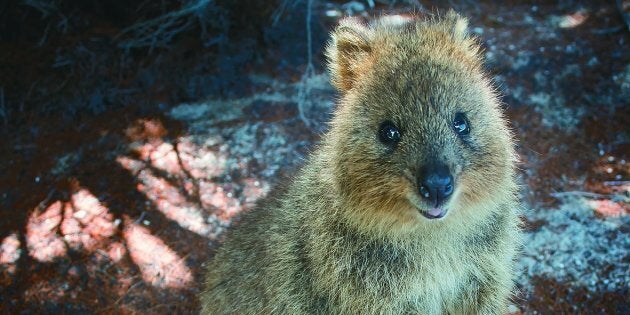 Authorities in Western Australia are searching for a furry escapee from the region's Rottnest Island. Now, they fear for the survival of the rogue quokka, a marsupial about the size of a cat.
"A crafty Quokka has escaped from @RottnestIsland," wrote the Western Australia Police on Twitter, instructing anyone who spots the little critter to contact the Department of Parks and Wildlife.
The department included more information on the fugitive on their Facebook page. For one thing, his name is Steve.
"Steve is described as small, cute and furry," the post reads. "He may use his cuteness to trick unsuspecting humans into giving him food. As with all escapees, Steve is not to be approached as he may act in an unpredictable manner."
Quokkas are native to Rottnest Island and live there in abundance. Their obviously adorable appearance makes them a major tourist attraction for the island, near the state capital of Perth.
Now that Steve is off the island, wildlife workers fear for his safety in amid threats that don't exist on Rottnest, like cars and large predators, according to the Guardian.
Officials believe that little Steve left his island home by way of a garbage barge. Last week, a staff member saw him at a recycling facility in a suburb of Perth, but thought Steve was simply a huge rat, Perth Now reports. A fellow worker realized it was a quokka and contacted authorities, but apparently it was too late to nab him.
In all seriousness, we hope Steve is found safe soon.