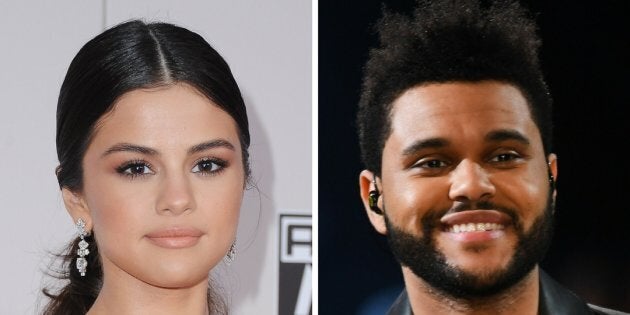 The Weeknd has apparently gotten over his breakup with model Bella Hadid, thanks to Selena Gomez.
The two, who both performed at the 2015 Victoria's Secret Fashion Show, were spotted kissing while out in Santa Monica on Tuesday night. By the looks of these photos published by TMZ, Selena couldn't keep her hands to herself.
"It was a romantic dinner date in the rain," a source, who reportedly saw the couple, told People. "They acted like a couple. They ordered pasta and shared the food. She seemed very into him — she was smiling a lot. They left holding hands."
Of course, if there is in fact a real relationship brewing between the "Same Old Love" singer and the Canadian hip-hop star, it could create some drama. The Weeknd's ex, Hadid, has strong ties to Taylor Swift's squad through her sister, Gigi Hadid. Selena and Tay are friends, which would also lead us to believe that Selena is on good terms with Gigi ― the two appeared in Taylor's "Bad Blood" music video ― and Bella. We're not sure if there are any squad rules or codes, but it will be interesting to see how this whole friend-dating-friend's-sister's-ex thing plays out.
Aside from the potential for drama, which may never (ever, ever) even surface, a relationship between Selena and The Weeknd could result in some interesting musical collaborations. We are definitely here for that.
The Huffington Post has reached out to representatives for both The Weeknd and Selena Gomez and will update this post accordingly.