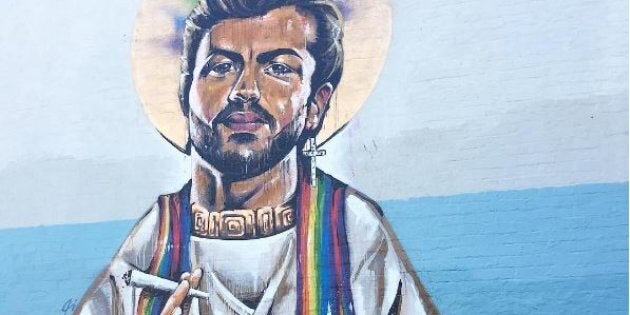 A stunning mural tribute to George Michael has popped up in Sydney's inner west.
Artist Scott Marsh finished off the portrait of "St. George" yesterday and people are loving it, after he posted it to his Instagram.
The mural of George Michael depicts the late singer as a saint with a halo and rainbow scarf draped around his shoulders. You can see it on the corner of Bray Street and Flora Street in Saint Peters. It's pretty great.
It's not the first time Marsh has painted famous faces in very public spaces. His "Casino Mike" portrait and mural of Kanye West making out with Kanye West made lots of heads turn last year.
"Marsh's work explores the growing cross over between graffiti and high art, popular culture and the cult of the celebrity," said a statement on the artist's website.
ALSO ON HUFFPOST AUSTRALIA