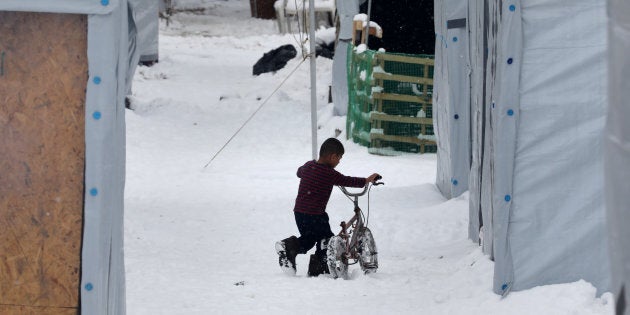 Snow covered Europe and plunged much of the continent into sub-zero temperatures this week, making life for the most vulnerable populations even more dangerous.
Thousands of refugees in countries like Greece and Serbia are stranded, either waiting their turn to apply for asylum or hoping for another chance to sneak across a border and head west. Many live outdoors in tents or decrepit warehouses with no heat or electricity.
Aid organizations did not mince words in their disgust at ongoing European inaction on the migrant question.
The inclement weather "is putting their lives in danger," Stefano Argenziano, a Doctors Without Borders operations coordinator on migration, said in a statement. "We are witnessing the most cruel and inhumane consequences of European policies, which are being used to deter and victimize those who are only seeking safety and protection in Europe."
Several thousand refugees are still stuck in outdoor camps on various Greek islands despite repeated calls from the U.N. Refugee Agency to move people into facilities on Greece's mainland, where the organization says more sophisticated infrastructure is in place.
On Wednesday, the Greek government docked a ship off the shores of Lesbos island that is offering shelter to a few hundred people, the International Rescue Committee said in a statement, but it's "not an adequate long-term response."
"The world's most vulnerable people are being punished for seeking sanctuary," IRC regional representative for Europe Elinor Raikes said in the statement. "Surely they have been through enough already?"
And more than 7,500 people are currently stranded in Serbia, where they are also being housed outdoors in camps or in abandoned warehouses, according to MSF. Children, many of whom are traveling alone, are at risk of dying from hypothermia, the IRC said.
Check out the photos below for a glimpse of the conditions people are enduring: