Getting into the kitchen after a long day and making a delicious meal (and lotsa mess) is not what most of us want to be doing -- especially once you've changed into your comfies and your favourite show is on.
Luckily there is an easy way around this: one-pan dinners.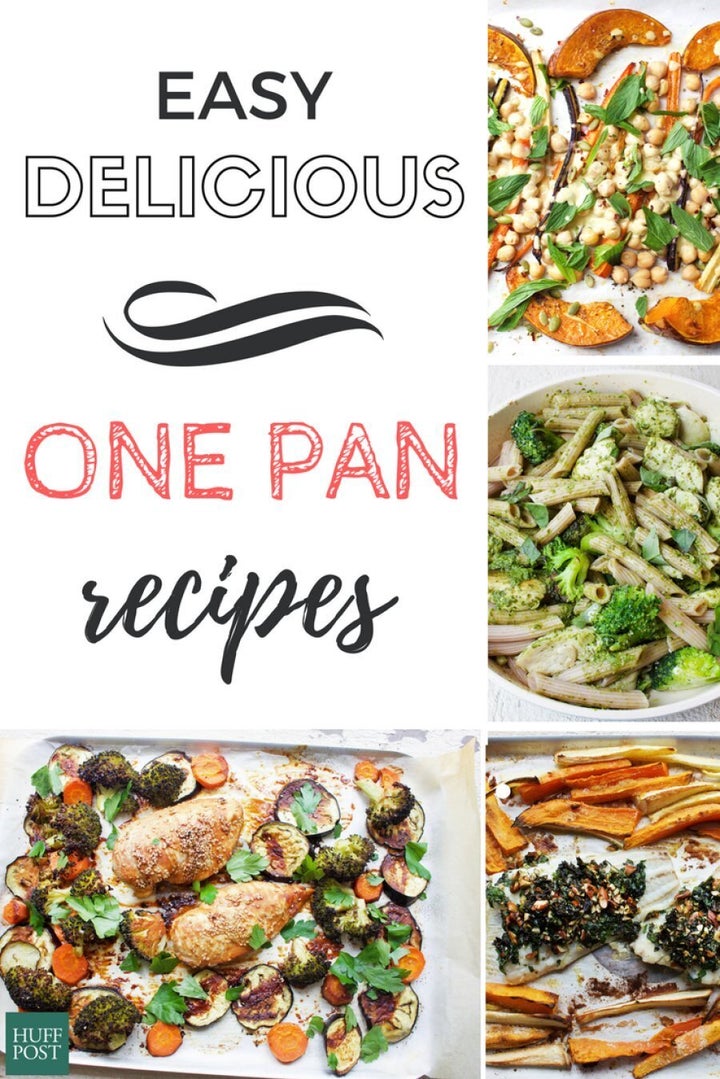 These one-pan dinner recipes by Jessica Sepel -- nutritionist, health blogger and cookbook author -- are easy to prepare, make hardly any mess and are packed full of delicious flavour.
1. Roast pumpkin and chickpea one-pan with hummus dressing
"I'm obsessed with these easy one-pan dinners -- as simple as throwing some veggies and a protein onto a baking tray and roasting until delicious," Sepel said.
"This is the perfect vegetarian dinner option and so easy. Pumpkin and carrots are great starchy veggies too -- really low GI and full of antioxidants from the beta-carotene."
Serves two as a main, or four as a side.
INGREDIENTS
1 can chickpeas, drained and rinsed
½ pumpkin
3-4 carrots
1 tablespoon olive oil
5-6 mint leaves, torn
¼ cup pepitas (pumpkin seeds)
1 teaspoon chilli flakes
Sea salt
1 tablespoon hummus
1 teaspoon mustard
¼ cup vinegar (white balsamic, white wine or apple cider)
1 teaspoon maple syrup (optional)
METHOD
Preheat oven to 180°.
Chop pumpkin into small wedges. Slice carrots thinly. Arrange on baking tray and drizzle with olive oil. Season with sea salt generously.
Add baking tray to the oven and roast for 35-40 minutes, until golden and slightly caramelised.
To make the dressing, combine hummus, mustard, vinegar and maple syrup in a small jar. Whisk until combined.
Remove roasted vegetables from oven and add chickpeas to tray. Drizzle over dressing and top with pepitas, chilli flakes and mint leaves.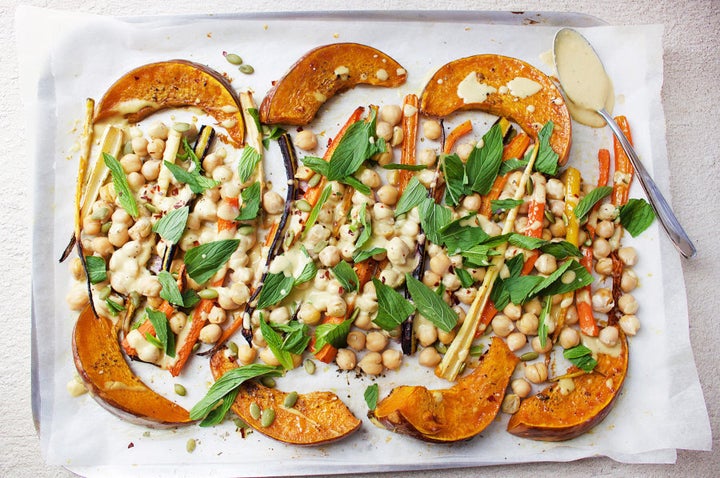 2. One-pan healthy chicken pesto pasta
"Who doesn't love pesto pasta? I like to use a brown rice, gluten free brand of pasta, which I cook whilst the chicken is sautéing in the pan," Sepel said. "Top with some grated Parmesan if you like."
INGREDIENTS
2 organic chicken breasts, cut into thin slices
1 head broccoli, chopped into florets
2 cups cooked whole grain or gluten free pasta
1 tablespoon olive oil
3 heaped tablespoons good quality pesto
Basil leaves, to garnish
Sea salt
METHOD
Heat olive oil in a non-stick frying pan over medium heat.
Add the sliced chicken breasts and one tablespoon of pesto to the pan, season generously with salt and sauté until cooked through.
Once chicken is cooked, add the chopped broccoli and continue to sauté for another 3-4 minutes.
Stir through cooked pasta and add two tablespoons of pesto.
Stir and top with fresh basil. Serve.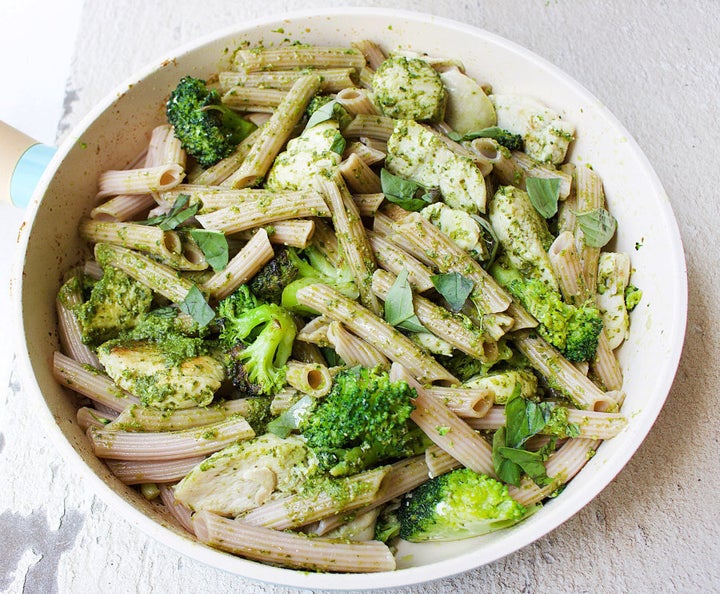 3. One-pan teriyaki chicken
"This one-pan dinner is so simple to make, requires virtually no washing up and tastes amazing," Sepel said. "Not to mention, it is completely nutritionally sound. Enjoy."
INGREDIENTS
2 organic chicken breasts
1 head broccoli
2 carrots
1 eggplant
Olive oil
Sea salt
¼ cup tamari sauce
2 teaspoons sesame oil
2 teaspoons raw honey
1 teaspoon grated fresh ginger
1 tablespoon Dijon mustard
1 tablespoon sesame seeds
METHOD
Preheat oven to 180°.
Chop carrots and eggplant into slices. Chop broccoli into florets. Arrange vegetables on a lined baking tray, leaving space for the chicken breast.
Drizzle vegetables with olive oil (or olive oil spray) and salt generously.
Add chicken breast to the middle of the tray, drizzle with olive oil and sprinkle with sea salt.
To make marinade, whisk all marinade ingredients together until smooth.
Spoon two tablespoons of marinade over each chicken breast. Spoon remaining marinade over vegetables.
Place pan in oven and roast for 30-35 minutes, until chicken is cooked through. Serve with brown rice, if desired.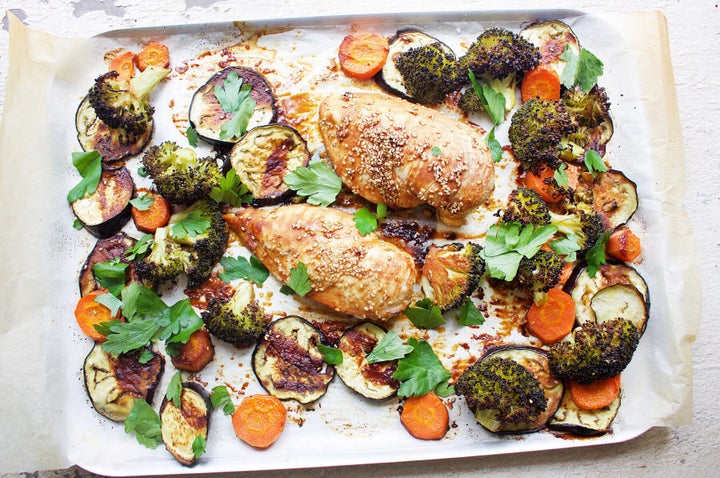 4. One-pan healthy fish and chips
"Fish and chips is such a classic summer meal. There's nothing better after a day at the beach, but often the oils and batters used can be high in saturated fats. So I created a healthy version for you guys, as a one-pan dinner, of course," Sepel said.
"Crispy parsnip and sweet potato chips paired with a simply roasted white fish, plus the most divine herb-nut topping."
INGREDIENTS
2 fillets white fish (e.g. John Dory or Ling)
1 sweet potato
2 parsnips
1 tablespoon coconut flour
1 cup mixed herbs (parsley and basil are best)
½ cup almonds
2 tablespoons olive oil
Sea salt
METHOD
Preheat oven to 180° degrees.
Chop sweet potato and parsnips into thin wedges and arrange on a lined baking tray. Drizzle with one tablespoon olive oil and sprinkle over coconut flour. Season with sea salt. Roast in oven for 25 minutes.
Meanwhile, to make the herb-nut topping, finely chop mixed herbs with almonds. Add one tablespoon olive oil and a generous pinch of sea salt and continue to chop until combined.
After 25 minutes, remove sweet potato and parsnip from oven and add the fish to the pan. Spoon over the herb-nut topping.
Return tray to oven for a further 20 minutes, until fish is cooked and wedges are golden.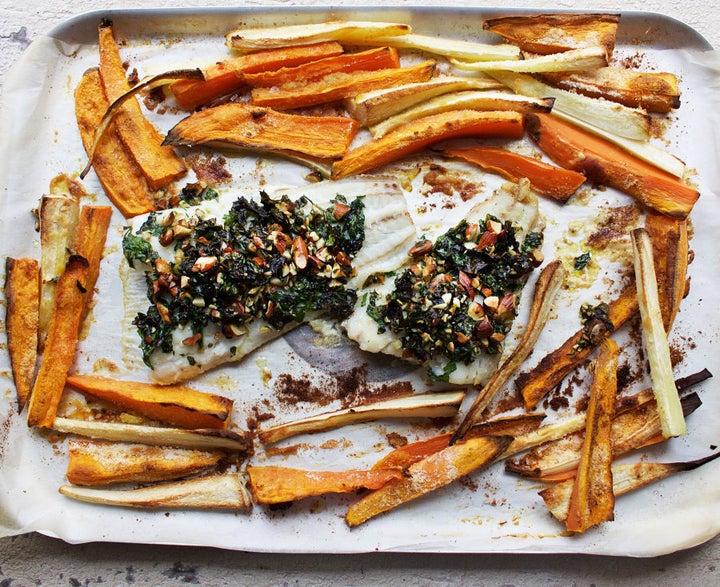 ALSO ON HUFFPOST AUSTRALIA