Just when you thought you couldn't love Drew Barrymore anymore, she signs up for the role of a flesh-eating suburban realtor in the ominously funny series you've been waiting for, 'Santa Clarita Diet.'
You've probably already seen the ad for the Netflix Original show, which could be mistaken for Barrymore endorsing some kind of weird new diet craze. But on Wednesday the streaming service offered a full explanation by releasing the official trailer ahead of its premiere on February 3.
Barrymore plays Sheila, a happily married realtor who wakes up one day feeling supernaturally energetic.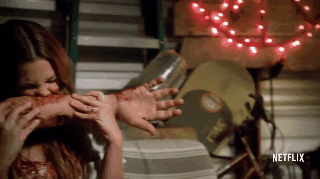 Her realtor husband Joel (Timothy Olyphant, Justified) and teenage daughter, Abby (Aussie newcomer, Liv Hewson), discover their beloved wife and mother has somehow become undead.
But life as a zombie isn't so simple. While Sheila can easily survive on just two hours' sleep, she needs a special diet (ahem, human flesh and blood) to support her new lifestyle. Raw mince doesn't quite cut it.
Of course the family band together to try and adjust to the dramatic change, before joining Sheila on a gory journey of death and destruction... but one that might not be so bad after all.
The comedy series premieres on Netflix globally on February 3, 2017.