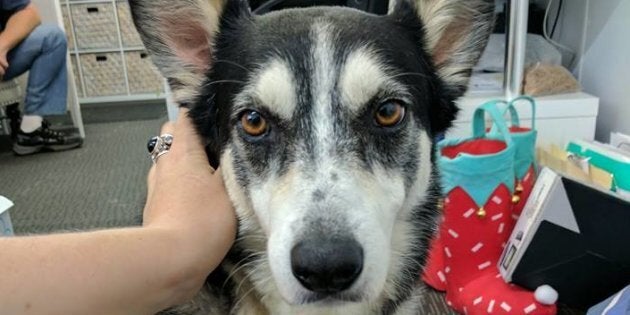 The Animal Welfare League NSW have been caring for abandoned and neglected animals for almost 60 years, though nothing could prepare them for the horror of discovering newly rescued Kelpie mix, Molly, had more than 100 BB pellets strewn across her body.
After rescuing the seven-year-old pup from a nearby pound, Molly underwent a routine vet check at their Kemps Clinic clinic where an x-ray uncovered the lead throughout her body.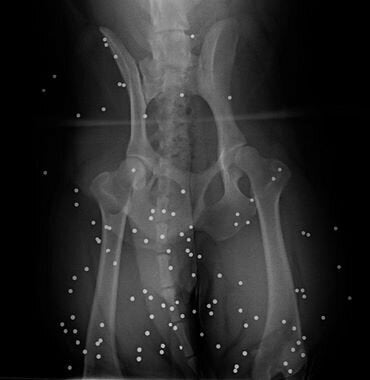 The x-ray that revealed the horror.
According to vets, there is no way for them to tell how long they have been lodged in Molly's body and sadly, it's virtually impossible to prove who did this sickening act to her.
Vets also concluded it would be safer and more comfortable for Molly to remain as she is, rather than attempting to remove them.
"Whilst at the time there must have been a significant degree of tissue injury, now that healing has occurred these pellets should remain relatively inactive and not cause ongoing discomfort," Maher said.
Now, Molly is looking for a new home. Despite her history of neglect and cruelty, she has a gentle temperament and has been wearing the 'office dog hat' since arriving at the shelter, receiving plenty of pats and treats (and enjoying the air conditioning).
She's already learnt to 'sit' but is now ready for a permanent home. According to staff, she would suit a quiet, mature household with no cats.
It's stories like these that remind us just how resilient our furry friends can be, especially when faced with tragedy, and why adopting is so critical.
It's sure been a rough time for Molly, but our fingers and toes are crossed she finds a loving new home.
ALSO ON HUFFPOST AUSTRALIA