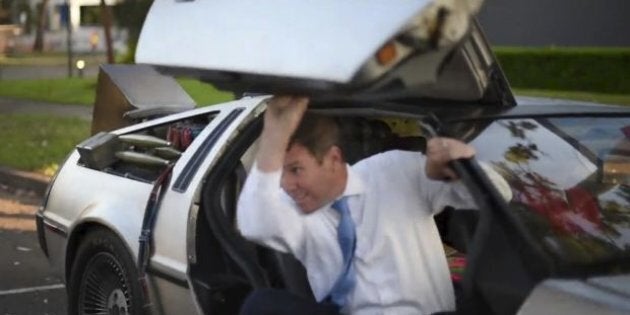 Baird became premier of NSW in the wake of former leader Barry O'Farrell's resignation in 2014. O'Farrell was forced to step down after revealing he had accepted a bottle of wine from Australian Water Holdings CEO Nick di Girolamo, just hours after swearing to an ICAC hearing that he hadn't. Baird came to power under yet another cloud of controversy enveloping NSW politics, and set about realigning that image through a combination of his youthful vigour, good nature and strong social media game.
Every trend that was around, Baird was on it. Back To The Future day? Check. Celebrities reading mean tweets about themselves? Check. He was warm and funny and good-natured and just a tiny little bit daggy, like your cool uncle who tries hard to keep up with the kids.
On the one hand, it seemed like Baird genuinely enjoyed being a little silly on camera. On the other, it wasn't a bad strategy to get fun stories out in the media and filling up social media feeds while his government went from high popularity to controversy with a series of unpopular decisions.
Baird, once the golden boy of politics with whispers that he was destined for a tilt at federal politics, created his own noose by committing himself to policies like the greyhound racing ban, Sydney's strict lockout laws, amalgamating local councils and the fiercely-opposed Westconnex road link.
The young, handsome premier with the big grin and the "aw, dad" sense of humour was in sharp contrast to the man who somehow managed to unite country and regional working-class voters, young people and inner-city trendies in opposition to his government.
His popularity plummeted. Massive rallies were held protesting the greyhound ban, the lockouts, the council amalgamations and Westconnex. The Nationals, the Liberals' partner party in the country, sensationally lost a by-election in Orange that was widely seen as a referendum on the greyhound ban, and deputy premier and Nationals leader Troy Grant resigned over it.
Then, sensationally, it was all over. Baird unexpectedly announced his resignation on Thursday, less than halfway into his government's term after winning the 2015 election.
So long Mike, and thanks for all the memes.