You'll have heard the name Nolen before. If not because of Roslyn herself, perhaps because it was her nephew, Luke Nolen, who famously rode Black Caviar.
Artist Roslyn Nolen lives in Perth with her young family, and horses have always meant a great deal to her, and evidently her wider family.
In her upcoming exhibition, Nolen specifically explores the plight of the wild brumby. The Huffington Post Australia spoke to her ahead of the event to talk history, horses, and why awareness about the brumbie's is so important.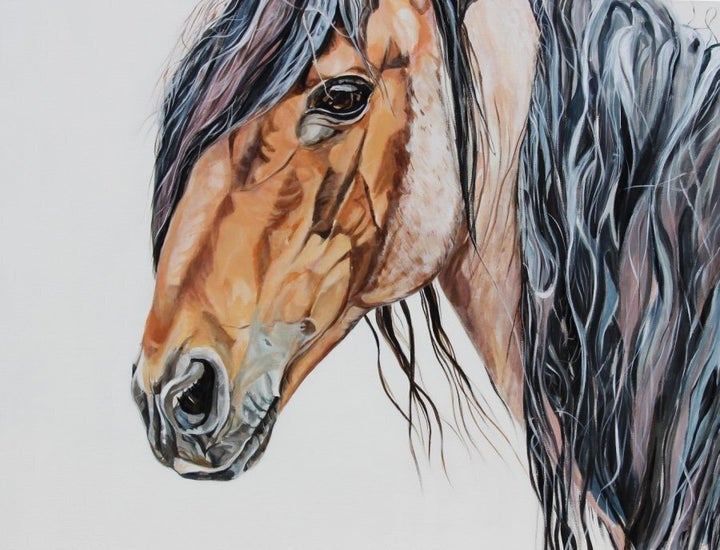 "My art career spans more than thirty years. I have a degree in Fine Arts and a Graduate Diploma in Education. Simultaneously throughout my teaching career I have maintained my art practice and regularly have Solo and Group Exhibitions," Nolen told The Huffington Post Australia.
"After teaching in both regional and city schools within Victoria, I was inspired to work with Aboriginal people. Being drawn to the cultural and artistic richness of Aboriginal culture found me making the move from Melbourne to one of the most remote communities in the Southern Hemisphere -- Wirrimanu, formerly known as Balgo Hills, in the Tanami Desert."
Nolen spent three years there both teaching and painting.
"Hours were spent scouring the country with the local woman on cultural weekends and expeditions. This experience has impacted greatly on my life journey and is reflected and intertwined in how I conduct my life as an artist, teacher and mother now."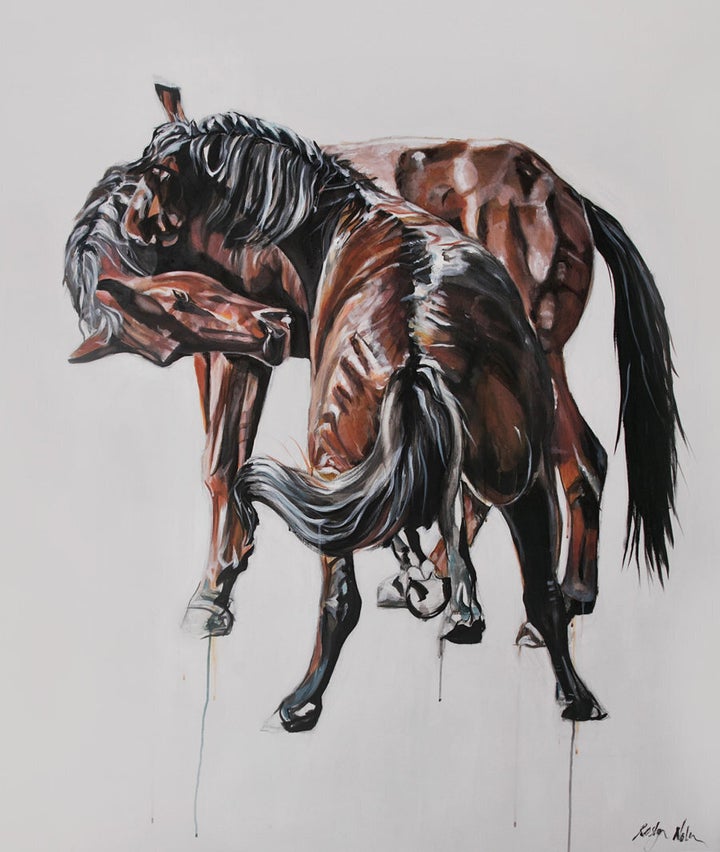 "During this time portraiture was my main focus and it wasn't until my nephew jockey Luke Nolen was given the opportunity of a lifetime to ride Black Caviar. I painted Luke on Black Caviar and it had a cathartic effect," Nolen said.
Nolen links her passion for horses back to her childhood.
"My childhood was immersed in the equine world with a horse-trainer father, with whom I learnt to respect and maintain a safe distance from the horses in his care. Dad always made sure we understood the strength and will of these powerful animals. I was rather fearful of them and it wasn't until I painted Black Caviar that I was able to fully embrace the majestic beauty of the horse," Nolen said.
Nolen's upcoming exhibition is 'Homage To The Horse', which are works based around the subject of the wild brumby. She explores the anatomy of the horse using a range of materials including acrylic, ink, biro, graphite and charcoal.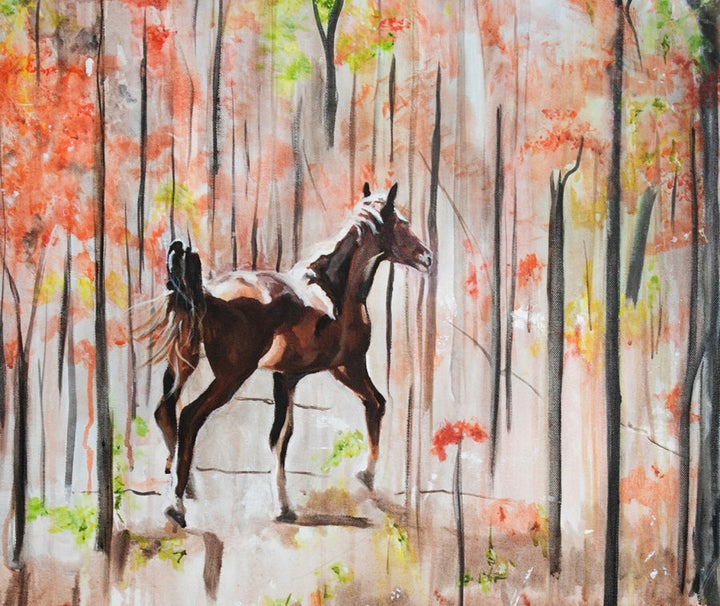 "In this upcoming exhibition I have drawn both on the domestic and wild horse. Primarily the wild horse dominates the forum. I love what the wild horse represents -- freedom, survival, strength, endurance, adaptation; the quintessential folklore of this country," Nolen said.
"In my previous exhibition titled Wild in 2015, I made contact and collaborated with journalist and wild horse activist Mae Lee Sun. We both have a passion for the wild horse and have remained friends since our initial collaboration. Last year Mae Lee and I spent some time at a Wild Horse Sanctuary, Bonrook Station in outback Northern Territory. We were fortunate to take photographs and study the wild brumby in its truest form. Many of these horses had never had any human contact and it was extra special having this knowledge."
Nolen hopes that the exhibition shows the public how special these animals are and how important they are when it comes to conservation.
"I hope people see the intelligence, power and soul that I see in these majestic animals. I always start by sketching the horse and then paint the eyes. Doing this enables me to build a connection with the horse and from there the communication can unfold. I want people to see these animals as majestic and beautiful -- to make their own connection and truly see the freedom in these horses. Free from threat and controversy."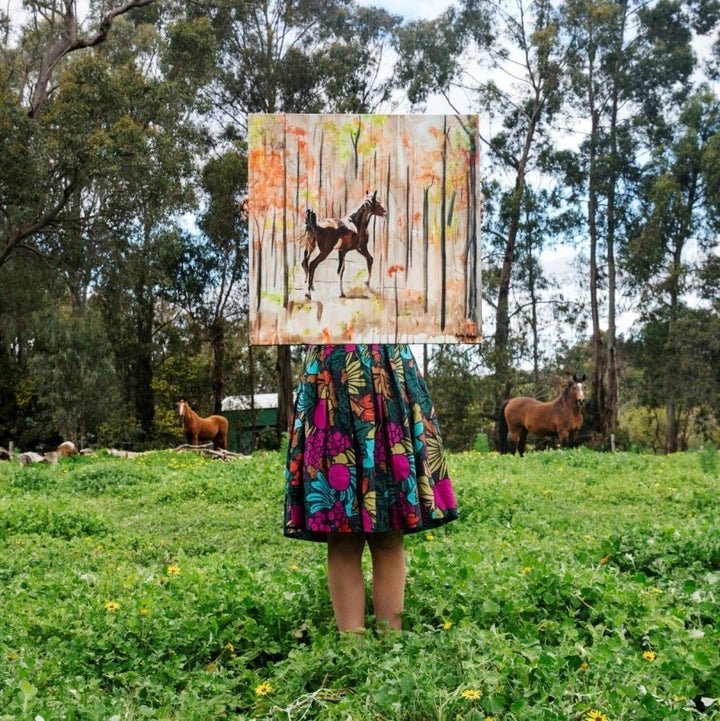 The issue of the wild brumby is a controversial one, people either love them or loathe them," Nolan said.
Journalist and wild horse activist Mae Lee is fighting for the plight of the brumbies, too.
"The brumbies have become a targeted species, labelled a feral pest for environmental issues mainly caused by human development and climate change. Horses have evolved to live in many ecosystems...primarily because they know how to adapt and contribute to life. Reintroduction programs exist all over the world...yet in Australia, the research is largely based on an outdated model called 'invasion biology' and the reports used are biased to only identify 'damage' and only in specific areas, rather than look at damage caused by other animals or humans," Lee said.
"Then the biased data is taken for fact to the exclusion of actual unbiased, peer reviewed research which is non-existent in Australia. In Australia, there is also a lucrative trade in horsemeat for pet food and overseas consumption. Most brumbies who are culled are not adopted so they go to slaughter."
"The Australian Government has declared that all horses are to be removed from National Parks. It is a matter of when and how and it is up to the public to speak out if they want to see this iconic horse continue to be a part of our heritage," Lee said.
ALSO ON HUFFPOST AUSTRALIA