The crowdfunding campaign aiming to reinstate an Australia Day billboard, featuring two girls wearing hijabs, has become one of the fastest raising campaigns in Australian GoFundMe history.
On Wednesday, Campaign Edge creative director Dee Madigan launched the crowdfunding page which has now raised more than $137,000 in 25 hours.
The fastest raising Australian campaign was the Queen's Castle page which raised $137,100 in 24 hours, for a charity building safe houses in Kenya for young victims of sex abuse.
Madigan attributes the generous donations to growing frustration over the rise of the alt-right in politics at home and abroad.
"People have been feeling recently that bigotry has become more permissive, thanks to people like Hanson and Trump," Madigan told The Huffington Post Australia.
"It was a way where people could actually fight back against it in a way that was tangible."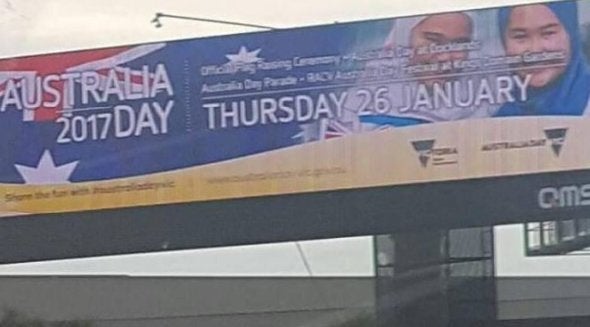 In one day, more than 3,000 people donated money -- from as little $5 to thousands -- towards the billboard campaign, which has catapulted the plan from simply reinstalling one billboard, to putting one in every major city around the country.
Madigan is planning to do just that, with three already booked in Melbourne and two in Sydney. Billboards will begin going up from Friday through to Australia Day, starting in Collingwood, Preston, Springvale, Endeavour Hills and Yarraville.
The creative director has received her fair share of hate mail, but the "heartwarming" response from Australians proves to Madigan bigots are "the small minority".
"I was incredibly frustrated because you've got the same people who complain that Muslims don't assimilate who are the ones complaining about a picture of two Australian Muslim girls holding Australian flags, celebrating Australia day," Madigan told HuffPost Australia.
"It's just like you're damned if you do, damned if you don't. It's shear bigotry. It really just took off all the layers and exposed it for what it was."
The girls in the photo have had some faith restored, however Madigan said they were initially made to feel "like they and their culture are so offensive to people, that they went to that sort of length."
"That's an awful thing for young girls to have to go through and that's why it was so important, I think, to show them that all Australians aren't like that."