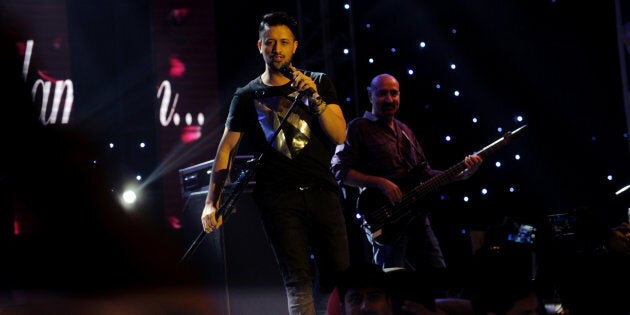 Pakistani pop star Atif Aslam has been showered in praise since interrupting his concert in Karachi mid-song on Jan. 14 to intervene when he saw a woman being harassed in the front row.
Widely shared videos, including the one below, document the 33-year-old singer reaching into the crowd and pulling a female fan onto the stage with him, repeating in English, "Rescue her." Cheers erupted as Aslam publicly scolded a man in the audience.
"Atif did the right thing, which any other human being would do," the singer's brother and manager later told NBC News. "We don't want this to be blown out of proportion and hope that folks continue to believe in Atif's music."
Aslam's actions have raised questions about the effectiveness of preventative strategies like the "no stags" or "family only" policy recently employed by the Karachi Eat Festival, a food festival that took place in the city from Jan 20 - 22. The controversial entrance restriction prevented any single man unaccompanied by females from purchasing tickets to the event, to protect women from harassment.
"What's really at stake in this conversation about policies at Karachi Eat or Atif Aslam's intervention is patriarchy's power," wrote Hamna Zubair, the editor of Pakistani news outlet Images.com, in an editorial Tuesday.
"People in Pakistan view gender equality as a zero-sum game where universal protection for women enshrined in the law decreases the scope of unchecked male power," she added. "And that, to them, is a problem."
Sexual harassment has become an issue at overcrowded concert venuesaroundtheworld. At Aslam's show, local media reported numerous cases of abuse. He did not respond to a request for comment.
In Pakistan, lawmakers did not criminalize all forms of violence against women until February 2016. Anannual report released in April by the independent Human Rights Commission of Pakistan documents hundreds of cases of rape, domestic violence and other forms of physical abuse against women. UN Women reports that Pakistan remains one of the lowest-ranking countries in the world for gender equality.
Though various sources have published some conflicting accounts of the events that took place before Aslam pulled the fan out of the crowd, the singer has continued to receive praise on social media for his actions.
This story has been updated throughout to include additional information about the incident and its aftermath.