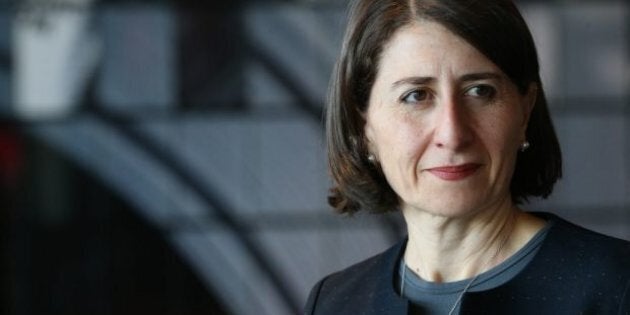 There's probably one thing you know about Gladys Berejiklian. She's NSW Premier Mike Baird's right hand woman. Right?
Gladys Berejiklian has been by Baird's side as his once enormous popularity waned under mounting pressure to scrap Sydney's controversial lockout laws, the greyhound racing ban (which was scrapped and cost Deputy Premier Troy Grant his job). Not to mention forced council amalgamations, along with the Westconnex which has disrupted the lifestyles of many people in the state.
This has only helped Berejiklian and her Treasury portfolio.
Who is Gladys Berejiklian?
Gladys Berejiklian is Australian-Armenian and the granddaughter of survivors of the Armenian genocide. Berejiklian's parents immigrated to Australia in the 1960s and Berejiklian was born in the Sydney northern suburb of Willoughby in 1970.
A young Berejiklian went on to the University of Sydney to complete a bachelor of arts and graduate diploma of international studies before completing a masters in commerce at the University of NSW.
Business took place before politics, with Berejiklian working as a general manager at Commonwealth Bank for five years before her election.
How has her political career spanned so far?
A decade after joining the Liberal Party, Berejiklian was elected as the Member for Willoughby in 2003.
She was appointed Minister for Transport in 2011, and oversaw the phased introduction of the Opal card before moving to the Treasury portfolio when former Premier Barry O'Farrell resigned and Baird was voted into the state's top job in April 2014.
She was also appointed Deputy leader of the NSW Liberal Party and became Minister for Industrial Relations (on top of the Treasury portfolio).
Portfolios aside, the 46-year-old is a supporter of same-sex marriage and holds a 'proactive approach' for refugees.
"I'm a fan of making sure our community grows and that we are always compassionate and remember our place in the world," Berejiklian said in 2015.
"We are a lucky country and it's about making sure we are compassionate for people in desperate need of a home."
One of Berejiklian's biggest supporters is the outgoing NSW Premier.
On Thursday, Baird told Fairfax his former right-hand woman is "incredibly loyal, hardworking, did a first-class job in transport and treasury."
"She, if given the privilege of the support of the party room, would make an outstanding Premier."
A spill of positions at a Liberal party-room meeting next week will tell all.
ALSO ON HUFFPOST AUSTRALIA