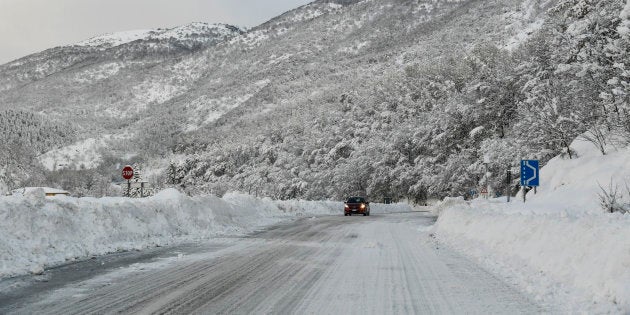 The bodies of three victims have reportedly been recovered in Italy after an avalanche buried a hotel, leading to fears that as many as 30 people may be dead.
Heavy snow and further earthquakes are said to have hindered rescue efforts at the Rigopiano hotel, in the town of Farindola, where disaster struck on Wednesday night.
Four earthquakes above magnitude 5 hit the mountain in the central region of Abruzzo, leading to road blocks that prevented rescuers from accessing the site until today.
Two people who were outside the three-storey hotel at the time of the avalanche survived, the BBC reported.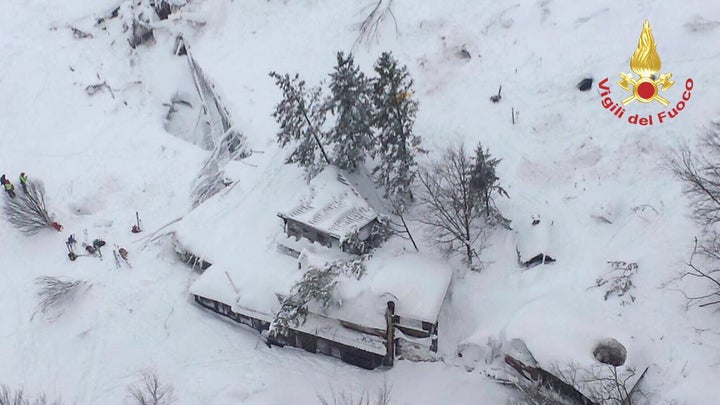 Antonio Crocetta, the head of a mountain rescue team, was quoted as saying: "There are many deaths."
"The hotel is almost completely destroyed.
"We've called out but we've heard no replies, no voices. We're digging and looking for people."
However, Italian media earlier reported that some guests at the hotel had been able to send text messages after they were trapped.
"Help, we're dying of cold," Ansa news agency quoted one couple as saying.
European Commission President Jean-Claude Juncker has said the EU is ready to help in the aftermath of the tragedy and has extended his "heartfelt condolences to those who lost loved ones".
According to Reuters, Luca Cari, spokesman for the national fire brigades, said: "We're dropping our rescue units down by helicopter and they are starting to dig."
Earlier today SkyTG24 television reported that some bodies had been found inside the hotel - although officials in the area denied this.
Accounts emerged of hotel guests messaging rescuers and friends for help on Wednesday night, the AP reported.
Tom Kington, a reporter for The Times in Rome, told Sky News that rescuers were still battling to get access to the hotel.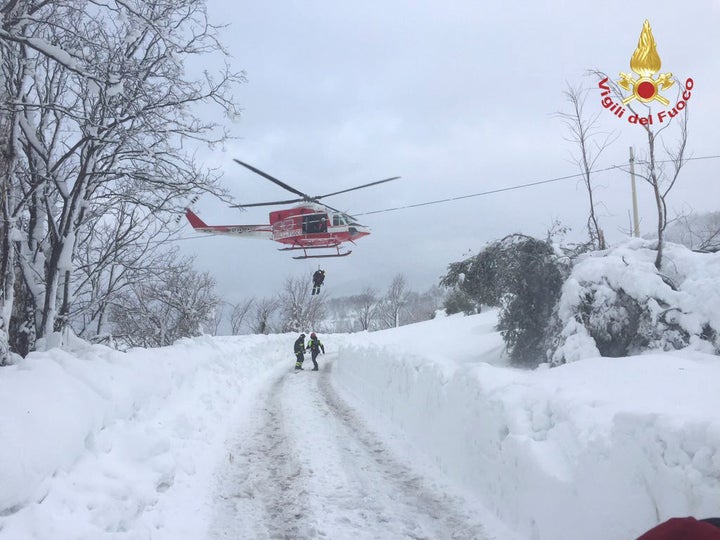 He said: "Apparently they were only able to reach it on skis very early this morning at around 4am.
"There is talk of at least 20 people trapped inside the hotel, talk of fatalities and talk of two survivors, who were outside the hotel when the avalanche hit and were able to protect themselves in a car and who have been sending out messages to rescuers.
"There were two children in the hotel aged four and five, so this is obviously a very serious incident."
When rescuers on skis arrived, they found just two people alive: Giampaolo Parete and another guest, Fabio Salzetta. There were no other signs of life, according to a video of the interior shot by rescue crews.
Salzetta had also sent a message out: "Some walls were knocked down," Corriere della Sera reported. And: "I'm outside with a maintenance worker but you can't see anything of the hotel, there's only a wall of snow in front of me."
According to Sky News, rescuers described the avalanche as "immense" and said there were "apocalyptic scenes" in its aftermath.