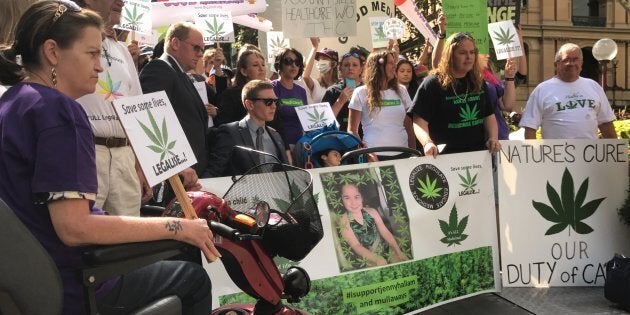 Australians wanting to treat themselves and gravely ill loved ones with medical cannabis oil are mired in red tape as states and territories inch towards making the treatment more widely available.
The Victorian government on Tuesday announced the first harvest of its specially grown cannabis crop, which will be tested and formulated into a treatment for children suffering from severe epilepsy.
But these are decisions that are not happening fast enough for Katrina Mosely, who prior to using cannabis oil to treat her eight-year-old daughter Kaitlyn's epilepsy, would have to regularly resuscitate her daughter after devastating seizures.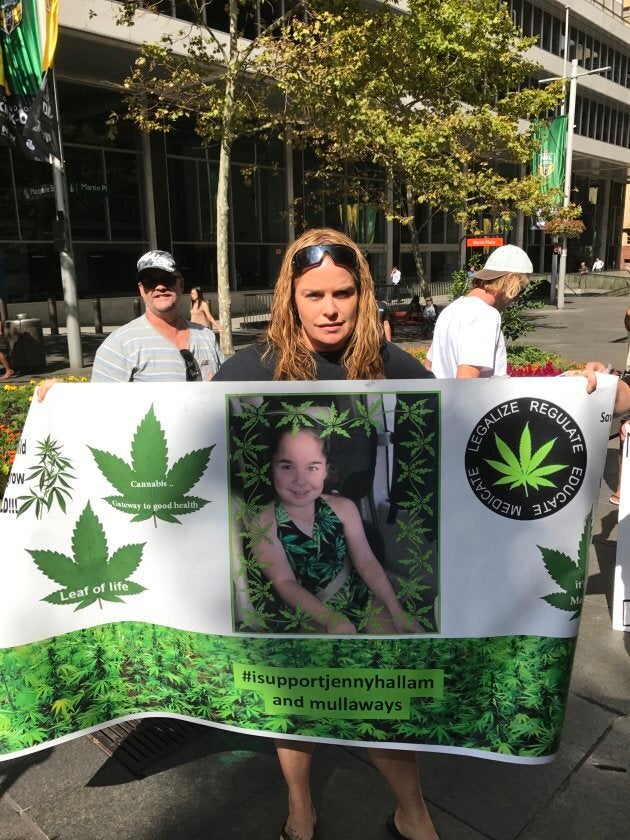 "Going on for two years now she has been on cannabis medicine. And previous to the two years, every time she would have a seizure, I would give her CPR," Mosley told The Huffington Post Australia on Tuesday.
"For the whole two years now we haven't had seizures, except for March last year when we ran out of the medicine. I had to give her CPR for 15 minutes to bring her back."
Mosley spoke to the HuffPost across the road from NSW state parliament, where she and about 50 others gathered to protest for access to the drug under the banner "enough is enough".
These politicians, really, it should be mandatory that all of them, and Malcolm Turnbull, spend a day in a house with somebody with refractory epilepsy.Katrina Mosley
"Because I guarantee you if they spend a day with my daughter without cannabis medicine, they will be giving her CPR.
"Enough is enough, we need change."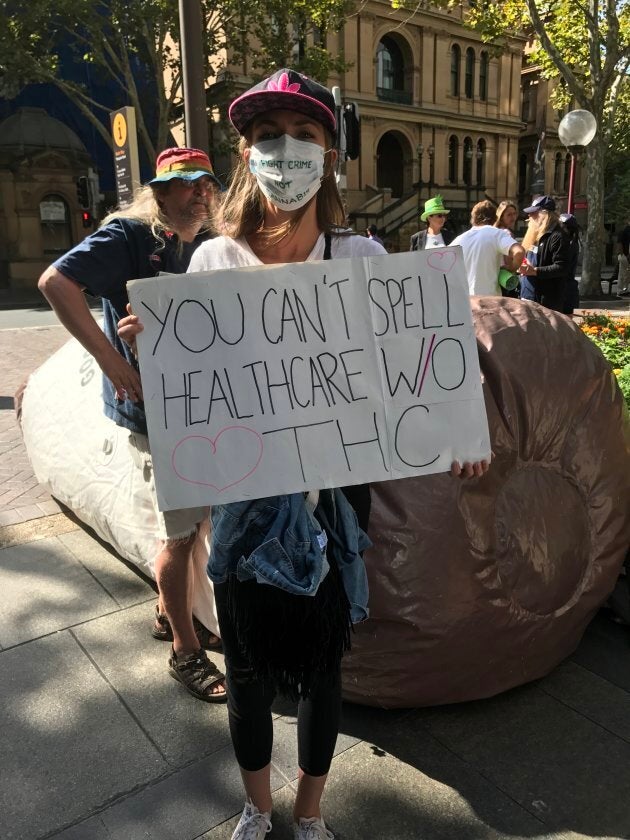 Not every supporter at Tuesday's protest has direct experience with medical cannabis, but they see its benefits.
Helen Robson is suffering from the incurable muscle wasting mitochondrial disease.
"I've lost all my muscle weight," she said from her mobility scooter, going on to describe herself as "more or less a child" when she falls over. "I can't get up, I have to crawl to a lounge to get up."
She's interested in medical cannabis for its pain treatment properties.
"I've been following the cannabis oil movement for a couple of years now, but quite honestly i don't know who to ask. I would take it 100 percent."
She said she has now found people who will help her, but she said she attended the rally because more people are needed to cause political action on the drug.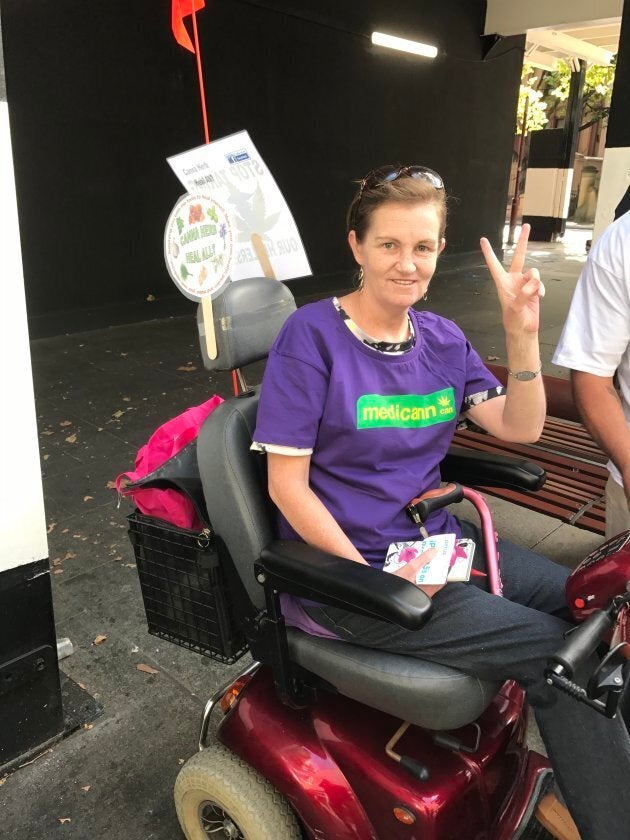 'It's not like they say it is'
Australia is progressing towards conventional medical cannabis treatments, but each state has different laws governing use of the medicine, while other states are in various stages if medical trials.
Medicinal cannabis suppliers last month dismissed Prime Minister Malcolm Turnbull's advice that the medicine can be imported through the Therapeutic Goods Administration, after he rejected One Nation's call for an amnesty while the country reconciles its laws.
Turnbull said last month the drug could be imported through a Therapeutic Goods Administration (TGA) scheme if it was prescribed by a authorised prescriber, presumably a doctor.
South Australian medicinal cannabis supplier Jenny Hallam -- who late last year was raided by police -- told HuffPost Australia that approaching a doctor often ended in a dead end.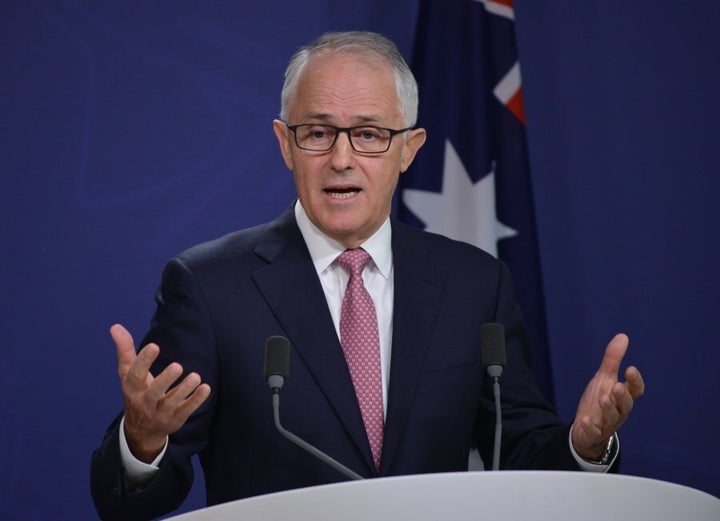 "It's not available like they say it is," she said.
"I know people who have been trying to access it through legal channels for months and the TGA just keeps stalling their applications and keep asking for ridiculous things, like changing the labelling on the packaging."
In SA, Hallem has dealt with people who want treatment but are scared to access it illicitly because "they're scared of getting their kids taken away".
"It's all well and good for Malcolm Turnbull to say people should wait or access it through legal channels, he's got the money to send his family overseas if they ever get sick and get treatment where its legal," she said.
Medical Marijuana -- What You Need To Know

Laws around medicinal cannabis vary by jurisdiction in Australia.
Nationally, recent changes to federal laws have allowed businesses to apply for a licence to produce cannabis for medicinal purposes only under the Narcotics Drugs Amendment Act 2016.
But the product is not yet available to buy or use.
It is currently available to select patients in strictly-controlled trials
In the absence of wide access to the products on a legal prescription basis, Australians have turned to less than legal avenues to secure what they need.
Hallam's experience is the same as Mosley's in some areas.
Mosley told the HuffPost patients and doctors are unwilling to come forward about the drug. She said she supports NSW Labor's proposed bill to decriminalise the drug in certain cases.
"I've had the head of ICU say keep giving it to her, stuff the policy, your daughter's life is more important," Mosley said.
"Yet none of those doctors will put their job on the line. They say get subpoenaed court and we'll tell the truth."
Conditions included in NSW Labor's medical cannabis decriminalisation bill:

HIV
Motor neurone disease
Multiple sclerosis
Stiff person syndrome (rare neurological disorder)
Cancer-associated pain
Neuropathic pain
Chemotherapy patients with severe, treatment-resistant nausea and vomiting
Health Department concerns
In pointing out he lacked the power to grant a general amnesty for medical cannabis, Turnbull warned the health department was concerned people were treating themselves with the illicitly sourced product when there are "no controls on the safety and quality" of the treatments.
He pointed the example of two NSW women hospitalised because, he said, the strength of the cannabis they used in their treatment was much higher than expected.
Last month millionaire philanthropist Barry Lambert told Channel 7 to express his frustration over the lack of access to the drug. The Lambert use medical cannabis products to treat five year old Katelyn Lambert's Dravet Syndrome, a rare form of epilepsy.
"This is a crime against humanity and something has got to be done about it," he said.
She says she knows of just one family who have received approval to import the drug, but they cannot guarantee a constant supply.
"It hasn't overly been successful. She has been able to get it some times, not at all times. Why would you do that when you have to jump through a million hoops, it's extremely expensive, when you can get something for $50 here in Australia," she said.
However Batten said she can see where the government is coming from on the issue of an amnesty.
"They need to know this product is safe, and that's I guess, in a way, if we could go and have a product tested and analysed then they would know, we would know, if everyone is getting a safe product," she said.
"Everyone jumps up and down and says it's only a herbal plant -- you know, it's poppies -- but we don't grow poppies in our own backyard for medication, and no one would expect to."
"If they allow an amnesty and something happens to someone, who are they going to hold liable?"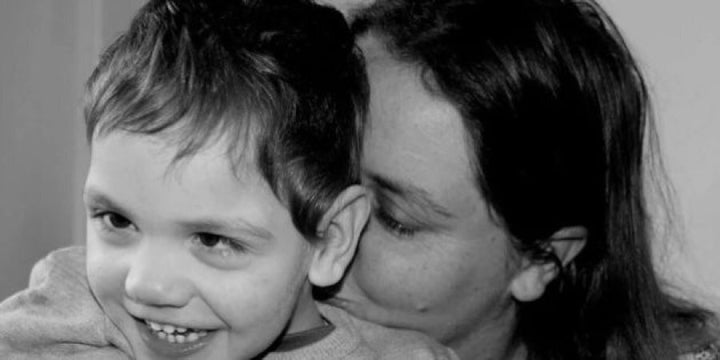 Australian Medical Association Victorian president Tony Bartoni said under the TGA special access scheme, a case by case approval of a management plan is required.
"A doctor has to write a prescription, but at the moment, essentially, the logistics of it become the defining issue because there is no real commercial product available on the shelves, so it has to be imported," he said.
"It's not a tick the box approach, it needs to be supported by a clinical management plan, intent, purpose and a clarity of the condition being treated."
It's not like writing a prescription like going down to the local pharmacy, and it never will be.Tony Bartoni
He said a growing body of specialists are keen to see the regulated use of medical cannabis, but he said the body of evidence on the drug available overseas had not been replicated in Australia.
"There is a very high degree of responsibility that comes with prescribing this, so it's not to be taken lightly... we understand that comes with onerous implications," he said.