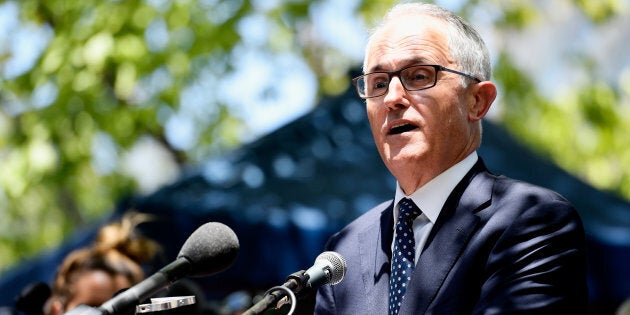 Prime Minister Malcolm Turnbull and opposition leader Bill Shorten have laid tributes at the memorial to those killed and injured in Friday's car attack in Melbourne.
Five people have so far died as a result of injuries sustained in the shocking incident at Bourke Street in central Melbourne.
The horror incident took place when a driver, widely reported to be 26-year-old Dimitrious Gargasoulas, travelled around an intersection then sped down a footpath on Bourke Street, smashing through pedestrians.
On Sunday morning, police confirmed that a three-month-old baby boy became the latest victim, lifting the death toll from the attack to five. The baby died in hospital on Saturday night, police said.
Turnbull said the whole nation was grieving with those impacted by the incident.
"We are grieving with you, we are mourning those whose lives have been lost, we are praying for the recovery of those who are injured," he told a crowd at the floral memorial site.
"We admire and thank the heroism of the first responders, policemen we spoke to just a moment ago, the emergency workers who rushed to the scene, heedless of the risk to themselves."
Earlier, Turnbull laid flowers at the memorial where he joined with Victorian Premier Daniel Andrews.
Federal Labor leader Bill Shorten also paid his respects at the memorial on Sunday.
Meanwhile, the Victorian Government announced a fund would be established to support those affected by the tragedy.
It said it would donate an initial $100,000 to the community fund.
"The fund will complement other services and support provided by the Victorian Government, particularly for those who were injured or who witnessed the Bourke Street tragedy," the government said.
The Turnbull Government has since announced that it will contribute a further $100,000 and ensure that the fund is made tax deductible for members of the public.
Premier Daniel Andrews has offered his condolences in a statement on Sunday afternoon. Branding the incident an "evil criminal act", he said "we will carry it for years to come".
"We grieve with them and we stand with the victims. This crime has devastated families and directly affected many hundreds of people," he said.
"It has touched us all and we will carry it for years to come."
Andrews said those wishing to lay floral tribute and letters can do so at the memorial on the corner of Elizabeth and Bourke Streets, in front of the GPO.