It's the annual celebration that brings impressive craft creations, tasty food and epic firework displays, though for those not close to the culture, Chinese New Year might be a tradition known little about.
It's also one of the few celebrations that draws to a close with, what else, but another celebration: the Lantern Festival.
For those not so well-versed in the annual tradition, we've pulled together some fun facts and the events not to be missed.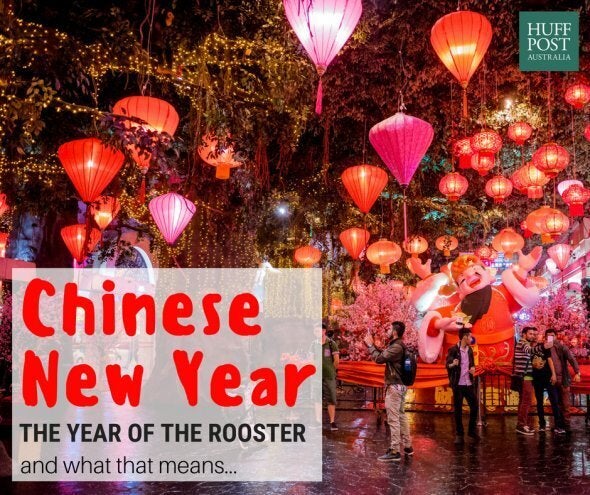 It's based on the traditional lunar calendar
Which means the lunar new year starts after the second full moon to occur after the Northern Hemisphere's winter solstice, and continues until the 15th day of the first lunar month (that is, February 15). Traditionally, the celebrations are rooted in the coming of spring.
What the Red Fire Rooster means for you
One of the funnest things about the tradition is that each new year is associated with one of the 12 signs of the Chinese zodiac. According to Chinese astrology, rooster years are filled with integrity and efficiency. And no surprises, it's also the year for hard work. Those who made their debut in a Fire Rooster year are said to be charming and ambitious.
The Year of the Rooster is a Yin year
Another aspect of the lunar year is whether it is a Yin or Yang year. In 2017, we're in a Yin year, ruled by the element of fire. Which means alongside the hard work, this is the time to be spent in solitude and harmony with friends and family.
Some of the traditional customs are really cool
While customs vary across the country, here are some of our favourites;
People dress in colour, particularly red to show joy for the year ahead and they avoid the colour black, which is usually associated with mourning.
Spending time with family is one of the most important traditions of Chinese New Year.
Red envelopes with money inside are shared among young family members, to bring good luck and ward off evil spirits.
Decorating the house with mandarin oranges and lotus flowers, to symbolise happiness and rebirth.
Food is obviously an essential part of the festival, and sweet sticky rice cake and savory dumplings are on high rotation.
Firecrackers are set off at midnight.
A major bilingual exhibition is also happening
Sydneysiders can find a guide to ringing in the year of the Fire Rooster here. And Melbournites can find one here.
ALSO ON HUFFPOST AUSTRALIA