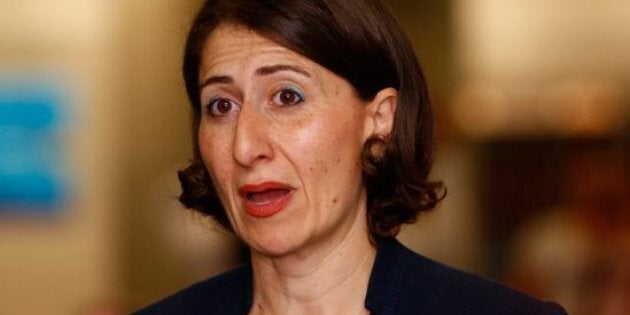 CANBERRA -- Gladys Berejiklian may be the first female Liberal leader in New South Wales, but she got her new top job on merit. There is no serious argument there.
But here we go again. A fresh brouhaha is emerging -- already -- on sexism in Australian politics.
Not long after starting her first press conference as Premier, LESS THAN 12 MINUTES IN, Berejiklian was asked about her private life -- and like former Labor Prime Minister Julia Gillard before her -- her childlessness, and whether it affect her politically.
It was couched, at first, as whether the 46-year-old was "prepared for those questions?" and then she was specifically asked, "do you think this is a disadvantage politically because people have kids and they have families and people identify with that like they did with (former NSW Premier) Morris Iemma?"
Berejiklian responded that she had "been in public life for a long time" and that she was "ready for anything".
To her credit, she took the question and joked that her new deputy, Dominic Perrottet had "made up for her with four kids".
There was no need, but the new Premier also added.
"I am someone who has always been myself. Not all of us can plan how our life turns out," she said.
"I am a very happy person. If you asked me 20 years ago would my life look like this? It probably wouldn't be how it looks like. But I am grateful for the opportunities I have had."
"Don't fixate on or overemphasise the men in their lives – husbands, boyfriends, ex-boyfriends, colleagues," Keneally wrote.
"Female politicians aren't defined by these men any more than male politicians are by their female partners or colleagues."
There was more, but -- as Keneally wrote –- it all boils down to this:
"Judge all politicians -– male or female -– on performance," the Sky News commentator demanded.
"Are they ethical? Do they keep their commitments? Are they delivering consistent and well-considered policy? Are they responsive to the community? Do they have a vision for the future? Are they courageous and willing to fight for the people they represent?"
"If these suggestions are unwelcome, well, next time there's a male premier, make sure to call Mike Baird to ask him to offer the guy some advice on being a man in charge."