Gone are the days of the annual Bali trip -- this year, it's all about 'Straya.
On Thursday, Wotif.com revealed only 12 percent of Australians have experienced the pride of ticking off every state and territory, which according to the travel site, is causing rising popularity in destinations closer to home.
That myth about it costing more to travel interstate than overseas? Well, it's just not true.
As demand for domestic travel continues to grow (up nine percent in 2016) it's expected three quarters of Aussies planning a holiday this year will opt for a domestic trip.
So where are they headed? If you were one of the 200,000 Aussies expected to chuck a sickie on the Friday after Australia Day, it's likely you had the following 10 destinations in mind.
Wotif.com's most popular Australia Day weekend destinations

Gold Coast, QLD
Sunshine Coast, QLD
Cairns, QLD
Great Ocean Road, VIC
Whitsundays, QLD
Byron Bay, NSW
Central Coast, NSW
Wollongong, NSW
Hunter Valley, NSW
Mornington Peninsula, VIC
Ahead, three legitimate reasons to make your next holiday interstate.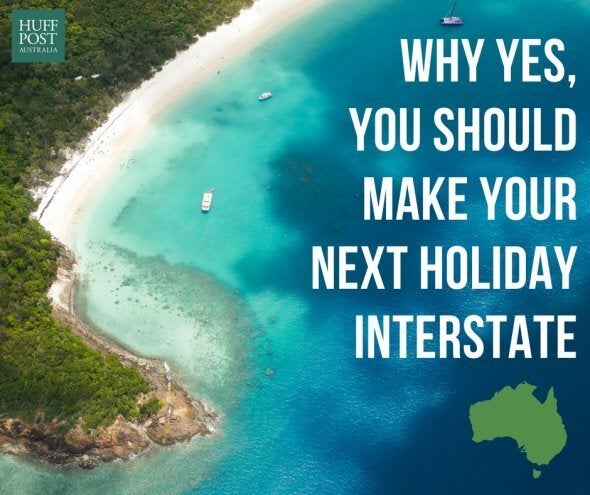 1. It's an adventurist's playground
Almost half of Australians believe there is more adventure to be had overseas. These people have obviously never visited Kakadu National Park, hiked through the wilderness of Cradle Mountain in Tasmania or swam with whale sharks in Ningaloo Reef. And while our rainforests aren't as vast as say, the Amazon, we make up for it with sharks. And crocodiles.
2. It's cheap
A third (34 percent) of Aussies believe it is cheaper to travel overseas than within Australia. However, Wotif.com crunched the numbers and compared world-class attractions against similar Aussie experiences, with local travel up to 400 percent cheaper in some cases. Case in point: airfares to enjoy the culture and outback landscapes of Uluru (Ayres Rock Airport) are four times less than flights to see Britain's ancient prehistoric monument, Stonehenge (London Airport). What that means: multiple trips, rather than just one big one, for the year.
3. There's less flying time
Sure, this one depends on where you are going in Australia but largely, travelling interstate rather than overseas takes less time. Plus, the proximity between a great surf spot and say, a wine region is totally doable in a day whether it's Margaret River or the Mornington Peninsula.
ALSO ON HUFFPOST AUSTRALIA