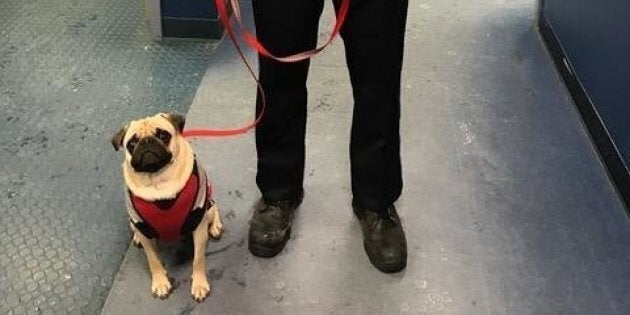 They note that Hercules has been "trained on how to aggressively hunt down any loose treats" and "knows how to sleep all day no matter what the weather may be."
But he's not really an employee of the force, Officer Geoff Moore, pictured in the photo, clarified to The Huffington Post.
"Hercules is my personal pug," Moore said in a Facebook message. "I just thought it would be a fun post for everyone."
Public information officer Jason Thomas said in an email that they snapped the shot after Moore's fiancee stopped by the department with Hercules in tow. Thomas added that the photo has "truly gone viral" and had reached more than 10 million people as of Thursday.
Honestly, it's a little disappointing to learn that Hercules isn't a real K-9, as we were really looking forward to hearing more about his crime-fighting exploits.
That said, maybe hunting down treats is exactly the right amount of adventure for Hercules.