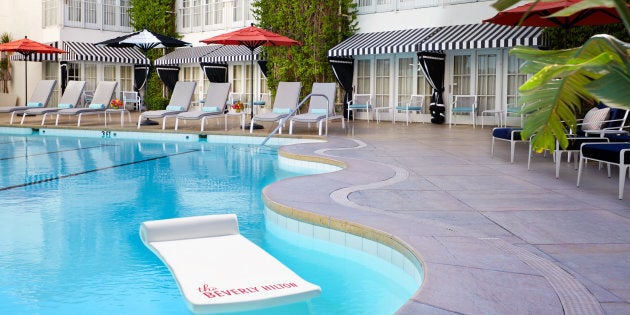 No longer just an exclusive strip for wives to drag their deep-pocketed husbands on a shoe shopping, perfume purchasing, bling buying binge, Beverly Hills is rebranding itself as a destination for the average man to enjoy too.
The Huffington Post travelled to the city, just next to Hollywood, in December as a guest of the Beverly Hills Conference and Visitors Bureau. It has always been a town of refined excess. Lamborghinis on every corner, glittering flagship stores for luxury brands lining every street, shoppers carrying department store bags filled with purchases totalling more than your average monthly rent, a shot of whiskey costing US$64,000...
Yeah, that last one made us sit up too.
We're at £10, a dimly lit wood-panelled bar looking like a classic smoking lounge. The tiny bar, with a capacity of just 35 and only a handful of tables, has previously been named the number one bar in the world and claims to have the oldest collection of classic Macallan whiskey on the North American continent -- and with such a boast, it's naturally rather exclusive.
It's hidden inside the modern Montage hotel, on a second-floor passage between normal hotel rooms, just a discreet sign exactly the same as the other room numbers, on a door exactly the same as every other door. Open it up, and you walk into an industrial kitchen. It's not a wrong turn, and once you walk past a chef or two through a second door (there's a secret knock, apparently) you walk into the dark library-like surrounds of £10.
The cheapest whiskey inside the wooden menu -- thick and heavy, like an old leather-bound book -- is a $40 fine oak, 15 years old. From there, it comes down to what your wallet can sustain; a 25-year-old Highland Park at $180, whiskey flights of three different shots at $700, a dram of 65-year-old "old and rare" at $5000. In between there are $46 cocktails, $1400 cognacs, and drops from incredibly rare and limited ranges. It's actually a little scary to look at the menu and think you could swallow an entire month's rent in one gulp.
Behind the bar, they have an exclusive Macallan made especially for the marriage of Prince William and Kate Middleton, and the famous Macallan 64 at $64,000 a shot.
The excess isn't confined to just the drinks, though. There's also the fittings. There's more than half a million in Lalique crystal chandeliers and glasses, and ice options including special soapstone rocks and special ice spheres laser-etched with the bar's logo and hand-carved from water from the Scottish highland springs -- "the same water Macallan uses, so it matches perfectly with your drink", the bartender tells us. Sitting on their balcony overlooking the Montage courtyard, in front of a small fireplace, eating house-cured bacon and cheese while sipping expensive whiskey -- it's not a bad way to spend a night in Beverly Hills.
We head to a barber next, on the way to dinner. Gornik and Drucker, the historic barbershop inside the Montage, is Los Angeles royalty. In business since the 1930s, their regular patrons have included gangsters, actors, musicians and even presidents -- Frank Sinatra, Ronald Reagan and Clark Gable have sat in these chairs, waiting for a cut-throat shave from Mr Gornik himself. It's still a spot for celebrity sightings, with the Kardashian clan dropping by recently.
The beautiful old tools, wood panelled walls, deep leather chairs and painstaking perfectionist process hark back to an older time where a shave was a luxury and treat, not an inconvenience to be hurried as you rush to work. The hot towel, eucalyptus oil, cocoa butter and thick, aromatic shaving cream mingle for a deeply relaxing, therapeutic experience. Today you're just as likely to be tended to by a young man with tattoos and a hipster beard as an old veteran with white hair, but they keep to the classic 'uniform' of shirt, tie and waistcoat. There's history in this shop, heritage you can literally touch, from the antique metal chairs to the photos of famous clients on the walls and old barbershop machinery.
We head to Fleming's steak house. Thick, juicy prime cuts of 21-day-aged beef are the staple this country-wide franchise is built on, and the upmarket Beverly Hills location is no different. Our group orders a veritable pile of steak, in filet mignon and ribeye and strip form, each cut into thin slivers so we can all sample each and every one.
Roasted chicken with white wine sauce, pork chops with julienne of apples and an apple cider and mustard glaze, maple-glazed bacon and Fleming's famous potatoes stack up on the table, which almost groans under the weight of the carnivorous feast. The simple but classy interior -- red leather chairs, exposed brick and varnished wood - belies the standard of the kitchen. It was simple impeccable, the most tender and juicy steak I've had the pleasure of eating.
We stayed at the Beverly Hilton. The home of the Golden Globes and daytime Emmy awards, the historic spot is one of the most famous hotels in the city. JFK stayed here, sparking the hotel's nickname 'the White House of the west'. Frank Sinatra and Marilyn Monroe, too. Angelina Jolie jumped in the pool, in her full gown, after winning the 1999 Golden Globe for 'Gia'. Whitney Houston died in room 434. Hollywood history drips from the walls here -- it's hard to miss.
There may be newer and glitzier hotels in Beverly Hills, but few with as rich a story as the Hilton, melding old-world heritage of its retro exterior and glamour with the new-world luxury of its interior. Each room has a balcony, most overlooking the famous hotel pool and soaking up the famous L.A. sunshine (even in the middle of their December winter). The rooms are spacious and very comfortable, large plush beds and huge showers and suitably fluffy robes. Restaurant Circa55 puts on a gorgeous spread by the pool, and down on the lower levels, the Aqua Star Babor Beauty Spa offers treatments for men as well as ladies.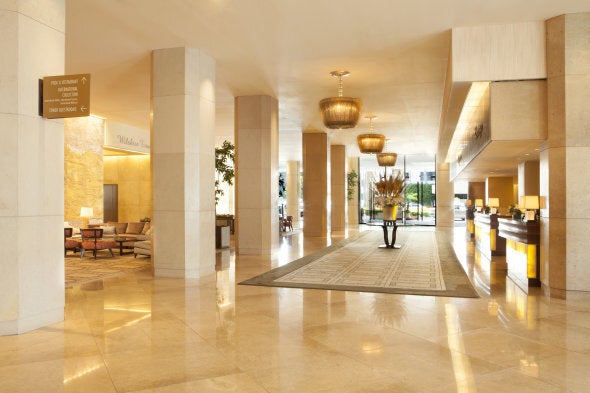 I'm not much of a beauty spa guy myself, but offered the opportunity, why pass it up? Told to strip down for a shower and steam before the treatment, I oblige before being ushered onto a padded table in a darkened room. Tranquil music plays, there's sweet scents in the air, and my very first treatment ever -- a Vital Aktiv men's boosting facial -- begins. Oils and gels are massaged into my skin, and from some combination of the darkness and tranquility and repetitive motion of the massage, I'm quickly asleep. The treatment is supposed to be "customised to the needs of male skin and their daily rituals" and provide "vitality and enhanced energy" but it's also a powerful sleeping aid. I wake up -- 10 minutes later? 30 minutes? It's hard to tell -- to the spa employee smiling. I hope I wasn't snoring. But my skin feels fresher, I feel rested and recharged, and somehow I just feel overall more properly aligned with things.
Beverly Hills has its reputation as a shopping hotspot, and a mecca for cashed-up wives to spend up big on the credit card. But fear not, doting men -- there's lots for you to do here as well.
Josh Butler travelled to Los Angeles as a guest of Beverly Hills Conference and Visitors Bureau and United Airlines. United Airlines flies daily to L.A from Melbourne and Sydney. For more details visit www.united.com