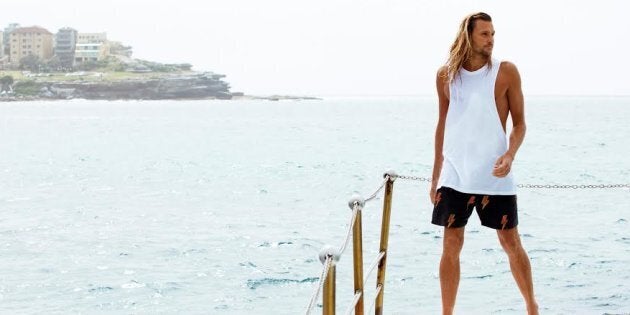 How's this for a cold hard fact: one in two Aussie men will be diagnosed with cancer. And given our love for the sun and that pesky hole in the ozone layer above Australia, skin cancer is common.
Though, being bronzed is seen to be healthy -- when it comes to aesthetics anyway. And before you use Vitamin D as an excuse for laying out in the sun for hours, getting the right amount isn't done that way.
Women have been avoiding the risks associated with sun exposure by using tanning products to fake a golden glow for a few decades now. So why isn't there fake tan products for guys?
One reason might be the perceived notion that using beauty products isn't masculine. But if skin cancer is a high probability from years of sun exposure, it's about time we redefine what being a man means.
One brand which identified the need for fake tanning products for men is Melbourne-based tanning giants, Bondi Sands. Launched only a few years ago in 2012, the brand is Australia's highest selling fake tan brand.
"Although the men's grooming industry is growing globally, the inspiration for this product came from a more personal level," Co-founder of Bondi Sands Blair James told The Huffington Post Australia.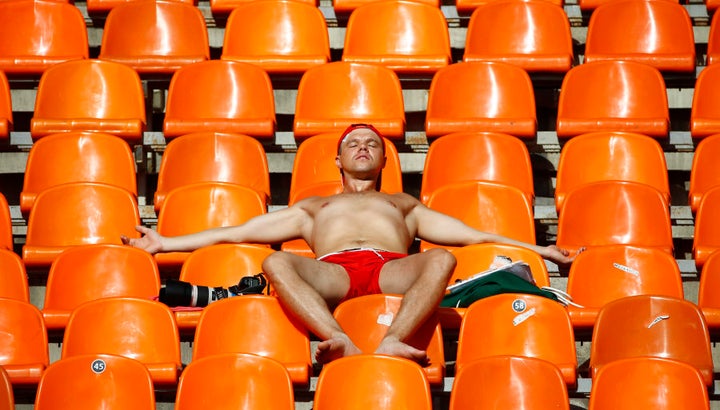 "No other Australian self-tanning brands available in this country's retailers have a male specific tanning product. We will be the first to offer this self-tan to Australian men."
A few brands in Europe offer fake tan line for guys, including Shiseido and Tom Ford. European men are thought to be more open to trialling new products and have more extensive grooming routine than their Aussie counterparts. Most other fake tan products for men are marketed to body builders.
You're probably wondering why guys can't use the 'girls' stuff. Of course they can, but as they are largely formulated with women in mind, Bondi Sands wanted to make a few tweaks.
"Many of my guy mates were already using our Gradual Tanning Milk and they were asking for a product that did not leave a sheen on the skin, dried faster and did not have such a sweet fragrance. We didn't create the product because men can't use any of the other products in our range, we simply believed that those guys who already tanned or wanted to start tanning would enjoy a product more tailored towards men's preferences," he said.
Creating such a groundbreaking product and marketing it to a demographic which are generally late adopters has its challenges. James set out to make it feel like shaving foam, so it wasn't too foreign.
"This formula is completely new, not only to the Bondi Sands' range, but also to any self-tanning product on the market today," James said.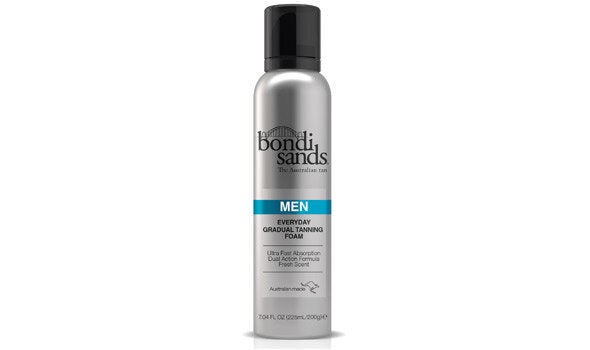 "Everyday Gradual Foam for Men is an aerosol foam. This formula has a similar appearance to shaving foam and it is super easy to apply, soaking rapidly into the skin without leaving a greasy feel or appearance. Foam application is the most popular application type for fake tan globally. The final difference is the new fresh scent, a significant change from Bondi Sands' signature coconut and cocoa butter scents."
For guys who might not be up to speed on tanning lingo, 'gradual' means that the colour will be subtle, so you won't go from pale to orange overnight. This is aimed at lessening the fear factor as well as creating a more realistic look.
As for if guys will take to it, let's see. But with male grooming being the fastest growing beauty topic on Pinterest, we reckon it's just a matter of time. And if in turn, these types of products help reduce instances of skin cancer, what have they got to lose?
ALSO ON HUFFPOST AUSTRALIA