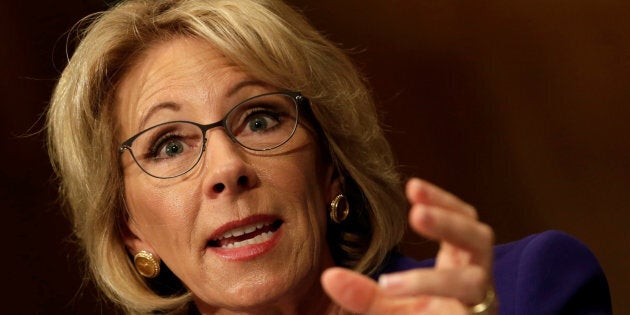 Republican Sens. Susan Collins (Maine) and Lisa Murkowski (Alaska) announced Wednesday that they would not be voting for Betsy DeVos as education secretary, potentially imperiling the nominee's confirmation.
No Democratic senators are expected to vote for DeVos. If no other Republicans vote against DeVos, Vice President Mike Pence would be the tie-breaking vote. DeVos needs a simple majority to be confirmed.
If Sen. Jeff Sessions (R-Ala.) is confirmed as attorney general before DeVos comes before a full Senate vote, it could further complicate her chances for confirmation. In that scenario, Sessions would not be eligible to vote.
When speaking on the Senate floor, Collins said that while she thinks DeVos is a good person, she questioned her commitment to traditional public schools ― which a majority of children in the country attend. Murkowski said she has been inundated with calls from constituents who questioned the nominee's lack of experience working with public schools.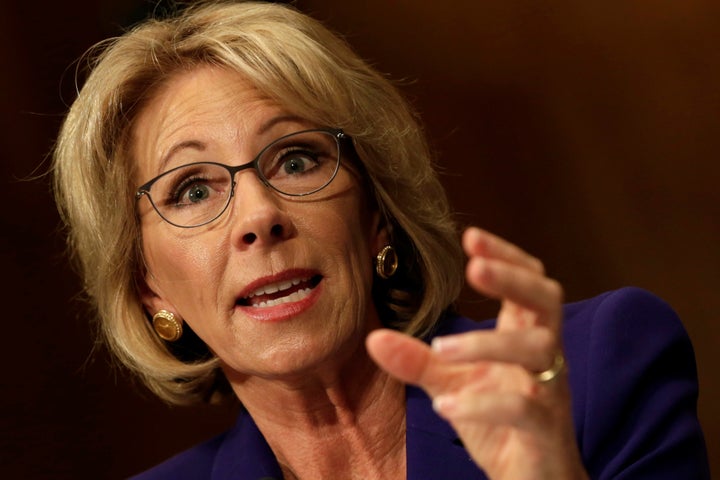 DeVos ― who comes from a conservative, billionaire Michigan family ― is an education activist and has championed alternatives to traditional public schools, like charter schools and voucher programs. Voucher programs enable taxpayer money to be used to help kids go to private schools.
In recent weeks, grassroots opposition to DeVos has grown, and protests against her have broken out across the country. Collins and Murkowski voted for DeVos to advance through the Senate HELP committee on Tuesday, but expressed reservations about the nominee. The Senate HELP committee deals with health, education, labor and pensions.
UPDATE: 5:00 p.m. ― Sen. Dean Heller (R-Nev.), who was thought of as a potential no vote on DeVos, confirmed on Wednesday that he will support her confirmation.
Feb. 2 ― Sen. John Hoeven (R-N.D.), who was being floated as a possible no vote among Democrats, will support DeVos, according to Ryan Bernstein, the senator's chief of staff.
This increases the odds that she will narrowly make it through the Senate, with Majority Leader Mitch McConnell (R-Ky.) having set the stage for a final vote this Friday.