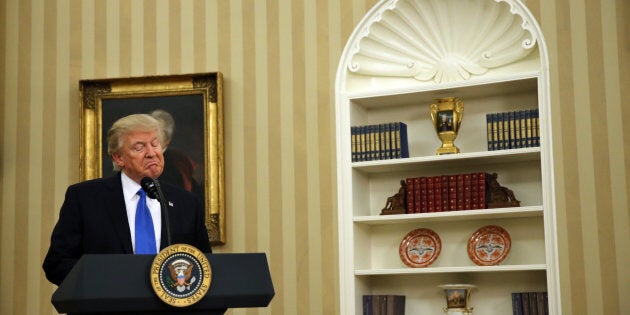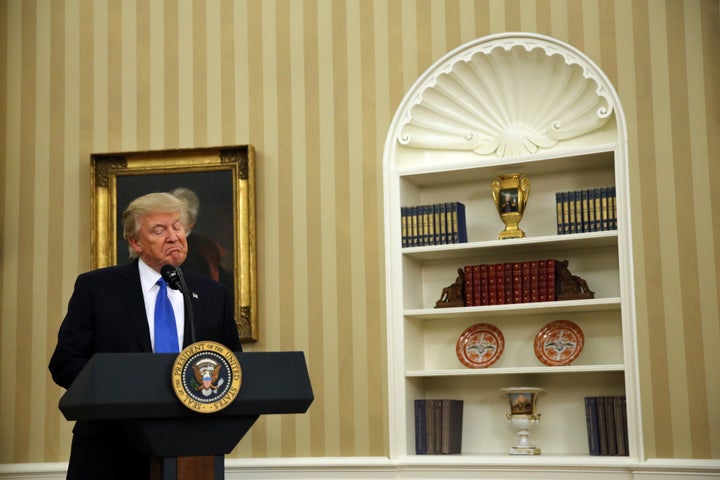 Just two weeks into his administration, Donald Trump's presidency is off to a rapid pace. But even by his standards, Monday was especially frenzied.
With protests still simmering over the refugee and immigration ban he'd imposed days prior, Trump that morning mocked the Democratic leader of the Senate for shedding what he deemed "fake tears" for those affected by the ban.
That piece of mockery alone would have been enough in the past to stir a day's outrage and news coverage. But it was followed by so much more. There were the rumblings of a constitutional crisis as customs agents reportedly disobeyed court orders to let the detained see lawyers. Trump signed another executive order dramatically curtailing regulations. His White House continued bickering with the press over his top political aide being named to the National Security Council. Jewish groups denounced his refusal to specifically mention Jews in his Holocaust Remembrance Day statement.
And then came the night. The acting attorney general announced that she would not defend Trump's ban on grounds it may be unconstitutional. So Trump fired her, finding a replacement who would do his bidding. Then he fired the director of Immigration and Customs Enforcement. And to cap the evening, he let it be known that the next day, he'd be nominating a justice to the Supreme Court. The political universe was left trying to simply catch its breath.
"There are so many fires burning in so many different places that there is sensory overload," said David Axelrod, President Barack Obama's longtime adviser. "There was a lot of action at the beginning of the Obama administration. But it was focused on dealing with a crisis. This is of a different nature and magnitude. I wouldn't say an order of magnitude, because order is not necessarily part of it."
It's often said that the office of the presidency ages the president. But in the era of Trump, the public and Congress are aging as well.
His first two weeks have been the equivalent of a political sugar rush, repeated on a daily, sometimes hourly basis. It's left government officials both invigorated and exhausted. It's overwhelmed staffers on Capitol Hill. And it's made Democrats nervous that they're playing whack-a-mole, chasing the last Trump controversy as a new one inevitably emerges. Some suspect it all may be by design.
"We have not seen anything like this," said Sen. Joe Manchin (D-W.Va.) "And I'm sure some of the older people who have been here a longer period of time would say that. It's moving at a very rapid pace. I would hope they would wait until they got their feet under them, to a certain extent, and the ban was one instance of that."
"We know what's going on," said Sen. Patrick Leahy (D-Vt.). "But I worry that sometime this speed is to make sure the American public doesn't know what to do."
There are so many fires burning in so many different places that there is sensory overloadObama adviser David Axelrod
For Trump's aides, confidants, and biographers, this has a familiar feel. The Trump they know thrives on drama and chaos. When, during the campaign, he spoke about the importance of stamina and energy, it was meant both as code to mock Hillary Clinton's health and Jeb Bush's verve, but also in the strictly literal sense.
"It is not about physical stamina. It is about psychological scar tissue," said Timothy O'Brien, a Trump biographer who was unsuccessfully sued by Trump, and a former top editor at The Huffington Post. "He really is like the Energizer bunny of the political landscape, and people have to recognize that about him because he is formidable in that way. The weakness he has is his vanity. He cares about ratings and cares about center stage. And he needs, always, to be the winner on that center stage."
In the portrait that Trump paints of himself, perseverance is a central theme. His books are littered with boasts of steely resolve, painfully few hours of sleep (a myth, O'Brien suggested), and political and legal hurdles he has overcome. One telling anecdote comes in The Art of the Deal, Trump's bestselling business book. He describes how his mentor, the bare-knuckled lawyer Roy Cohn, resorted to homophobia to mask his homosexuality. Instead of feeling empathy for Cohn's psychological torment, Trump was awed at his cold-blooded drive.
"Roy never talked about it. He just didn't like the image. He felt that to the average person, being gay was almost synonymous with being a wimp," Trump wrote. "That was the last thing he wanted to project, so he almost went overboard to avoid it."
In the spirit of Cohn, Trump believes that toughness ― or, better put, the ability to endure more pain and discomfort than the competition ― is what begets his success, his aides said. It is the best explanation they have for his kinetic, chaotic first days in office.
"I could not stop laughing when the mainstream media said, 'Oh my God, the Mexican president has canceled his visit with Trump,'" said Sam Nunberg, a former Trump aide, in reference to the dust-up in the president's first week. "I think Trump loved it. If I had to guess, he is negotiating. … The idea that the president of Mexico will affect Trump or scare Trump because he won't attend a meeting with him at the White House is hilarious. Trump has plenty to do. I don't think he cares."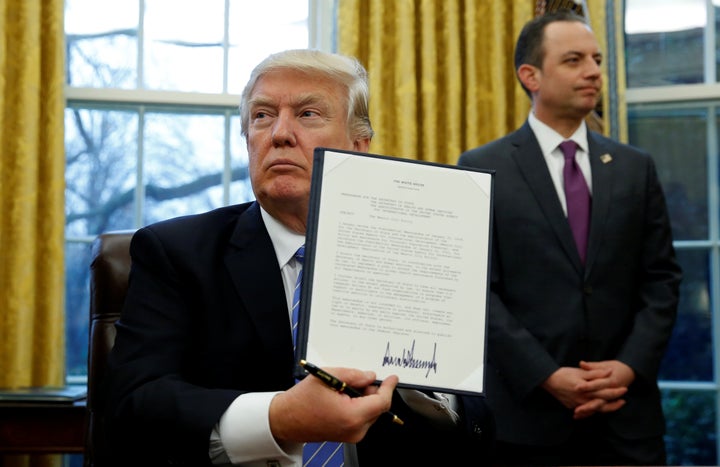 On the Hill, Democrats worry that the incredible backlash that Trump has engendered will eventually fade; that the executive order banning certain immigration from Muslim-majority countries will outlast the will to protest it.
But others see genuine opportunity. The ACLU, for instance, received an unprecedented amount of donations after Trump signed the order. And Adam Jentleson, a senior strategic adviser leading the anti-Trump campaign at the Center for American Progress, said his organization had been inundated with donations, offers of pro-bono help and leaks from inside the government.
"We can do this all day," Jentleson said. "We are flourishing in this environment."
Already, there is evidence that the public is tiring of Trump's pace. Forty-seven percent of respondents in a Gallup poll said he was moving too fast, while just 10 percent said not fast enough.
Whether Trump has it in him to pump the brakes is another matter entirely. The rigors of the job do seem to be taking a toll. In reports about a seemingly disastrous call Trump held with the Australian prime minister over the weekend, one excuse offered by Trump's aides was that it had come at the end of a long day of conversations. The call took place around 5 p.m.
But there is a difference between an appetite for work and an appetite for controversy. And, as Democrats were left shocked that the president offended a close ally and Republicans scrambled to clean up the mess (Sen. John McCain called the Australian ambassador to patch things over), Trump simply moved on to other matters, meeting with CEOs to talk jobs, provocatively threatening Iran on Twitter, and asking the National Prayer Breakfast to pray for Arnold Schwarzenegger's ratings on "The Apprentice."
"I think the pace is obviously very fast because of the methodology used by this administration," McCain told The Huffington Post. "I don't comment on that methodology. I've given up on that long ago."
Want more updates from Sam Stein? Sign up for his newsletter, Spam Stein, here.