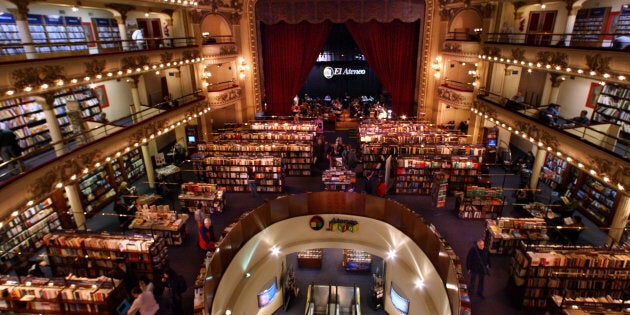 For each person, a trip away signals a chance to tour something different -- history, food, adventure... escape. You get the gist.
Now book lovers, this is where it's at. What could be better than scouring the curved walls and tiny nooks of the world's greatest bookstores?
Nothing. Except, maybe, pocketing a few for your trip home.
Each one has a story to tell -- one that adds up to the sum of all of its books. And as that undying smell of worn pages starts to slip from our fingers, see them while they're still standing.
El Ateneo Grand Splendid, Buenos Aires.
Before it was 'El Ateneo', it was a theatre, transformed by architect Fernando Manzone in 1919. What you can see below are a string of ornate balconies housing those beloved books. What you can't see is a stunning domed ceiling -- the handiwork of Italian artist Nazareno Orlandi.
You're just going to have to see it for yourself.
Where? Avenida Sante Fe 1860, Buenos Aires.
The Last Bookstore, Los Angeles
Well isn't this one a trippy treat? You'll find this book tunnel (or is it a mural?) in 'The Last Bookstore'. Just over 1,800 square metres in size, it began in 2005 in a downtown LA loft. And now it is one of the largest still standing independent bookstores slash art installations in the world.
Where? 453 South Spring Street, Los Angeles.
Savaiva, Rio De Janeiro
We have no words for this one -- except that it spells heaven on a stick for the organised Type As among us. 'Savaiva' is a four-story store bordered by a rainbow of books. And thanks to Brazilian designer Sergio Rodrigues, there are plenty of pleasant spots to curl up and read.
Where? Avenida das Américas 3900, Rio de Janeiro.
Atlantis Books, Santorini
Wander through the cobblestone streets of Oia -- the tip of Santorini -- and you might just miss it. 'Atlantis Books' is a little less ostentatious than the rest, but makes up for it by being oh so charming.
In 2002, owners Oliver and Craig were holidaying on the island. The land inspired them and yet there was no bookshop. So they decided to open one. The rest is history.
ALSO ON HUFFPOST AUSTRALIA